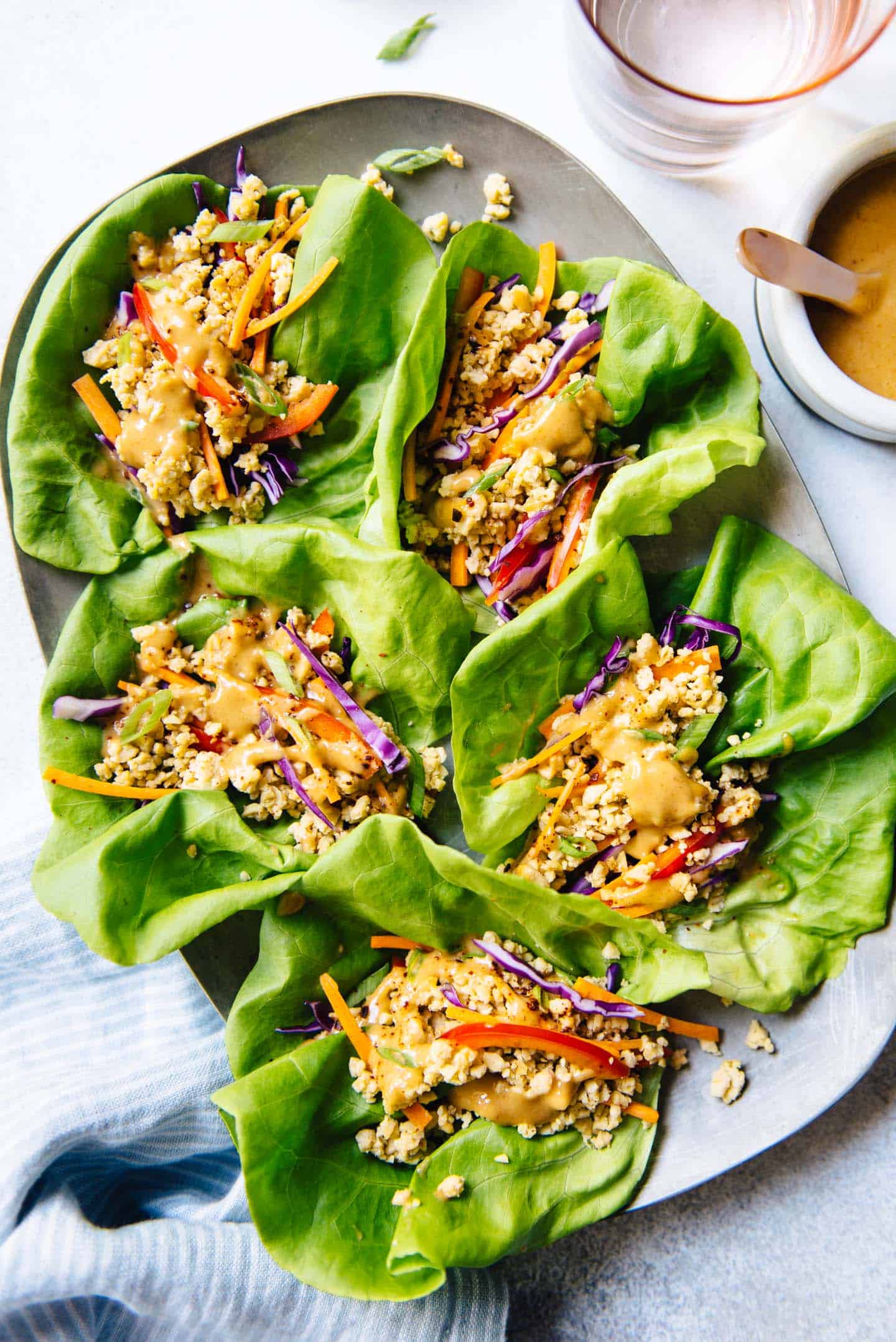 I've been trying to figure out how to use tempeh as a filling for vegetarian dumpling recipes lately. Although I haven't nailed down a tempeh dumpling recipe, I inadvertently discovered that ground tempeh is an excellent substitute for ground chicken in lettuce wraps. The trick was figuring out how to properly prepare the tempeh.
Tempeh is essentially a block of fermented soybeans that is quite firm and very different from the texture of meat. Although grinding the tempeh with a food processor helps break down the tempeh into smaller pieces, I still found the texture to be too firm. The challenge for me was to find a way to make the tempeh more tender.
I suddenly remembered a pho tempeh recipe in Andrea Nguyen's The Pho Cookbook, where she cooked sliced tempeh by simmering them with broth. I applied her cooking technique by simmering ground tempeh in broth for about 8 minutes. The tempeh softened, and the broth infused savory flavor into the tempeh. It was delicious!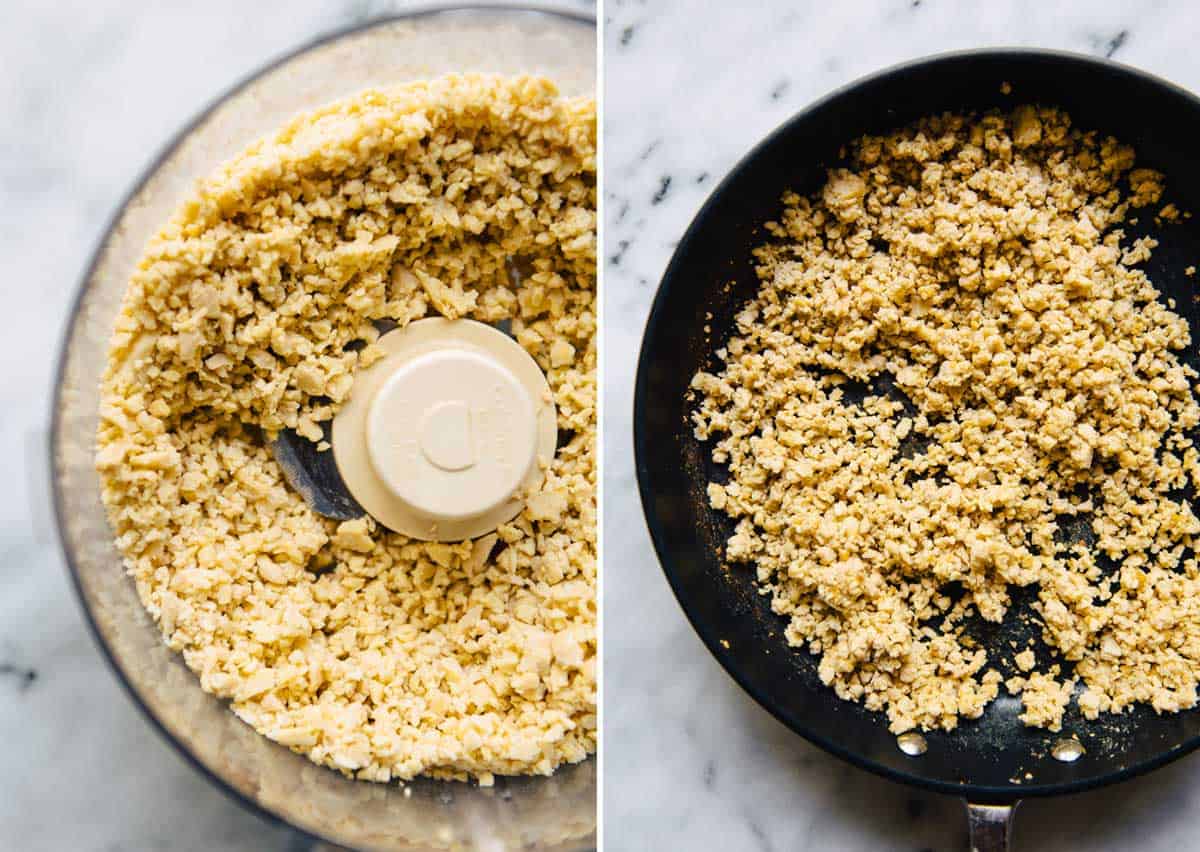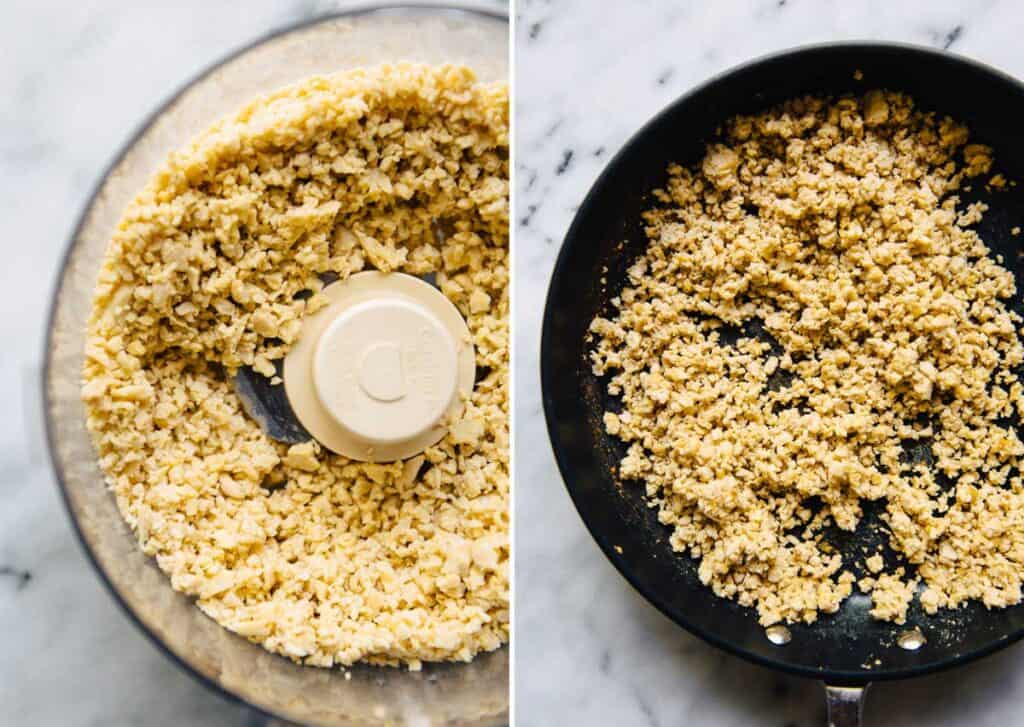 CAN YOU MAKE THE TEMPEH LETTUCE WRAPS AHEAD?
Yes! I would cook the tempeh and toss it with the cabbage, carrots, and bell peppers and keep everything in a container. They will keep for up to 3 days. When you are ready to eat, rinse a few leaves of butter lettuce. Then, fill them and drizzle with peanut sauce.
TEMPEH LETTUCE WRAP VARIATIONS
If you have any leftover broth from my yellow curry broth or tomato and coconut noodle soup recipes, use it to cook the tempeh! Alternatively, you can toss the cooked ground tempeh with my honey chili sauce or teriyaki sauce for extra flavor.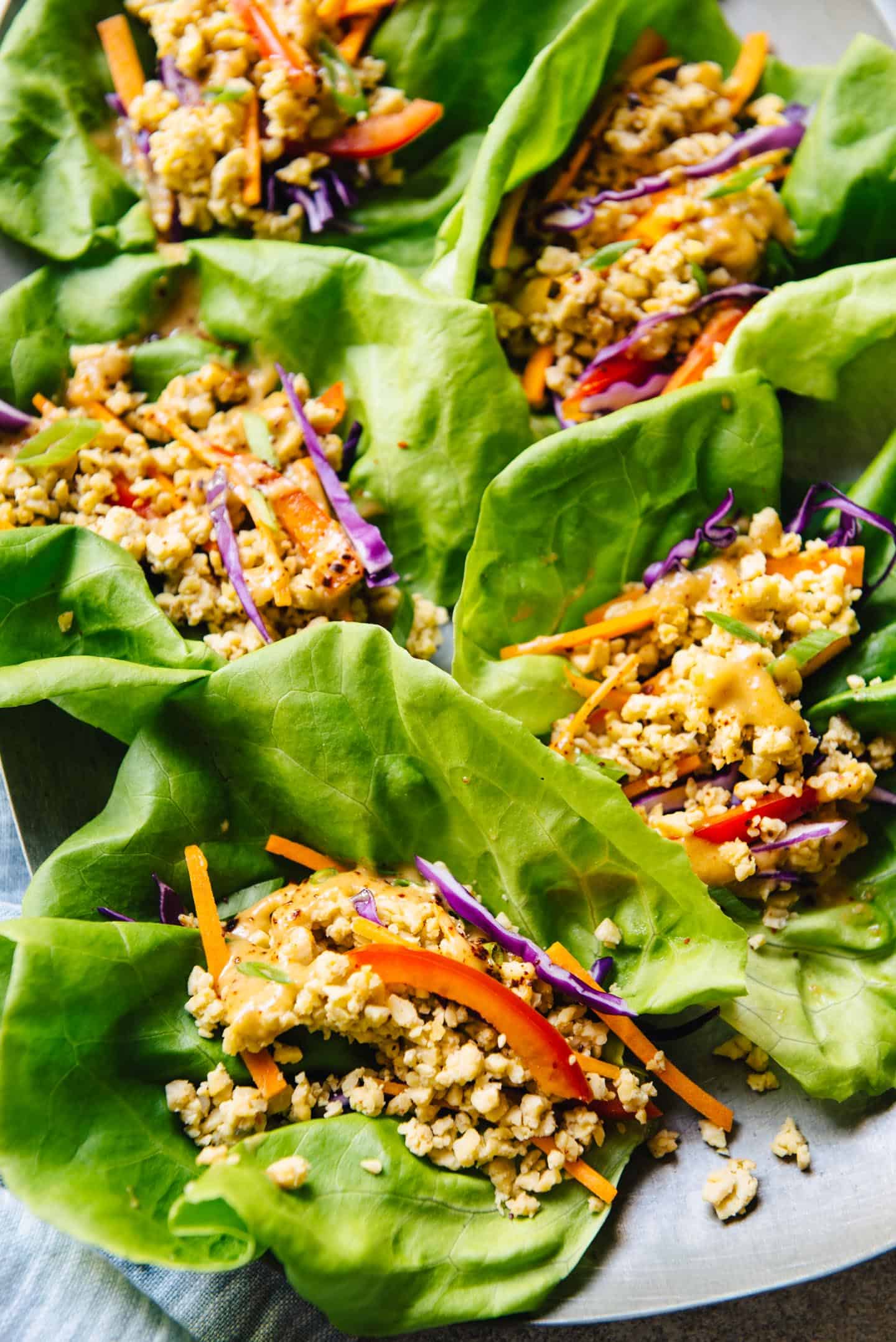 MORE SIMPLE MEALS
Servings:
8
Lettuce Wraps
Tempeh Lettuce Wraps with Peanut Sauce (Vegan)
Try to cook the tempeh in a nonstick pan because the tempeh tends to leave a translucent filmy layer at the bottom of pan. The filmy layer will be more difficult to scrub off if you're using a pan that is not nonstick.
Ingredients
8

ounce

block of tempeh

1

cup

vegetable broth

1

teaspoon

soy sauce, use tamari if gluten free

1

teaspoon

maple syrup (see note)

1/4

teaspoon

ground coriander

1/8

teaspoon

garlic powder

8

leaves

of butter lettuce

1

medium carrot, peeled and julienned

1 to 1 1/4

cups

thinly sliced red cabbage

1

medium red bell pepper, sliced
Garnish
1

stalk of scallions, sliced (optional)

red pepper flakes (optional)
Instructions
Cut the tempeh into 1/2 inch cubes and transfer them to a food processor. Blend the tempeh for about 5 seconds, until you get very small pieces of tempeh. When you open the lid of your food processor, you will get a good whiff of the odor from the fermented soy beans, and that's perfectly okay.

In a bowl, mix the vegetable broth, soy sauce, maple syrup, garlic powder, and ground coriander.

Heat a nonstick skillet or sauté pan over medium heat. Add the tempeh and the broth mixture. Cook for about 8 to 9 minutes, stirring occasionally, until the liquids have completely absorbed into the tempeh. The tempeh might look like it's ready to be pulled off the stove in 5 minutes, but resist the urge to do so. When you tap the tempeh with the back of a spatula, and you can hear a sound that is similar to walking through puddles in the rain, it means the tempeh is not ready yet. You are probably a few minutes off. Once the liquid has been absorbed, remove the pan from heat.

Assemble the lettuce wraps. Fill the lettuce leaves with the carrots, cabbage, red bell pepper, and some of the tempeh. Drizzle

peanut sauce

over the filling and garnish with sliced scallions and red pepper flakes, if you desire. Serve immediately.
Notes
SUBSTITUTIONS: You can substitute the maple syrup with sugar. If you are not vegan, you can also use honey or agave. You can also substitute the butter lettuce with romaine or any other lettuce variety you have on hand.
Nutrition
Serving:
2
wraps
|
Calories:
201
kcal
|
Carbohydrates:
23.6
g
|
Protein:
14.1
g
|
Fat:
7.2
g
|
Saturated Fat:
1.4
g
|
Sodium:
539
mg
|
Fiber:
8.3
g
|
Sugar:
11.3
g
Did you make this recipe?
Tag @hellolisalin or leave a star rating and comment on the blog!