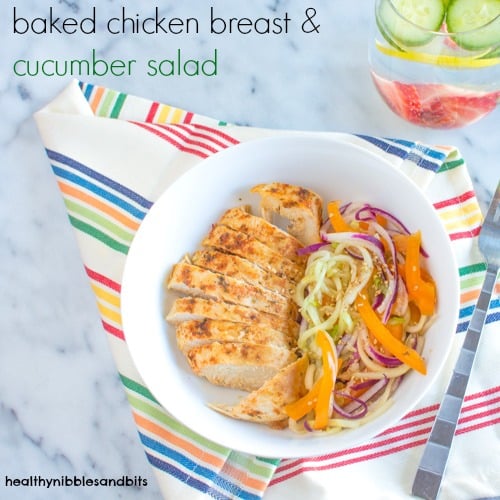 Sometimes, all I want are the simple things: a nice cup of PG Tips in the morning with a bit of milk, 50¢ coupons for my groceries, a perfectly ripe yellow peach, and dinner that is ready in less than 30 minutes. After a long week of cooking, I want nothing more than a meal that's ready before an episode of Chopped is over.
By the way, does anyone else watch that show?
I first encountered these beautiful lemon cucumbers at the farmers market a few months ago and have been meaning to create a recipe with them. Their name is deceptive. You would think they taste like lemons based on the name. But these pleasant little fruits taste like regular cucumbers without the bitter aftertaste found in conventional cucumbers. (Yes, I do consider cucumbers to be fruits because they bear seeds in the center.) As these fruits mature, their exterior turns yellow, much like a lemon.
BUYING TIP: select lemon cucumbers that have a light green exterior rather than the yellow ones. One of the sellers at the farmers market taught me that yellow lemon cucumbers have tougher seeds in the middle and are not as sweet. Unless you like tough seeds, go for the green.
Those brown prickly dots on the skin are strange but not to be feared. They'll fall off when you rinse them. Crisis averted.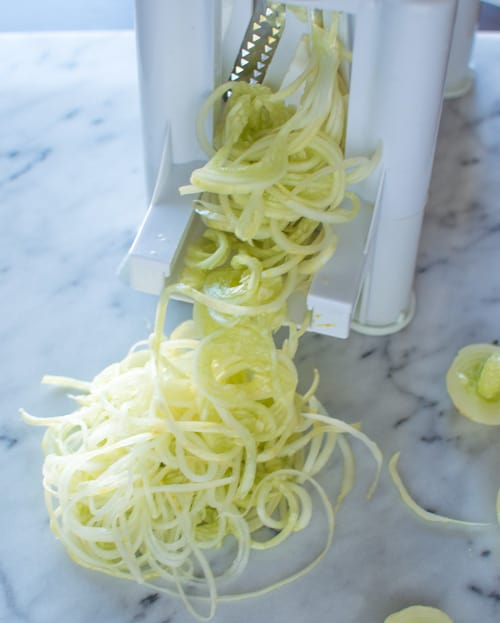 I have been spiralizing away this summer, and this cucumber salad is no exception. Spiralizing cucumbers can get tricky because the core is so soft and filled with seeds. The seeds do get jammed in the blades = slightly more work on the cleaning end. As you can see, that didn't stop me from creating cucumber noodles.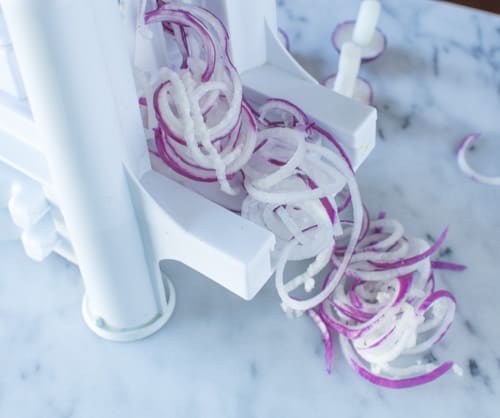 To give the salad additional crunch per munch, I decided to spiralize large purple radishes. Did I ever mention that purple is my favorite color?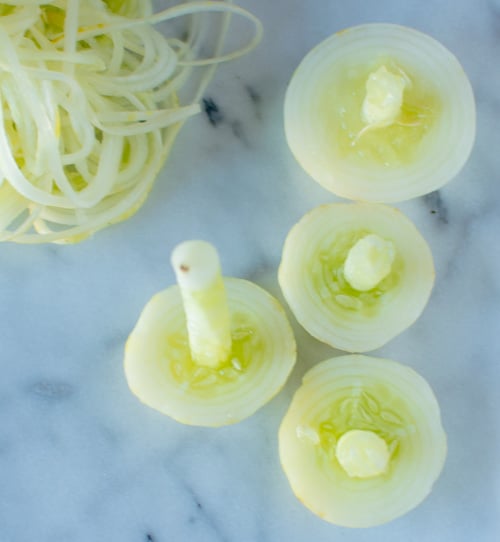 When you're done with the spiralizing fun, you'll probably be left with a plate of stumps like these (not to be confused with muffin stumps). Don't throw them away! Just chop them up and add it to the rest of your salad.
Baked Chicken Breasts & Cucumber Salad
Ingredients
2

chicken breasts

,

about 1/2 pound or 227g each

natural cooking spray

1/2

tsp

salt

,

add more to taste

1/2

tsp

granulated garlic

1/4

tsp

paprika

1

tsp

dried parsley

4

medium sized lemon cucumbers

,

4 Persian cucumbers, or 3/4 of an English cucumber works also

4

large purple radishes

,

or radishes of any color

3/4

large orange pepper

,

or any other sweet pepper, thinly sliced

1

scallion/green onion

,

chopped

1

tsp

fish sauce

1

tsp

rice vinegar

1/2

tsp

sesame oil

1/2

tsp

honey

1/2

tsp

low-sodium soy sauce

1

TBS

toasted sesame seeds
Instructions
Preheat oven to 450ºF (~232ºC). Line a baking sheet with foil or parchment paper, and spray it with cooking spray. It is very important to line your baking sheet. The natural juices of the chicken will leak out and burn during the baking process.

Spray the chicken breasts with cooking spray, and sprinkle the spices on top of the chicken. Feel free to add your own spices.

Bake the chicken for 10 minutes. Then, flip them over, spray it with more oil, and bake for another 10 minutes. Cut into the thickest part of the chicken to make sure that they are fully cooked. Once they are out of the oven, loosely cover the chicken breasts with another piece of foil and let it rest for 5 minutes.

Using Blade C of a spiralizer, make cucumber and radish noodles. If you do not own a spiralizer, simply chop the cucumber into thin matchsticks, and thinly slice the radishes.

Combine the cucumber, radishes, pepper, and scallions into a large bowl. Mix them with the fish sauce, rice vinegar, sesame oil, honey, and soy sauce. If you do not have fish sauce, just use soy sauce only. You may need to add a tiny bit more rice vinegar and honey to balance the additional salty flavor.

Top the salad with sesame seeds and serve with the chicken breasts.
Notes
1. Baked chicken breast recipe adapted from Healthy Recipes.[br]2. Feel free to add your favorite carbs to this meal. I added about a cup of roasted red potatoes to this dish.
Did you make this recipe?
Tag @hellolisalin or leave a star rating and comment on the blog!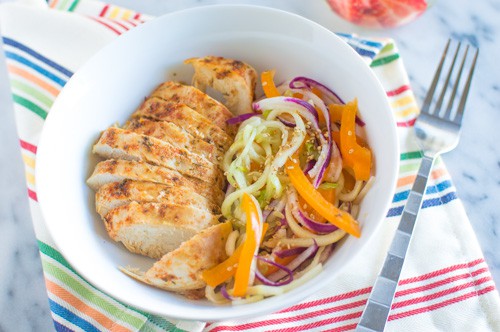 What are your favorite go-to dinners that are ready in less than 30?