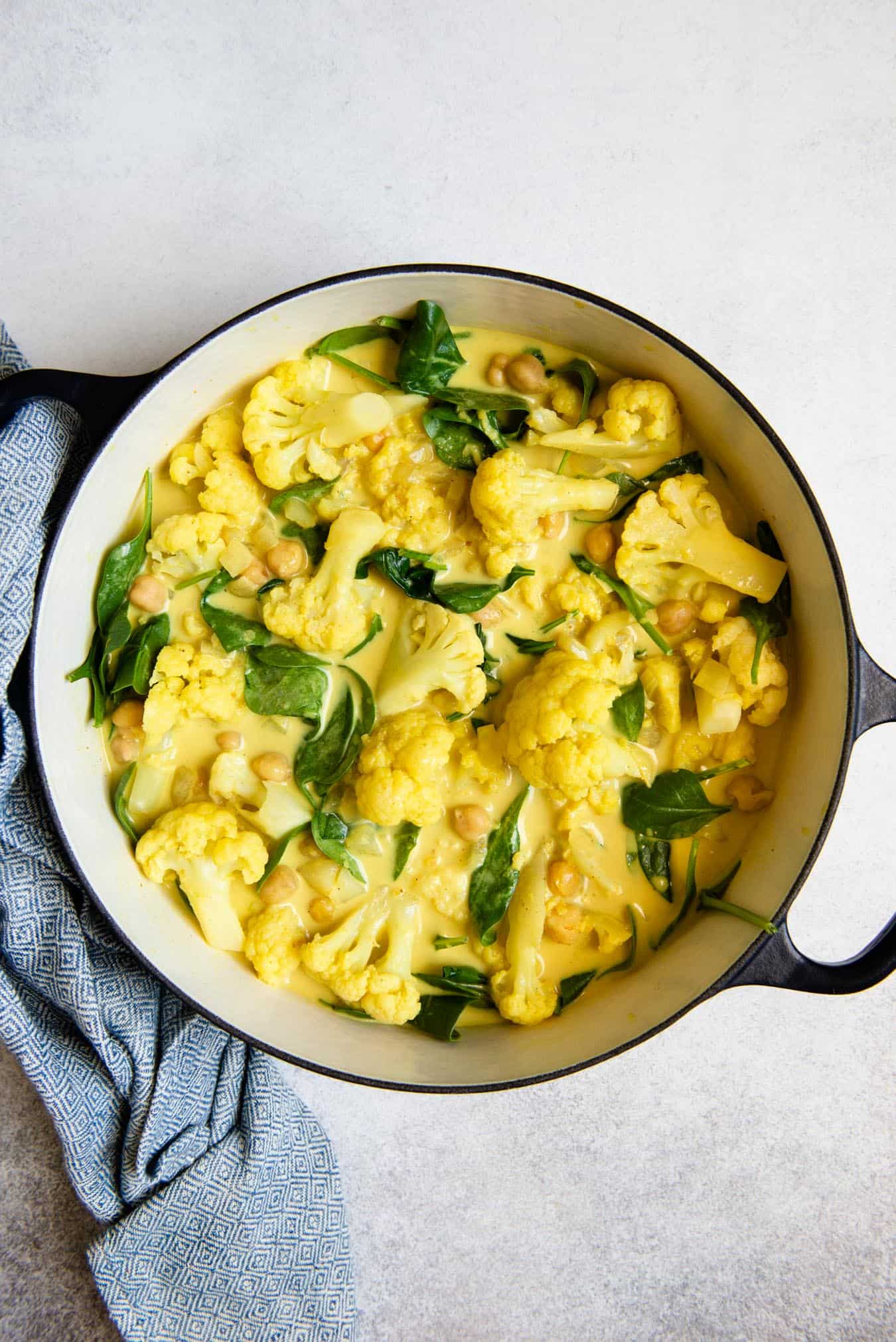 One of my close friends recently decided to become a vegan, and she asked me for ideas of simple vegan recipes that she can cook. Immediately, I thought of making curries because they're filling and full of flavor. Plus, you don't need meat to make a good curry!
After a few tries, I came up with this cauliflower curry recipe. It is simple to make, and it's full of vegetables and protein. The dish is ready in 45 minutes, which is perfect for weeknights.
COOKING NOTES FOR CAULIFLOWER CURRY RECIPE
WHAT CURRY POWDER TO USE
The curry broth consists of vegetable broth, coconut milk, curry powder, and spices. I often get questions about the type of curry powder that I use. It is nothing special—a mildly spiced curry blend from the supermarket will work. I like Frontier Co-Op's curry powder as well as the curry powder sold at my local spice shop, Allspicery. If you have a curry powder that is fairly spicy, use 2 to 3 teaspoons of it. That said, you'll probably need to add more of the other spices that are typically found in these spice blends (coriander, mustard, fenugreek, cumin, etc.) to ensure the broth still has good flavor.
CURRY BROTH
The broth in this recipe is pretty thin because I wanted to keep this recipe simple and gluten free. I could have added more coconut milk, but that would have meant too much saturated fat in the dish. When I pour the broth over my rice, the rice absorbs the broth, so the thinness is not an issue for me. However, If you want a thicker curry sauce, here are several things you can do.
First, you can mix 1 1/2 tablespoons all-purpose flour with about 1/4 cup of room temperature water or vegetable broth. Then, add this flour slurry into the pot the same time that you add the vegetable broth. The broth should thicken by the time the cauliflower is cooked. I tested a small batch with tapioca starch for a gluten-free option, but the broth turned viscous. So, I don't recommend using tapioca starch.
You can also cook the curry with 1/2 to 3/4 pound of potatoes (diced), which you add at the same time as the cauliflower and chickpeas. The potatoes will absorb some of the liquid and the starch from the potatoes will help thicken the broth. Note that you may need to add several minutes to the cooking time to ensure that the potatoes are fully cooked.
COCONUT MILK
The brand of coconut milk that I use most is Chaokoh Coconut Milk. The coconut milk is thick and well blended, so there aren't any large chunks of coconut cream or pulp in there that I often find in other brands. Shake the can before you open it. There's always a tiny bit of cream that sticks to the lid of the can.
CAN I PREP THE CURRY BROTH AHEAD?
Yes! The broth tastes even better the next day because the spices have a longer time to develop flavor. Make the broth the day ahead and refrigerate it in a large container. When you are ready to cook the coconut curry, add the broth to the pot along with the cauliflower and chickpeas. Bring the broth to boil and then reduce to a simmer for an additional 5 to 7 minutes, until the cauliflower is fork tender.
MORE CURRY RECIPES
Cauliflower Curry with Chickpeas and Spinach
This original recipe called for 2 1/2 cups of vegetable broth. After several people have commented on how runny the curry is, I decided to reduce the vegetable broth to 1 1/2 cups. To speed up the prep process, you can slice the onion, leave the garlic whole, and slice a 2-inch piece of ginger into several slices. Watch out for the ginger slices and large chunks of garlic when you serve the curry.The broth in this recipe is quite thin. If you want a thicker curry sauce, mix 1 1/2 tablespoons all-purpose flour with 1/4 cup of water and stir until the flour dissolves. Then, add the flour slurry to the pot the same time that you add the vegetable broth.
Ingredients
1

head of cauliflower

,

about 2 1/2 to 3 pounds

2

tablespoons

virgin coconut oil

,

see note 1

1 1/4

cups

diced yellow onion

,

about 1/2 large onion

4

cloves

garlic

,

minced or grated

2

tablespoons

minced ginger

,

can also be grated

1 1/4

teaspoons

kosher salt

,

divided (see note 2)

5

teaspoons

curry powder

1

teaspoon

ground coriander

1 1/2

cups

vegetable broth

1

(13.5 fluid ounce) can full-fat coconut milk

,

see note 3
chickpeas
4

large handfuls baby spinach

sliced scallions for garnish
Instructions
Remove the leaves from the head of cauliflower and cut it into smaller florets. (Watch my video on

how to cut a cauliflower

for reference.)

Heat the oil in a pot (or large sauté pan) over medium-high heat. Add the onions and cook for 3 minutes. Next, add the minced ginger and garlic and 1/4 teaspoon of kosher salt. Cook for another 30 seconds. Then, add 1 teaspoon of kosher salt, curry powder, coriander, and vegetable broth. Stir to combine the spices with the broth. Add the cauliflower and chickpeas.

Cover the pot with the lid and bring the broth to boil. Uncover the pot and add the coconut milk, stirring to combine. Reduce the heat to medium and let the broth simmer for another 5 to 7 minutes, until the cauliflower is fork tender. 

Taste the curry broth and adjust the seasonings to your taste, adding more salt if necessary. 
Notes
I like using virgin or unrefined coconut oil because it has more flavor than refined coconut oil. You can replace it with a neutral oil, such as safflower or vegetable, or even olive oil.
Vegetable broths have varying levels of salt. I typically use Better Than Bouillon, which is very well seasoned with salt and some sugar to balance out the flavor. If you are using table salt or sea salt, use a teaspoon of salt total and add more if necessary.
Full-fat coconut milk has more flavor, which is why I prefer to use it. You can substitute it with lite coconut milk.
Nutrition: This doesn't include rice, but it assumes that you use up all the broth.
Nutrition
Serving:
1
serving
|
Calories:
468
kcal
|
Carbohydrates:
42.9
g
|
Protein:
15.3
g
|
Fat:
30.3
g
|
Saturated Fat:
24
g
|
Sodium:
1373
mg
|
Fiber:
13.9
g
|
Sugar:
9.1
g
Did you make this recipe?
Tag @hellolisalin or leave a star rating and comment on the blog!