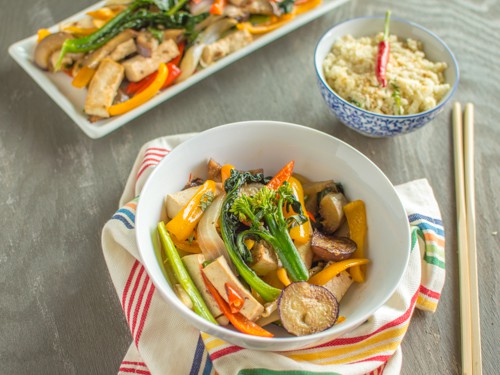 From bell peppers, to chili peppers, to padron peppers, to the good ol' jalapeños, peppers are a-poppin' everywhere. You bet I dabbled in a few of them when I visited the market this weekend!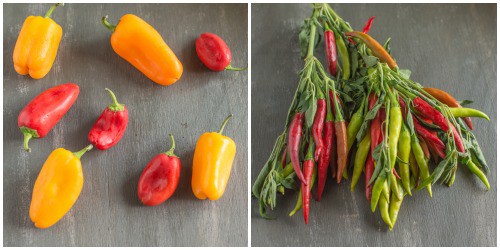 I got the mini bell peppers from the PMA Foodservice Conference, and quite frankly, I don't know why I've never bought them before. They're perfect for those times when I just want to eat half a pepper at a time. I also love the flavor of sliced chili peppers in Asian cuisine, but again, they have never entered my kitchen. What took me so long?
By the way, quick tip: store extra chili peppers in a sealable bag in the freezer, and they'll last for months! Learned that from a vendor.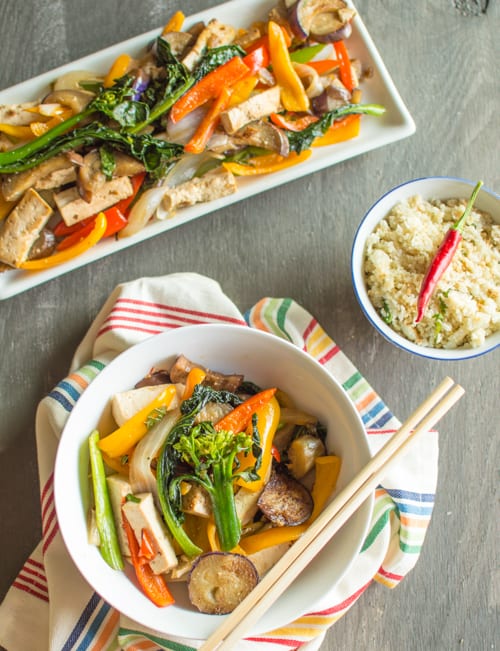 When I was living and traveling in Asia, I ate spicy dishes all the time, and I'm feeling a bit of nostalgia for them. There's nothing like the feeling of tongue-numbing spiciness that only a cold beer can wash away. I need to ease my tastebuds into spicy food again, and it begins with this chili stir fry.
Two chilis were enough to hit the sweet spot for me. But if you want to experience that wonderful sweat-inducing spicy sensation, I'd throw in a few more. And if you can handle 6 or more chili peppers, I would love some tips on how you are managing the spice!
Chili Eggplant Tofu Stir Fry & Cauliflower Rice
Ingredients
Cauliflower Rice
1

medium head of cauliflower

,

about 1 pound/455g

1

TBS

olive oil

3

basil leaves

,

sliced

1

TBS

soy sauce

,

add more to taste
Chili Eggplant Tofu Stir Fry
2

TBS

olive oil

,

divided

1/2

large onion

,

sliced

2

garlic cloves

,

sliced

1

inch

piece of ginger

,

peeled and sliced

2

chili peppers

,

sliced (top removed)

1

large Asian eggplant

,

about 7.75 oz/220g, thinly sliced

1 1/3

cup

(110g) mini bell peppers

,

sliced (any bell pepper works also)

7.5

ounces

(213g) Chinese broccoli

,

chopped

8

ounces

(227g) firm tofu

,

sliced

5

large basil leaves

,

sliced

1 1/2

TBS

oyster sauce

1

tsp

salt

,

add more to taste
Instructions
Chop the cauliflower into smaller pieces and pulse them in a food processor until it starts to form into a "rice."

Place 1 tablespoon of olive oil into a sauté pan over medium-high heat. When the pan is hot, add the cauliflower rice and stir. After about 3-4 minutes, add the sliced basil and stir. Cook for another minute (or until the cauliflower is cooked), season with soy sauce, and remove from heat.

Place 1 tablespoon of olive oil into another sauté pan over medium-high heat. Once the pan is hot, add the fragrants: onions, ginger, garlic, and chili pepper. Stir for about 2 minutes, until the onions start to turn translucent.

Add the eggplant and stir for a few minutes. The eggplant soaks up oil very quickly, so add another tablespoon of olive oil.

Reduce the heat to medium-low and stir in the sliced bell peppers, Chinese broccoli, and tofu and cook for several more minutes. I try not to add water or cover the pan when I'm stir-frying eggplant because it softens the eggplant too much. When the Chinese broccoli turns into a bright green, season the vegetables with the oyster sauce and salt. Remove the vegetables from heat.

Serve the vegetables with the cauliflower rice.
Did you make this recipe?
Tag @hellolisalin or leave a star rating and comment on the blog!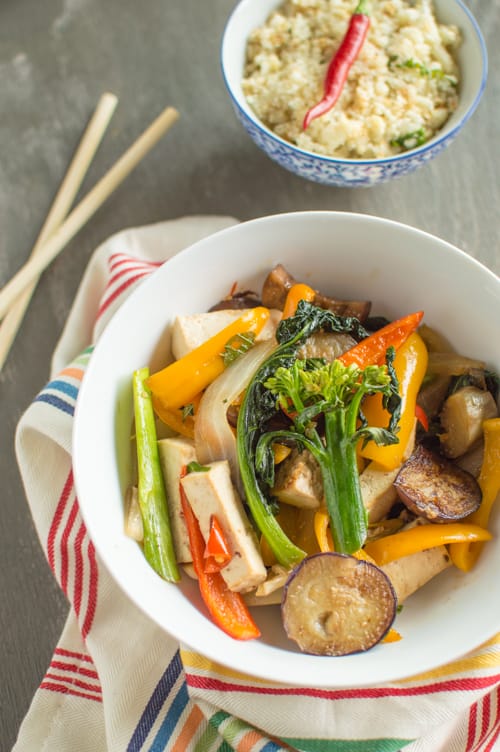 What are your favorite spicy dishes?