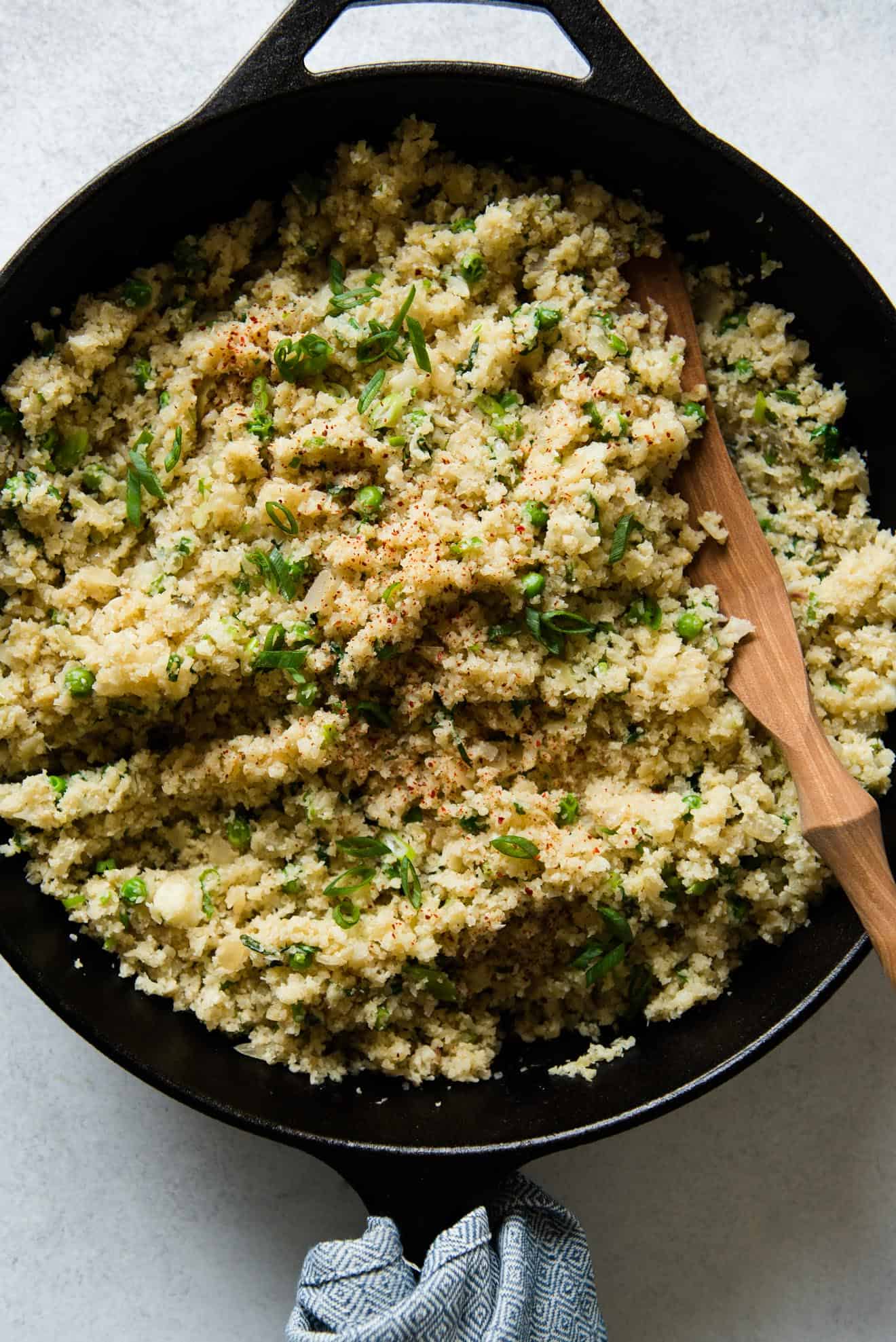 Cauliflower rice is one of those healthy eating fads that won't go away, so let's embrace it. I know some people who are turned off by cauliflower rice because of the smell as they're cooking it. I get it, it's strong and it reminds me of boiling cabbage. The taste of cauliflower rice, however, is not the same. I find that it takes on whatever seasonings and spices you throw at it. One way to ease yourself into cauliflower rice is to blend it with cooked rice, such as jasmine or basmati rice. My husband prefers the blend of cauliflower and rice because it's more filling.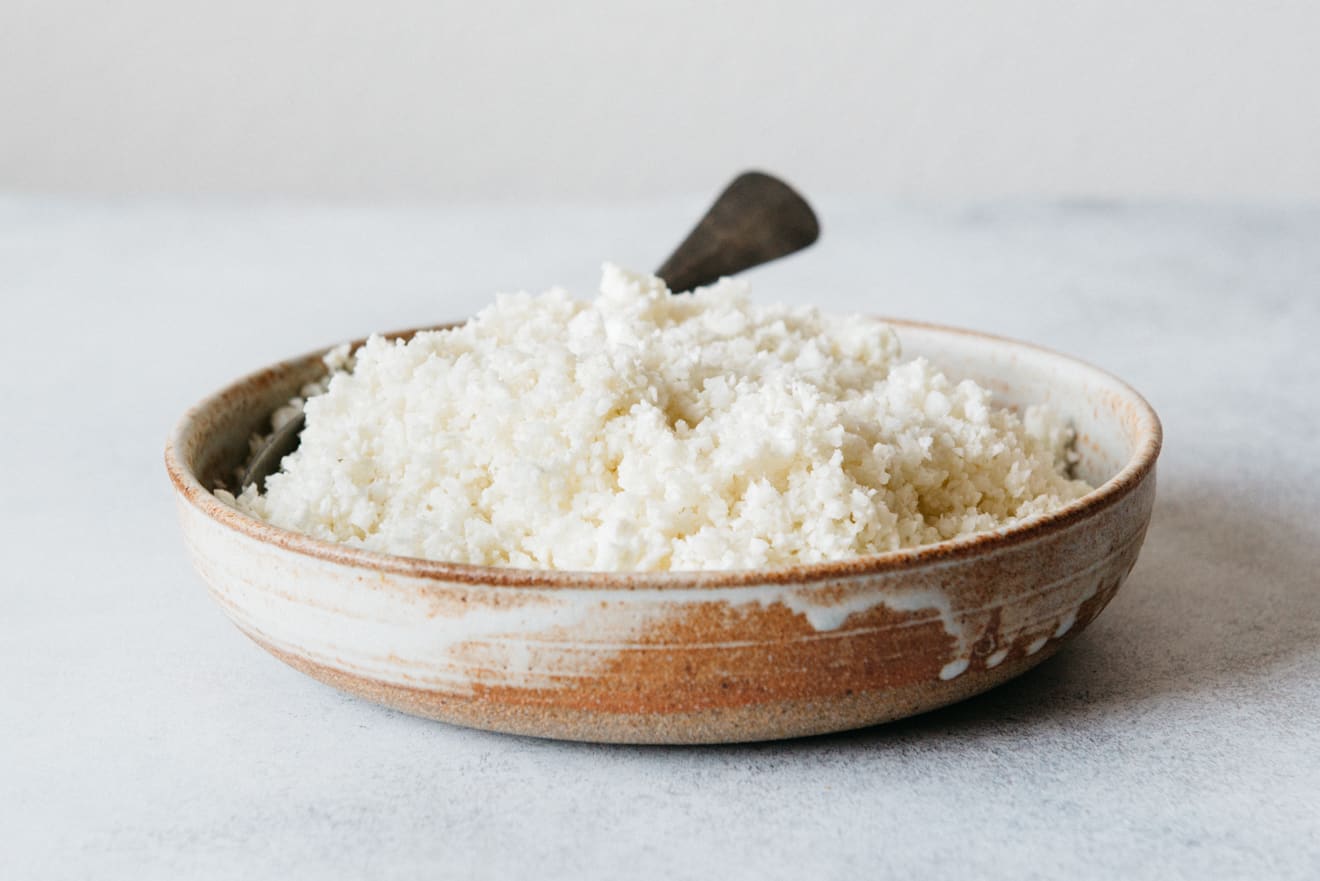 Once you get over the fact that you'll have to do a little work in the food processor, cauliflower rice is an easy dish to prepare. You can also skip some of the prep by buying bags of cauliflower rice (buy about 1 1/2 to 2 pounds of it). I've seen packages of cauliflower rice a few times at my local co-op and I believe Trader Joe's carries it, too.
A word of warning about this recipe: get ready to cry. I'm horrible with chopping onions and even worse when dealing with shallots. I had to walk away from the chopping board many times as I chopped the shallots. That's alright though—nothing that a few tissues can't fix.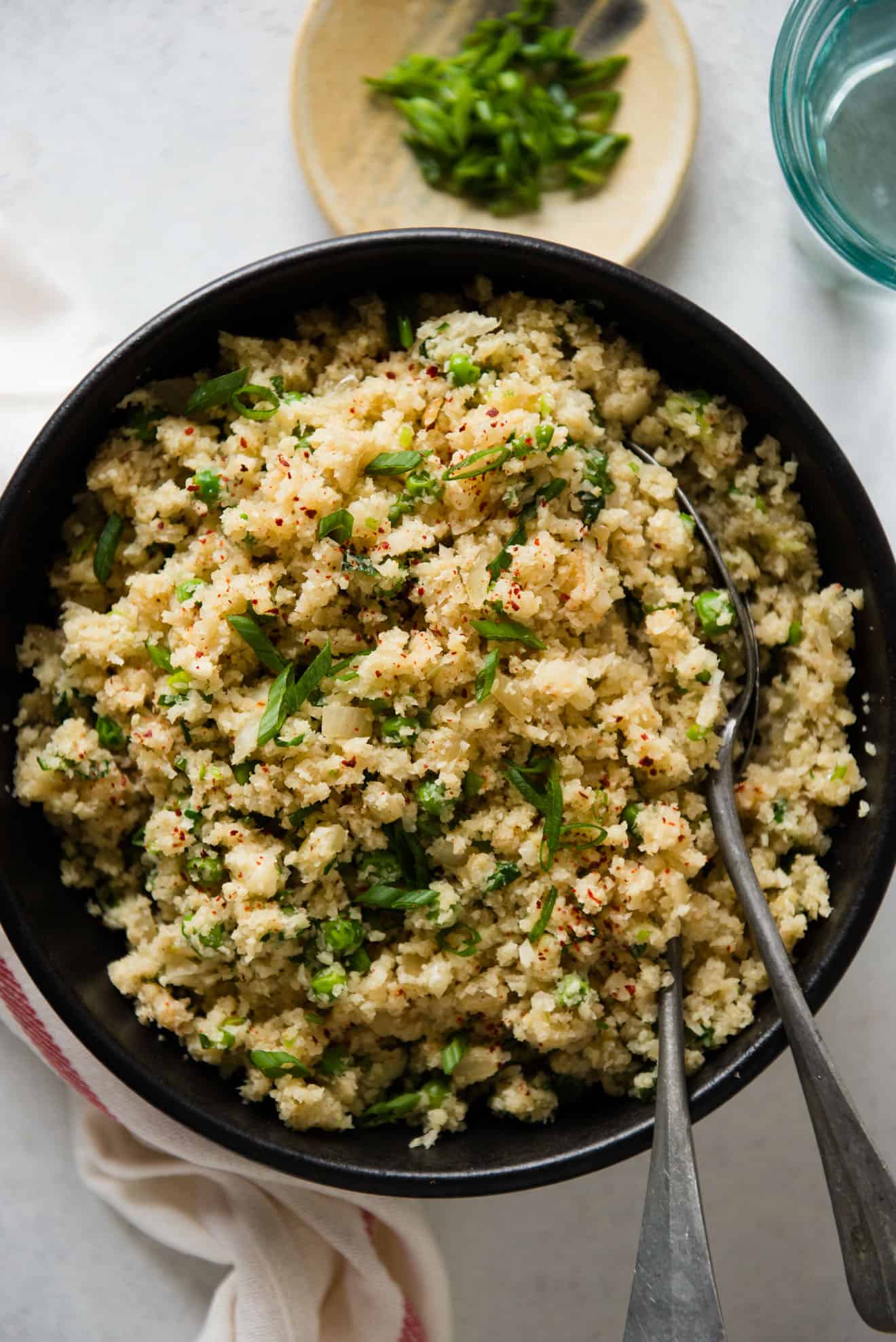 KITCHEN TIPS: HOW TO CUT CAULIFLOWER
Ginger and Shallot Cauliflower Rice
To make life easier for you (and your food processor), chop the cauliflower into small chunks before transferring to the food processor to be riced. You can rice the cauliflower a day or two ahead and refrigerate it in a container or a sealed bag.  I sautéd the riced cauliflower separately in a large pan to burn off some of the moisture from the cauliflower. Otherwise, the final dish will be too mushy. Variations: If you want a more filling dish, substitute half of the cauliflower rice with 2 to 3 cups of cooked rice. You may need to adjust the seasoning.
Ingredients
1

large head of cauliflower

,

between 2 1/2 to 2 3/4 pounds

3

tablespoons

olive oil

,

divided

1 1/2

cups

diced shallots

,

about 2 large shallots

2

tablespoons

minced ginger

4

stalks scallions

,

sliced

3/4

cup

frozen peas

,

thawed

1 1/2

tablespoons

soy sauce

1 1/2

teaspoons

toasted sesame oil

salt

,

to taste
Instructions
Peel off the outer leaves of the cauliflower and trim off some of the stem. Cut the cauliflower down into smaller pieces. Add some of the florets into a food processor. Pulse the florets until they look like the size of grains of rice. Transfer the riced cauliflower into a bowl and continue pulsing the rest of the cauliflower florets.

In a large pan, heat 1/2 tablespoon olive oil over medium-high heat. Add half of the riced cauliflower and a small pinch of salt and sauté for about 3 minutes. Transfer the cooked cauliflower to a bowl. Drizzle another 1/2 tablespoon of olive oil into the pan and swirl it around. Add the remaining riced cauliflower and a pinch of salt. Cook for 3 minutes. Turn off the heat and transfer the cauliflower to the bowl.

Wipe down the pan and heat the remaining 2 tablespoons of oil over medium heat. Add the diced shallots and sauté for 3 to 4 minutes, until they soften. Add the minced ginger, scallions, and peas and cook for 2 more minutes. Transfer the cooked cauliflower to the pan and stir to mix the ingredients.

Season the cauliflower rice with the soy sauce and sesame oil. Taste and season with more salt, if necessary. Serve immediately.
Notes
NUTRITION INFORMATION: Amount for 1/4 of Recipe: Calories: 258, Total Fat 13g, Saturated Fat: 2.1g, Sodium: 139mg, Cholesterol: 0mg, Total Carbohydrate: 32g, Dietary Fiber: 10.3g, Sugar: 12.8g, Protein 9.7g
Did you make this recipe?
Tag @hellolisalin or leave a star rating and comment on the blog!