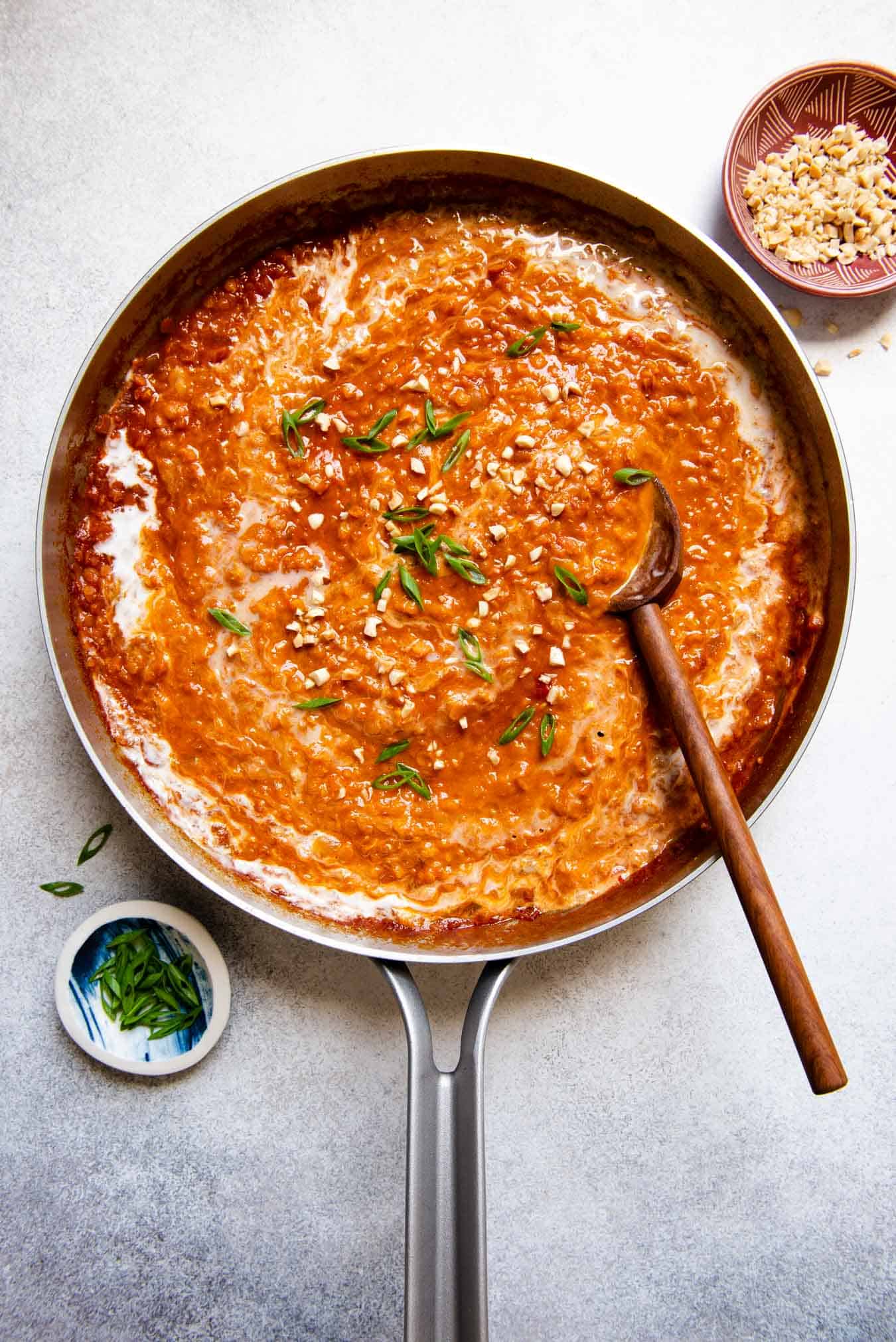 Thank you to Safeway for sponsoring this post!
Often times, we think that we need fancy ingredients to cook something delicious. However, I find that some of the most comforting meals are ones that I prepare using pantry staples.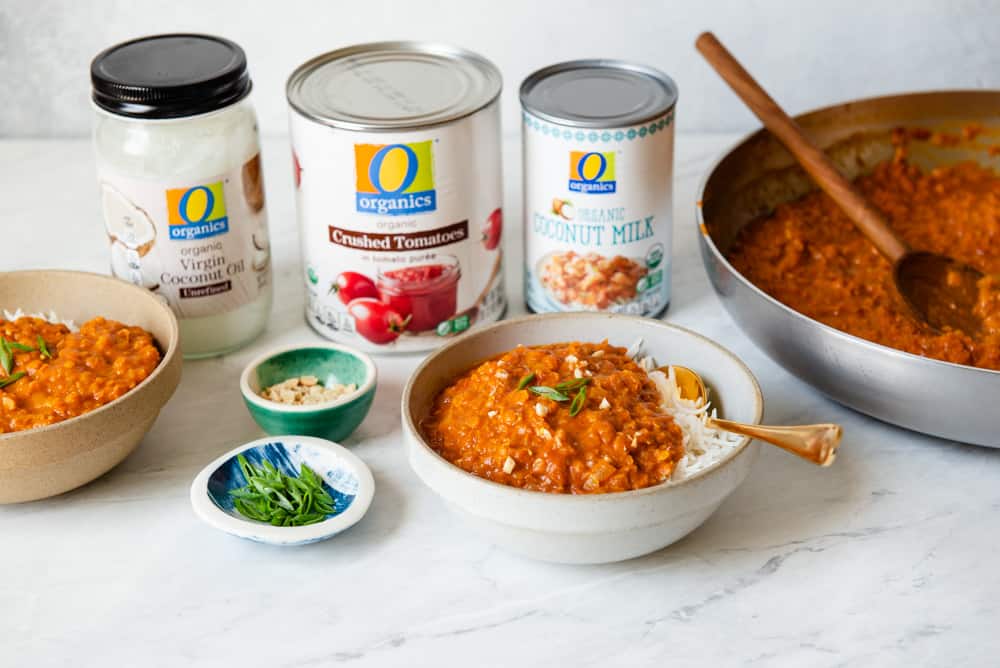 This red lentil curry is a testament to how you can make amazing meals with basic pantry ingredients. In particular, I want to highlight a few pantry items from Safeway's O Organics that I always keep in the kitchen: Organic Virgin Coconut Oil, Organic Crushed Tomatoes, and Organic Coconut Milk. They are good quality ingredients at an affordable price, and they are versatile. Besides this red lentil curry, you can use those ingredients to make my hot and sour coconut noodle soup or sambal noodles.
All of these pantry ingredients make an irresistible rich and cream curry that is bursting with flavor. You can cook this red lentil curry in one pan or one pot, and it's ready in 40 minutes.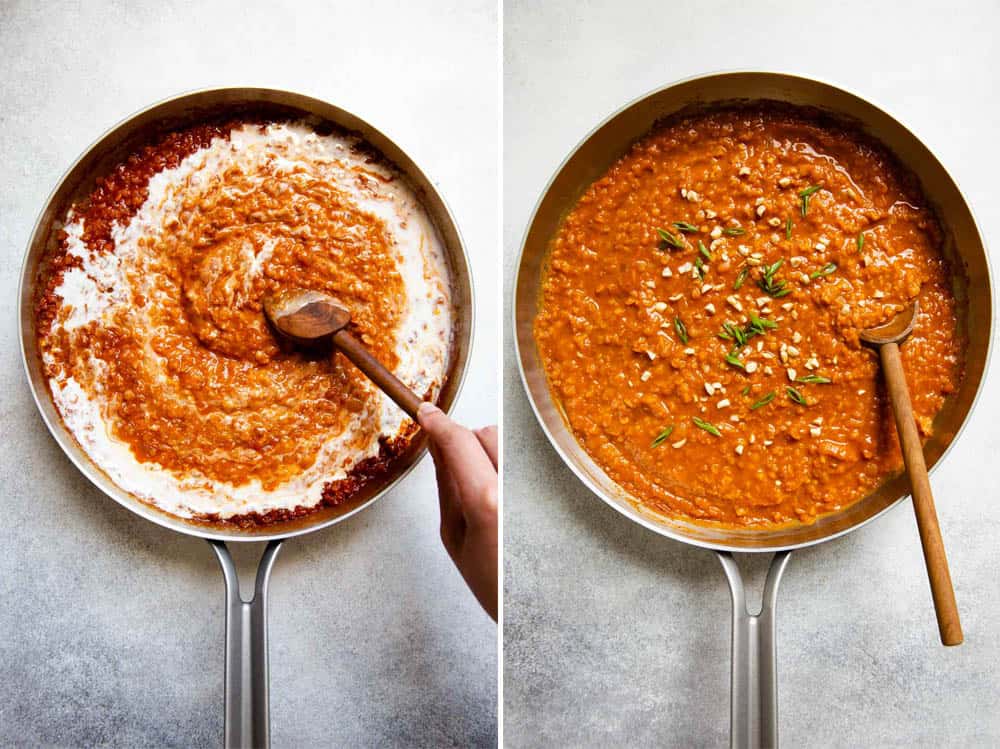 SIMPLE INGREDIENTS FOR RED LENTIL CURRY
RED LENTILS
I chose red lentils for this recipe because they break down easily and cook fast. Also, red lentils give the curry a nice creamy texture. If you do not have red lentils, you can use brow or green lentils, split yellow peas, or split mung beans.
You can even use a 14-ounce can of beans, like O Organics Garbanzo Beans! Since canned beans are pre-cooked, you should decrease the amount of broth by about a cup, as the beans do not absorb as much liquid. You can also reduce the simmering time to 10 minutes.
CRUSHED TOMATOES
I like using O Organics crushed tomatoes because they have a nice thick consistency, which is great for the curry. If you do not have crushed tomatoes, you can use tomato sauce or diced tomatoes.
SPICES
I am using an array of spices not only to impart flavor into the red lentil curry but also to balance the acidity of the canned tomatoes. You'll notice many Asian recipes that use tomatoes call for a little sugar, which serves to balance the acid in the dish. Similarly, the turmeric in yellow curry powders neutralize the tomatoes' acidity.
If you don't have some of the spices listed below, feel free to substitute them with what you have on hand. For example, if you don't have the curry powder, use 1 1/2 tablespoons of Thai-style yellow or red curry pastes.
SUGGESTED ADD-INS
If you want to add more protein to the curry, consider adding pan-fried tofu, fried paneer, or pan-fried shrimp (if you're not vegan or vegetarian). You can also add several handfuls of greens when the lentils are nearly done simmering.
CAN YOU FREEZE THE RED LENTIL CURRY?
Yes! Wait for the lentil curry to cool and thicken (about 1 to 2 hours) before transferring the curry to a freezer bag. To ensure that the curry isn't too runny, I even refrigerate the curry overnight so that it firms up.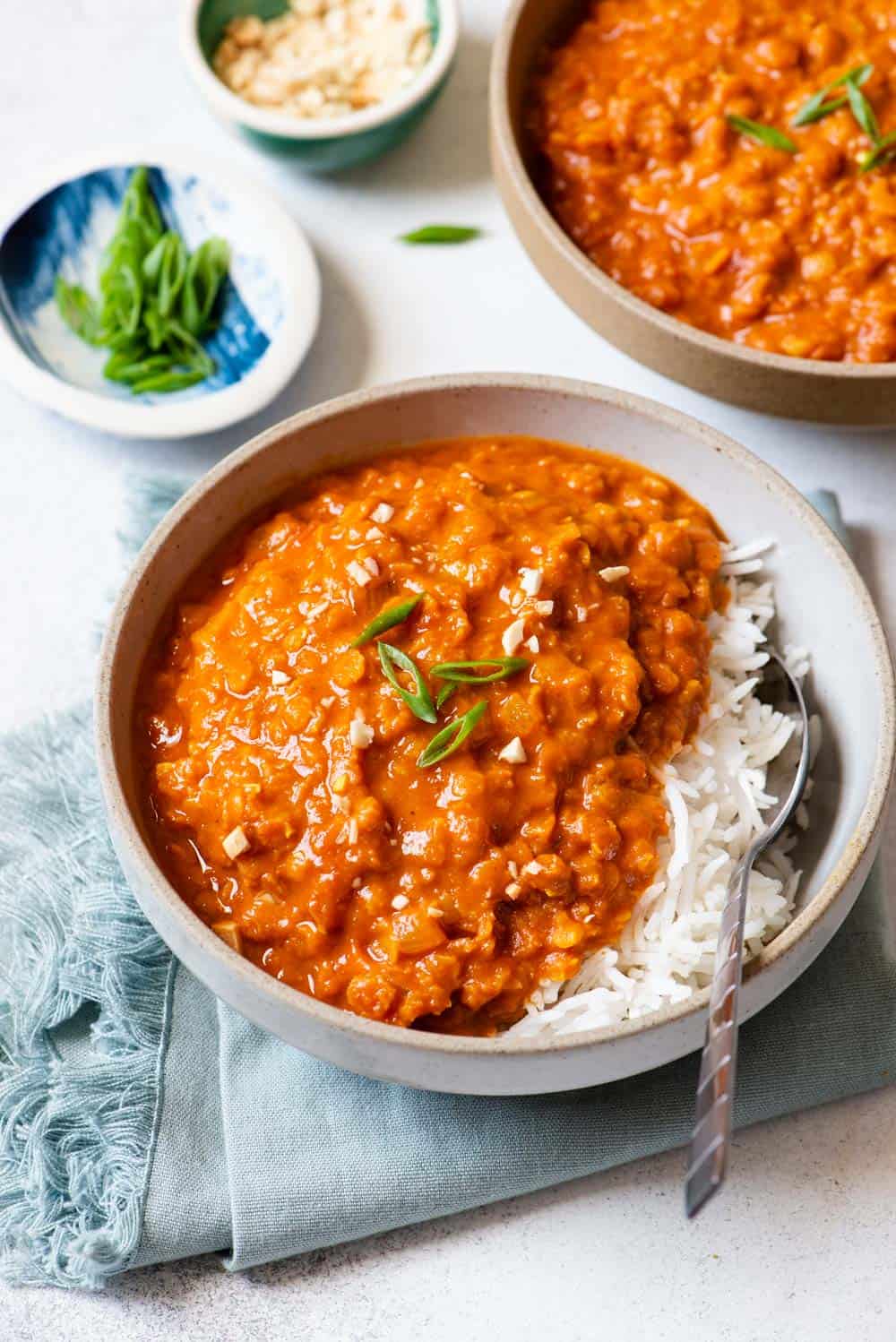 MORE CURRY RECIPES
Simple Red Lentil Curry
This is a delicious vegan dish that you can make in one pan or pot. If you want to add something more to the curry, consider adding pan-fried tofu, fried paneer, or pan-fried shrimp (if you're not vegan or vegetarian). You can also add several handfuls of greens when the lentils are nearly done simmering.
You can also freeze leftovers. Wait until the lentil curry cools completely before transferring to a container.
Ingredients
1

cup

dry red lentils

2

tablespoons

virgin coconut oil

3/4

cup

finely diced yellow onion

,

about 1/2 medium onion

3

cloves

garlic

,

minced

1

tablespoon

minced ginger

1 1/2

cups

crushed tomatoes

,

or a 14-ounce can

2 to 3

teaspoons

brown sugar

,

see note 1

1

tablespoon

yellow curry powder

1

teaspoon

ground coriander

,

optional

1/4 to 1/2

teaspoon

cayenne pepper

,

depending on your desired level of spice

1 1/2

teaspoons

kosher salt

3 1/2

cups

vegetable broth

1/2

cup

canned full-fat coconut milk

,

see note 2
Optional Garnish
sliced scallions

chopped peanuts
Instructions
Rinse the red lentils and pick out any dark or discolored pieces. Drain and set the lentils aside.

In a large skillet or small pot, heat the coconut oil over medium heat. Add the onions and cook them for about 5 minutes, stirring them so they don't burn. Next, add the garlic and ginger and cook for another 30 seconds, until fragrant. 

Add the crushed tomatoes, sugar, curry powder, coriander, cayenne pepper, and salt. Stir to incorporate all the spices with the tomatoes. Next, add the lentils. The rinsed lentils likely will have hardened into a solid chunk. Use a spatula to break them up in the tomato sauce. Then, add the vegetable broth. Cover the skillet or pot with its lid and bring everything to a boil. 

Reduce the heat to low and let the beans simmer for another 17 to 20 minutes until the lentils are fully cooked and tender. After 10 minutes of simmering, stir the lentils to make sure that they don't stick to the bottom of the pot or pan. If the lentil curry looks too solid, add another 1/2 cup of water. Alternatively, if the curry looks too runny, let it simmer uncovered for another 5 to 10 minutes. Note that the curry thickens as it cools.

Stir in the coconut milk and turn off the heat.
Notes
You can use any sugar or sweetener like honey in place of the brown sugar. I slightly prefer the curry when it's made with 3 teaspoons (1 tablespoon) of sugar. However, if you think that's too much, stick to 2 teaspoons. 
I prefer to use full-fat coconut milk because it adds more flavor to the dish. You can substitute that with light coconut milk. If you have leftover coconut milk and you're not planning to use it again any time soon, pour the coconut milk in an ice cube tray and freeze it.
Nutrition
Serving:
1
serving
|
Calories:
359
kcal
|
Carbohydrates:
46.3
g
|
Protein:
14.4
g
|
Fat:
14.4
g
|
Saturated Fat:
11.2
g
|
Sodium:
1132
mg
|
Fiber:
8.6
g
|
Sugar:
7.2
g
Did you make this recipe?
Tag @hellolisalin or leave a star rating and comment on the blog!
Disclaimer: This post is sponsored by Safeway. You can find all the ingredients for this post at your local Safeway or purchase them through Safeway Home Delivery.