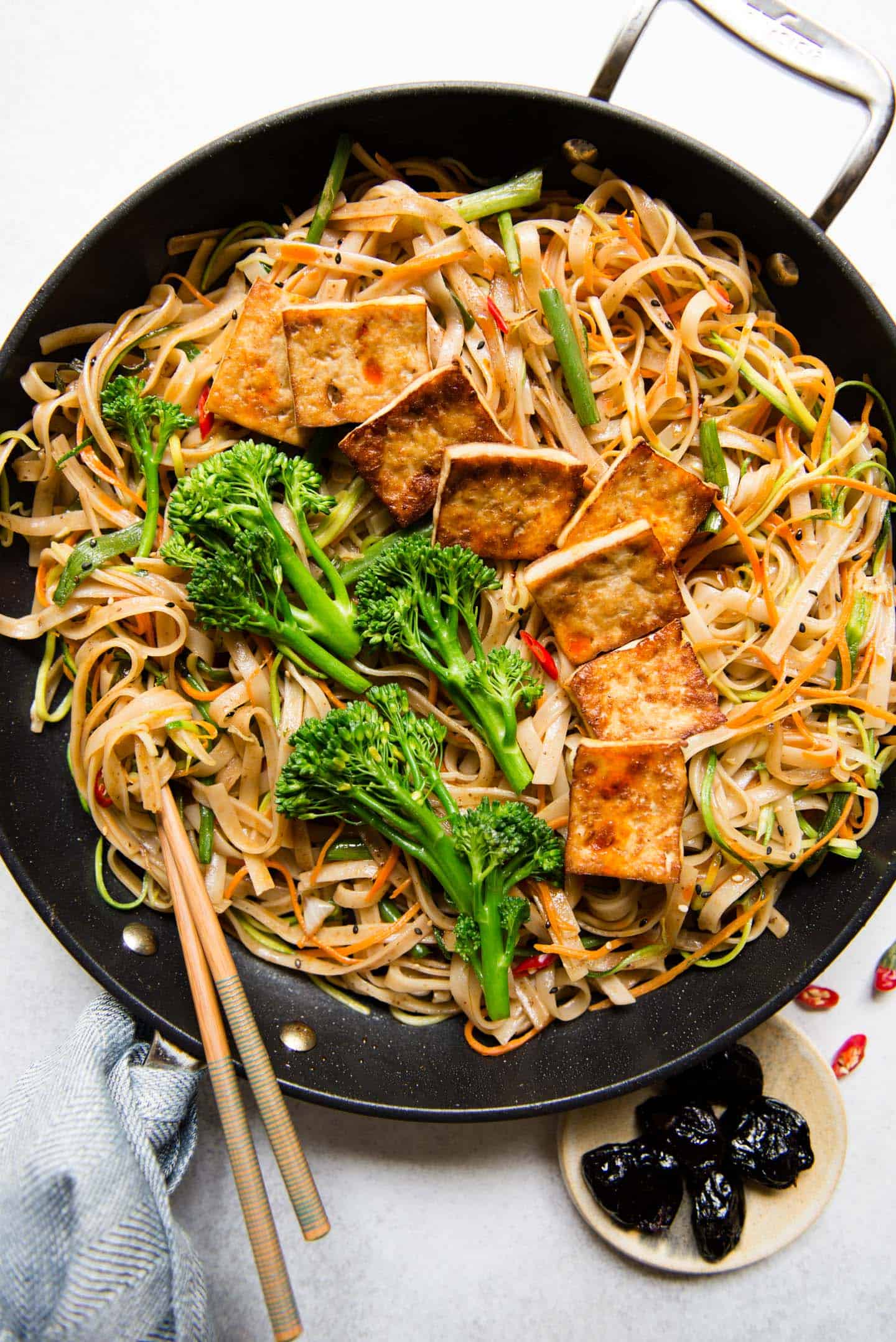 This post was sponsored by the California Dried Plum Board. Although I was compensated to write this post, all opinions are my own.
Prunes have a special place in my heart. When I was a toddler, my grandmother gave prunes to me as a special treat, and I would gobble them up in quick haste. Grandma Lin laughed at how quickly they all disappeared. Because I enjoyed them so much during my childhood, I snack on prunes to this day.
Imagine my delight when the California Dried Plum Board invited me to Napa to learn more about California prunes and to see a plum harvest in action!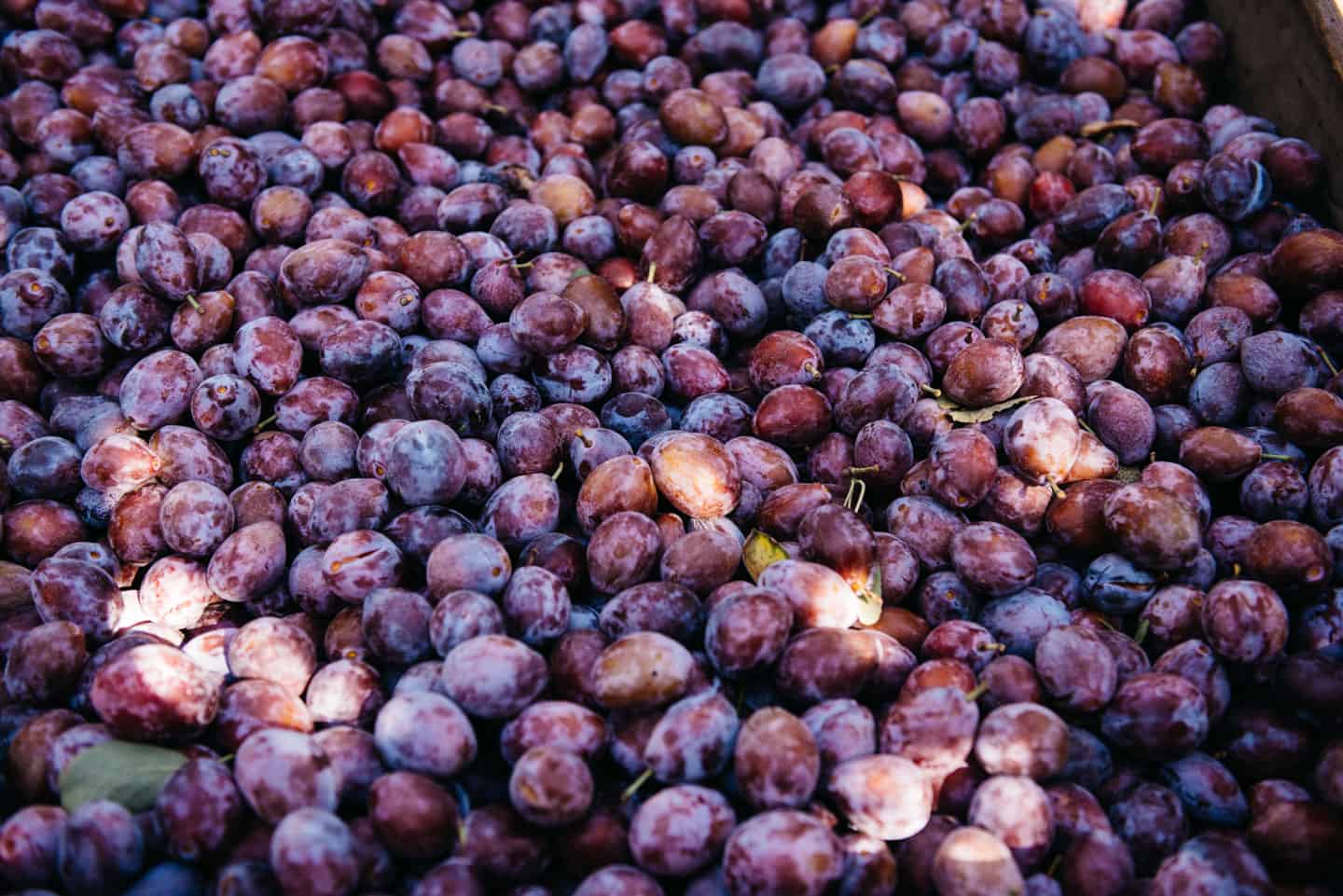 As I previously mentioned, having snacked on prunes since I was young, I was no stranger to their taste. However, I didn't fully realize just how nutrient dense prunes are. Prunes have a good amount of fiber—4 to 5 prunes contain about 3 grams of fiber—and they are high in polyphenols. That's why eating prunes can help with digestion, and they are a good source of antioxidants.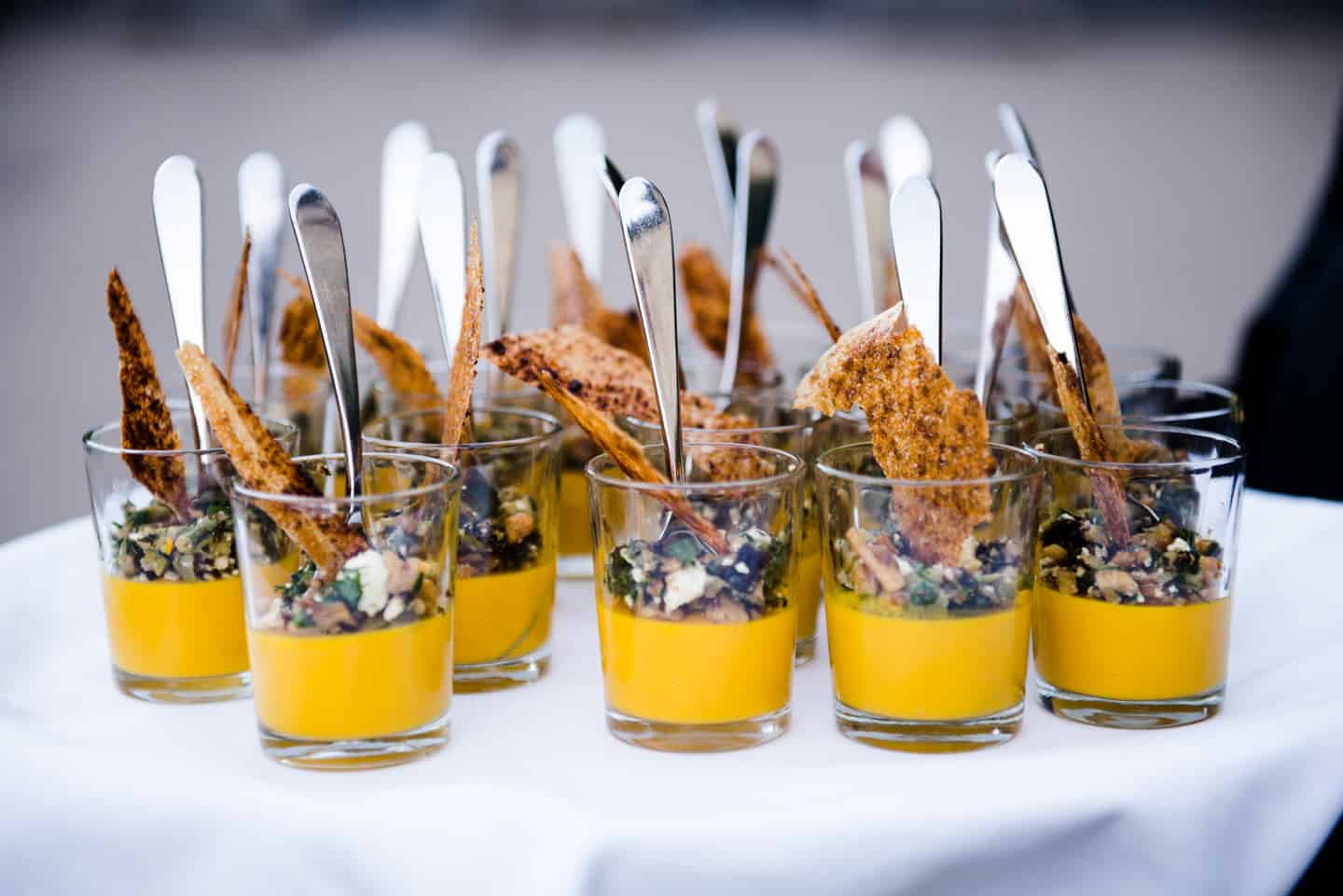 Prunes are also a very versatile ingredient to use for cooking. One of my favorite sessions during the trip was the flavor exploration panel with Chef Barbara Alexander and Chef Peter Sidwell. They paired prunes with about 20 other ingredients, such as ginger, prosciutto and arugula, and I learned so much! It was amazing how well prunes complimented sweet, salty, bright, sour, and even bitter flavors. My favorite flavor pairings were prunes with chocolate, walnuts, and miso, respectively.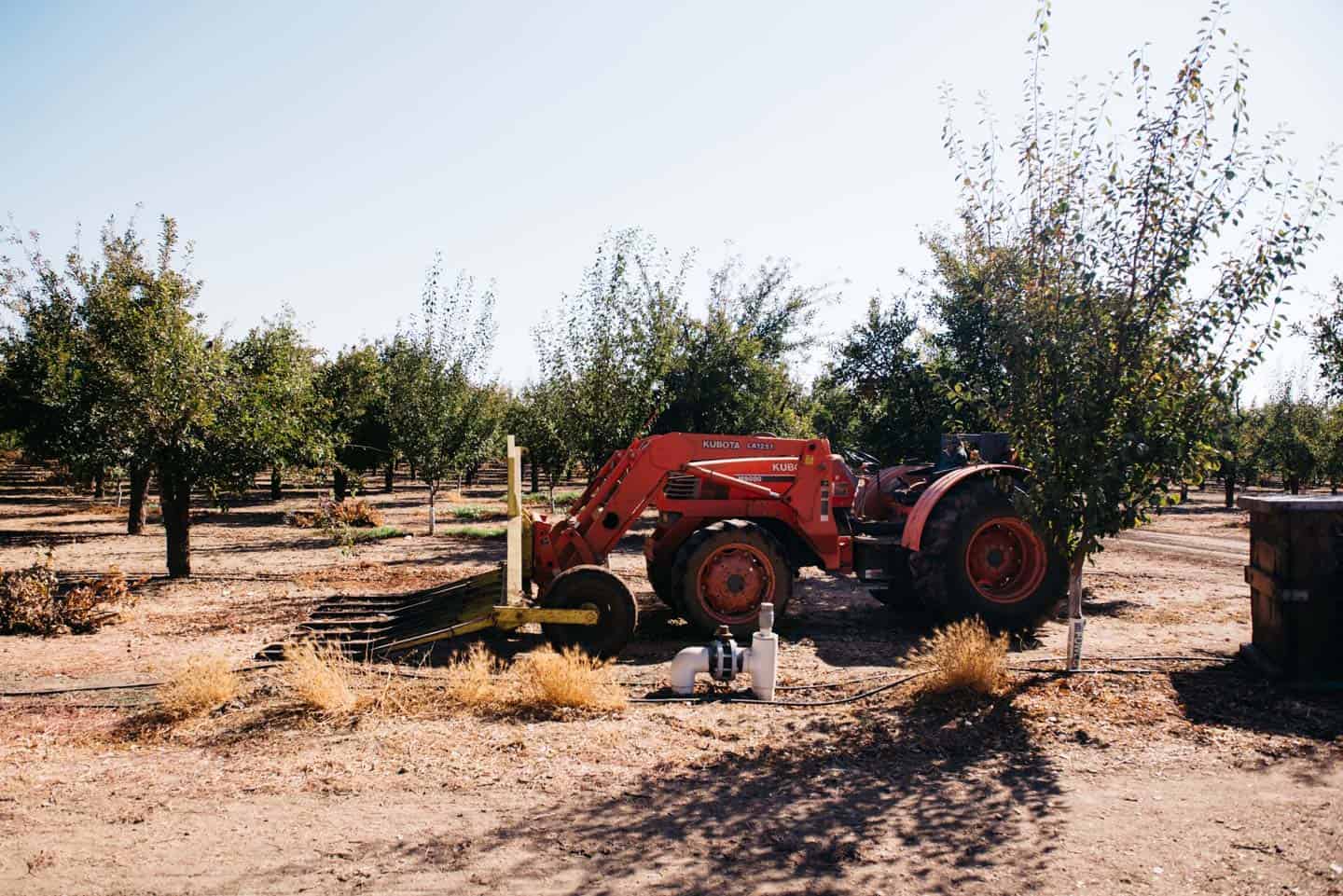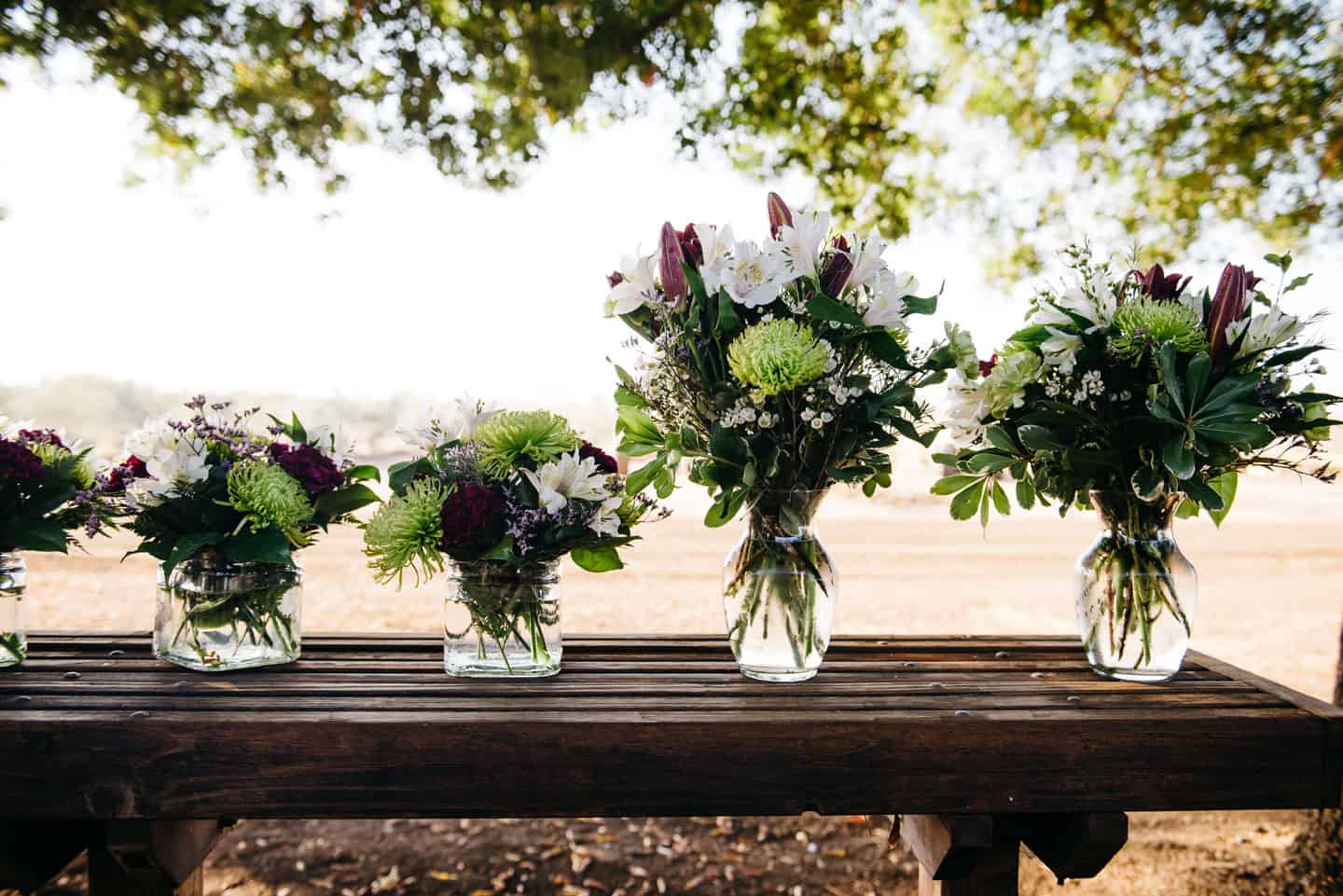 After a cooking session with the other attendees and the delicious prune-themed lunch and dinner prepared by the chefs, we headed over to Turkovich Farms to see the plum harvest. There were so many rows of plum trees that stretched out as far as the eye can see. The entire atmosphere was just so serene.
To pick the plums off the tree, one person operates the tree shaker, which grabs trees by the trunk and shakes it so that the fruits fall from the tree. On the other side of a tree is another tractor with a large catcher to collect the fallen fruits and sort out loose twigs and leaves. It's a noisy process, but fun for me to watch, as I don't get to see it often living in a city.
The whole trip inspired me to cook with prunes at home! I wanted to mimic the tasty prune and miso sauce that Chef Barbara Alexander prepared for the panel, so I made a stir fry sauce that is made of prune puree, miso, water, soy sauce, garlic powder, and sesame oil. It is a great sauce for these tofu stir fry noodles.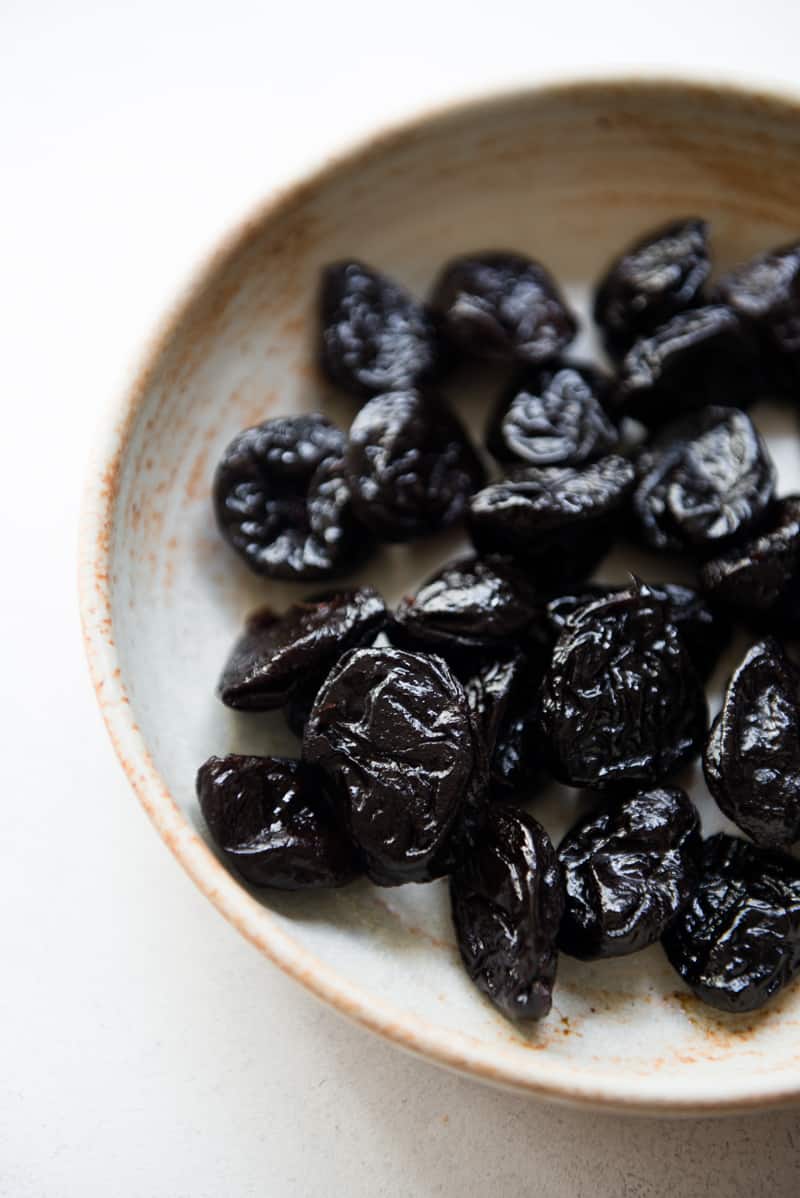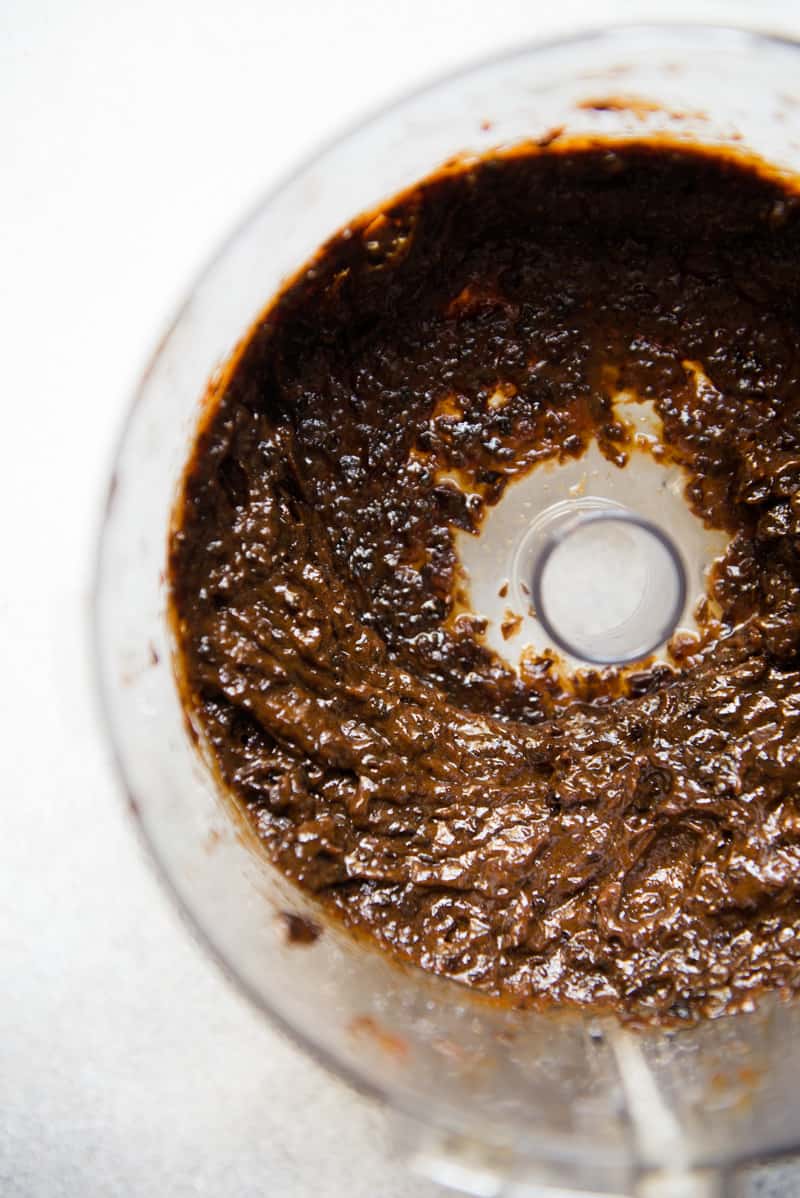 Prune puree is just prunes and hot water that has been blended into a thick paste. The puree is a good natural sweetener for sauces and even baked goods! In this prune and miso stir fry sauce, you'll get sweetness from the prunes and rich savory umami flavors from the miso. It is a very versatile stir fry sauce, and I highly recommend pairing it with soy sauce in your cooking.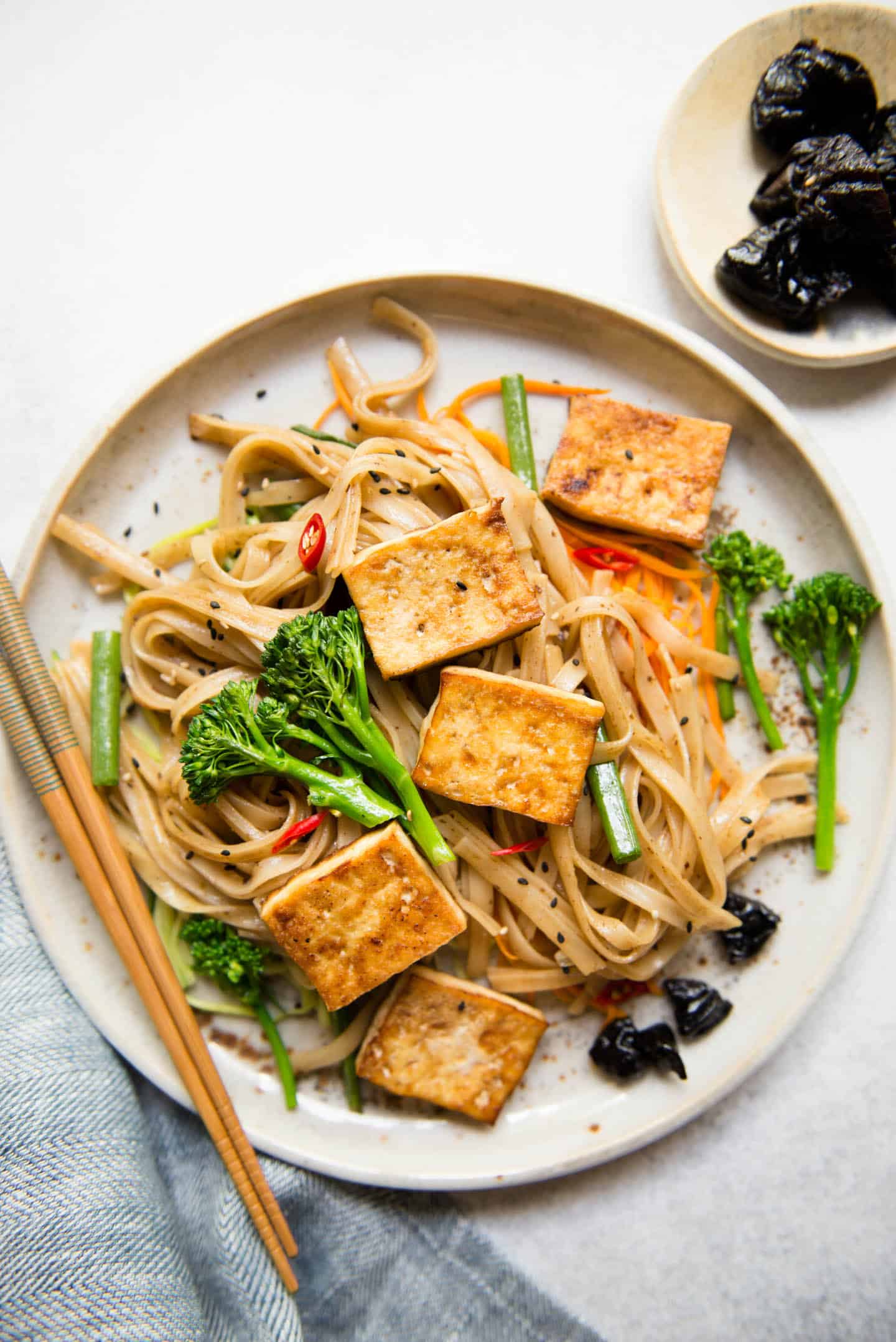 MORE NOODLE RECIPES
Tofu Stir Fry Noodles with Dried Plum Sauce
The recipe below creates a large batch of the dried plum sauce, which you probably won't use all at once. Use any leftover stir fry sauce for another dish. It will keep in the fridge for a week.
Ingredients
Dried Plum Sauce (makes 1 ½ cup)
5

tablespoons

prune puree (see note)

3

tablespoons

white miso paste

3/4

cup

water

1

tablespoon

soy sauce, use tamari if gluten free

2

teaspoons

rice vinegar

1

teaspoon

toasted sesame oil

1

teaspoon

garlic powder

1

teaspoon

onion powder

1/2

teaspoon

ground coriander
Noodles
1

(14-ounce) package extra firm tofu, drained

2 1/2

tablespoons

olive oil, divided

2 1/2

tablespoons

soy sauce, divided

8

ounces

rice noodles

1/2

cup

sliced yellow onions

1 1/2

tablespoons

minced ginger

2 to 3

Thai chilis, sliced

2

cups

broccolini (broccoli works also)

1

large carrot, peeled and julienned

2

scallions, sliced

2

medium zucchini, julienned

pinch

of salt

1

teaspoon

toasted sesame oil
Instructions
Add all the stir fry sauce ingredients into a jar and use an immersion blender to blend the sauce until smooth. Alternatively, you can add everything to a food processor and blend it. Set the sauce aside.

Wrap the block of tofu with paper towels and press the tofu between plates. Let that sit for 15 to 25 minutes. Unwrap the tofu, and cut it into 10 slices, crosswise. Take each slice and cut it in half so that you get 20 small rectangles. Drizzle 1 tablespoon of soy sauce over a non-stick pan or skillet. Take each tofu piece and cover each piece of tofu with the soy sauce. There should be enough soy sauce for all 20 pieces. Turn the heat to medium high, and cook the tofu for about 3 minutes. Drizzle 1 tablespoon of oil over the tofu and flip the tofu pieces over. Cook for another 3 to 4 minute and flip the tofu around again. Cook for 2 more minutes before transferring the tofu over to a plate.

Bring a pot of water to boil. Add the rice noodles and cook them for 6 to 8 minutes. The cooking time may vary depending on the thickness of the noodles. Once the noodles are cooked, drain the noodles and run them under cold water.

Drizzle the remaining oil into a large sauté pan or wok. Add the onions and cook for about 2 minutes, until they start to soften. Add the ginger and Thai chilis and cook for 30 seconds more. Add the broccoli and about 3 tablespoons of water. Cover the pan or wok with a lid and let the broccoli cook for about 2 to 3 minutes. Uncover the broccoli and add the carrots, scallions, and a pinch of salt. Cook for about 2 minutes. Add the noodles, zucchini, 1/3 cup of the stir fry sauce, 1 1/2 tablespoons soy sauce, and 1 teaspoon sesame oil. Toss everything together. Taste the noodles and add more stir fry sauce or soy sauce if necessary.

Serve the noodles with the tofu. You can serve the tofu on a separate dish, or toss them together with the noodles before serving.
Notes
To make the prune puree, blend 8 ounces of prunes with 6 tablespoons of hot water in a food processor until smooth. (The recipe for the prune puree is from Leslie Bonci, a speaker at one of the panels during the tour.) Note that when you blend the prunes and hot water, some of the water will splash out from the bowl. The puree will keep in the freezer for months.
Nutrition
Serving:
1
serving
|
Calories:
452
kcal
|
Carbohydrates:
59
g
|
Protein:
13
g
|
Fat:
18
g
|
Saturated Fat:
2.3
g
|
Sodium:
112
mg
|
Fiber:
4.9
g
|
Sugar:
4.4
g
Did you make this recipe?
Tag @hellolisalin or leave a star rating and comment on the blog!
Disclosure: This post was sponsored by the California Dried Plum Board. Visit their website for more information or follow them on Facebook or Twitter!