Although these savory Chinese pancakes may be plain to look at, they're incredibly addictive to eat. Mama Lin used to improvise the ingredients and cook a large batch of these savory pancakes on weekends. She would mix the batter with flavoring bits like shallots, dried shrimp, Chinese sausage (臘腸), Chinese cured pork (臘肉), and scallions. There was never a formal recipe. However, I was able to convince my mother to streamline a recipe to share with all of you!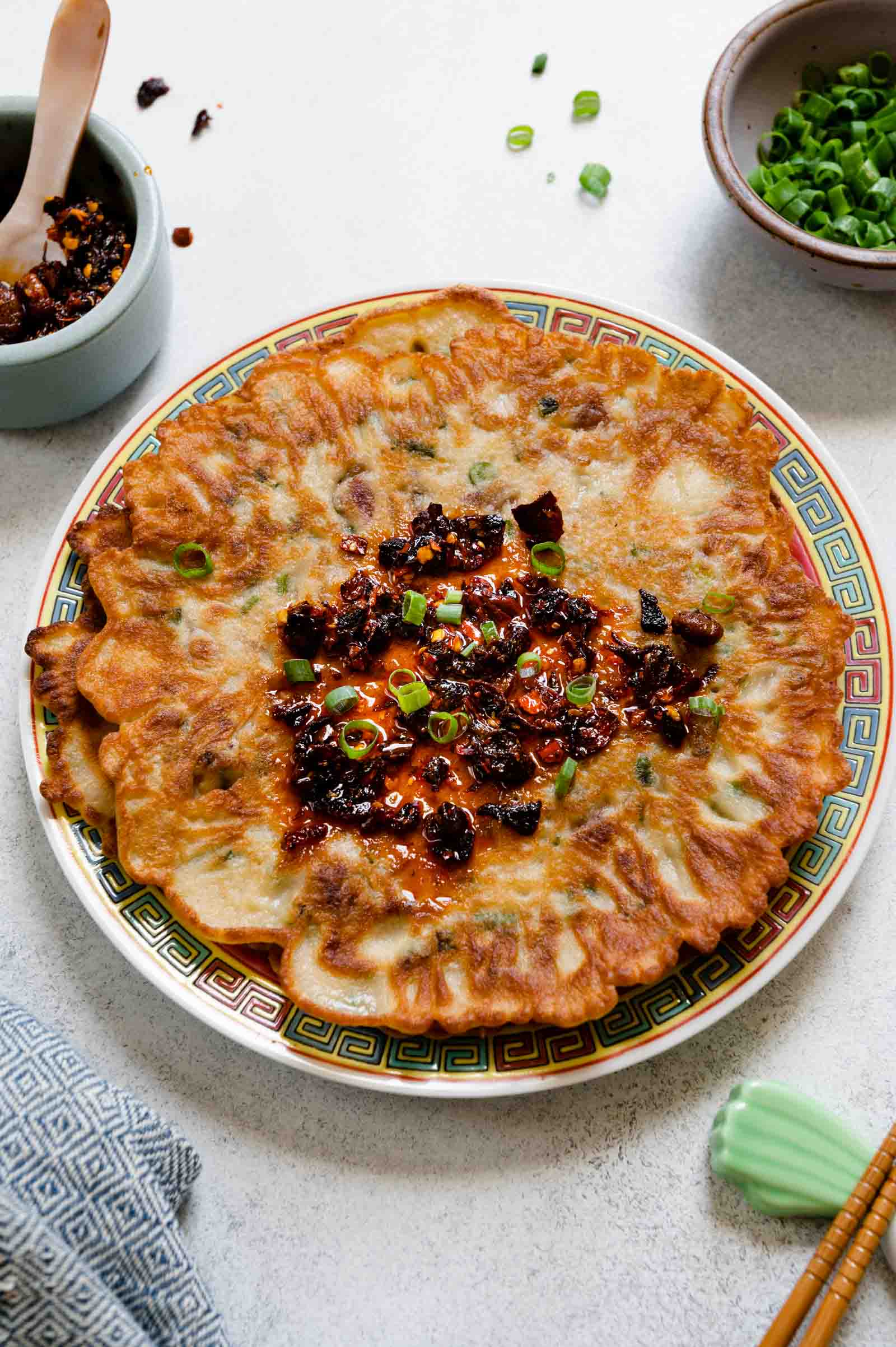 The savory pancakes look similar to flaky scallion pancakes, but the texture is completely different. These pancakes are made from a batter, so they're soft on the inside and they're not flaky. As a matter of fact, these pancakes are much easier to make. Also, there isn't really an official name for these pancakes. I'm calling them "savory Chinese pancakes" because they use ingredients that you'd easily find in a Chinese family's kitchen.
HOW TO MAKE MAMA LIN'S SAVORY CHINESE PANCAKES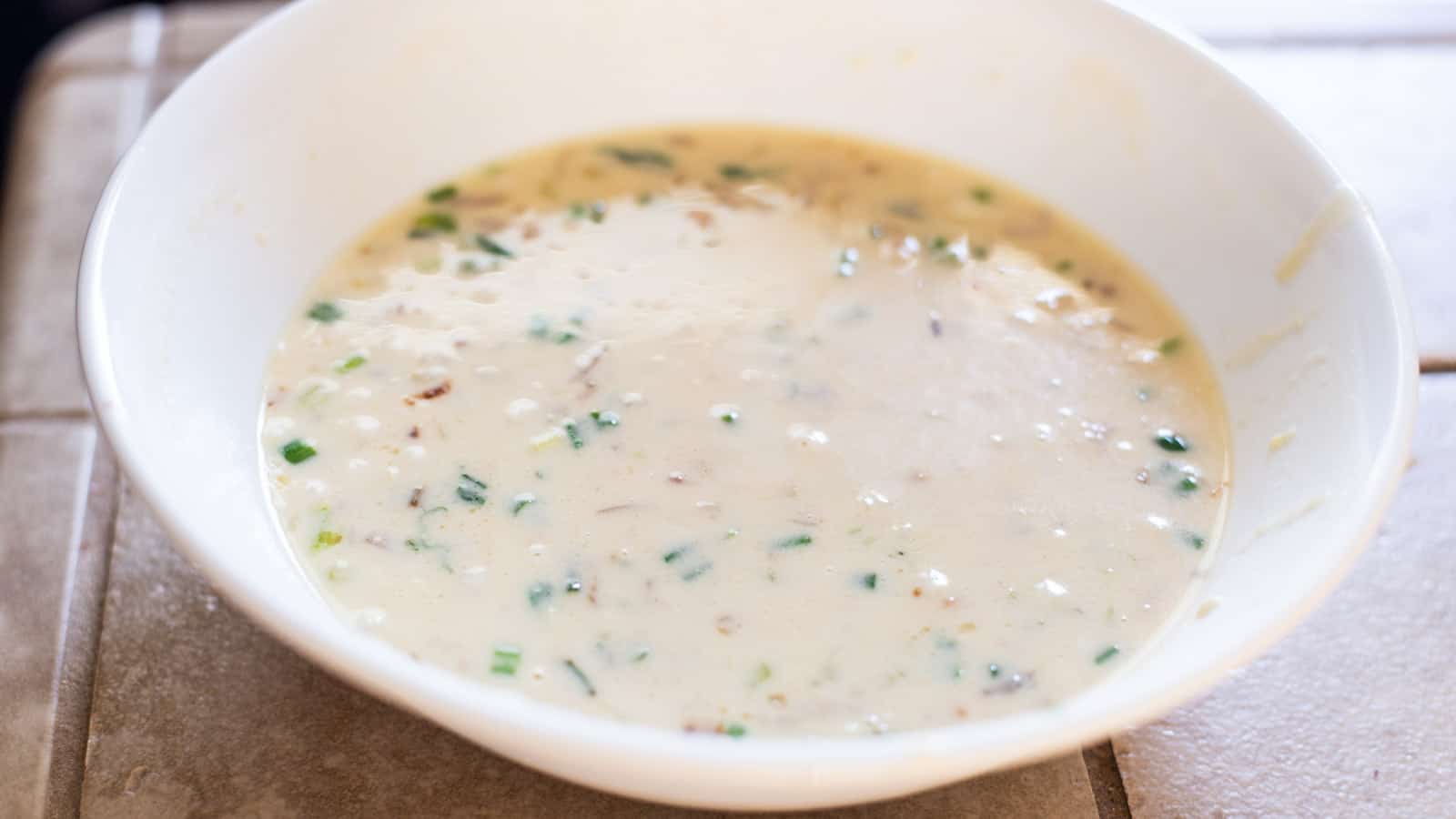 MAKE THE BATTER
This recipe yields 4 large pancakes. For the pancake batter, you'll need 1 cup of all-purpose flour, an egg, and 1 1/3 cups water. If you make pancakes often, you'll notice that the batter looks and feels much more runny than your standard pancake batter. My mom says that she likes a runnier batter because it yields softer pancakes, and I have to agree! 
When I was testing this recipe, I made several batches using only 1 cup of water. While the pancakes were easier to cook because they were less floppy, the texture of the pancakes was firmer. Having tried both versions, I prefer the pancakes made with more water. However, feel free to use less water if that's what you prefer.
After you mix all the ingredients of the batter together, let it sit for at least 10 minutes. This gives the flour more time to absorb the water so that the batter can thicken slightly.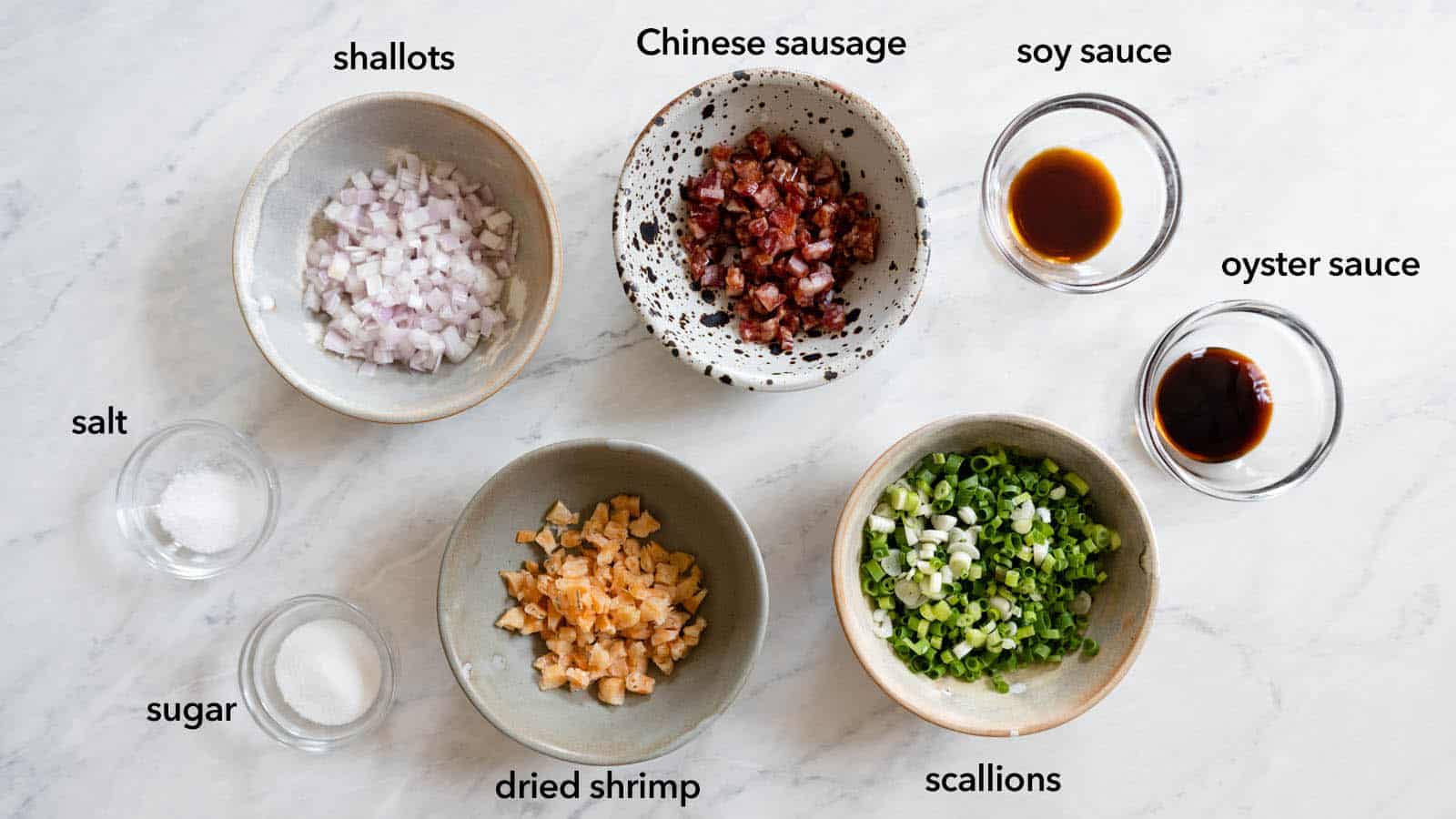 SAUTÉ FLAVORING BITS
To give these savory Chinese pancakes flavor, my mom mixes shallots, scallions, dried shrimp, and Chinese sausage into the batter. She quickly sautés these flavoring bits and seasons them with soy sauce and oyster sauce to develop their flavor. Then, she mixes the flavoring bits into the batter.
Translation note: My mom uses the word 餡 (xian in Mandarin; haam in Cantonese) to describe the dried shrimp, Chinese sausage, etc. That word means "filling," though I'm not sure it translates properly in this context. I'm calling them "flavoring bits" because they're meant to give a dish more flavor.
DRIED SHRIMP & CHINESE SAUSAGE
This recipe uses dried shrimp, which you can find in Asian supermarkets, Amazon, or online Asian grocery delivery services like Say Weee! and Yamibuy. Soak the shrimp for at least 30 minutes to rehydrate them. Then, chop them into smaller pieces.
You can also find Chinese sausage in Asian supermarkets, Amazon, or Say Wee! and Yamibuy. One link of sausage will be enough for this Chinese pancake recipe.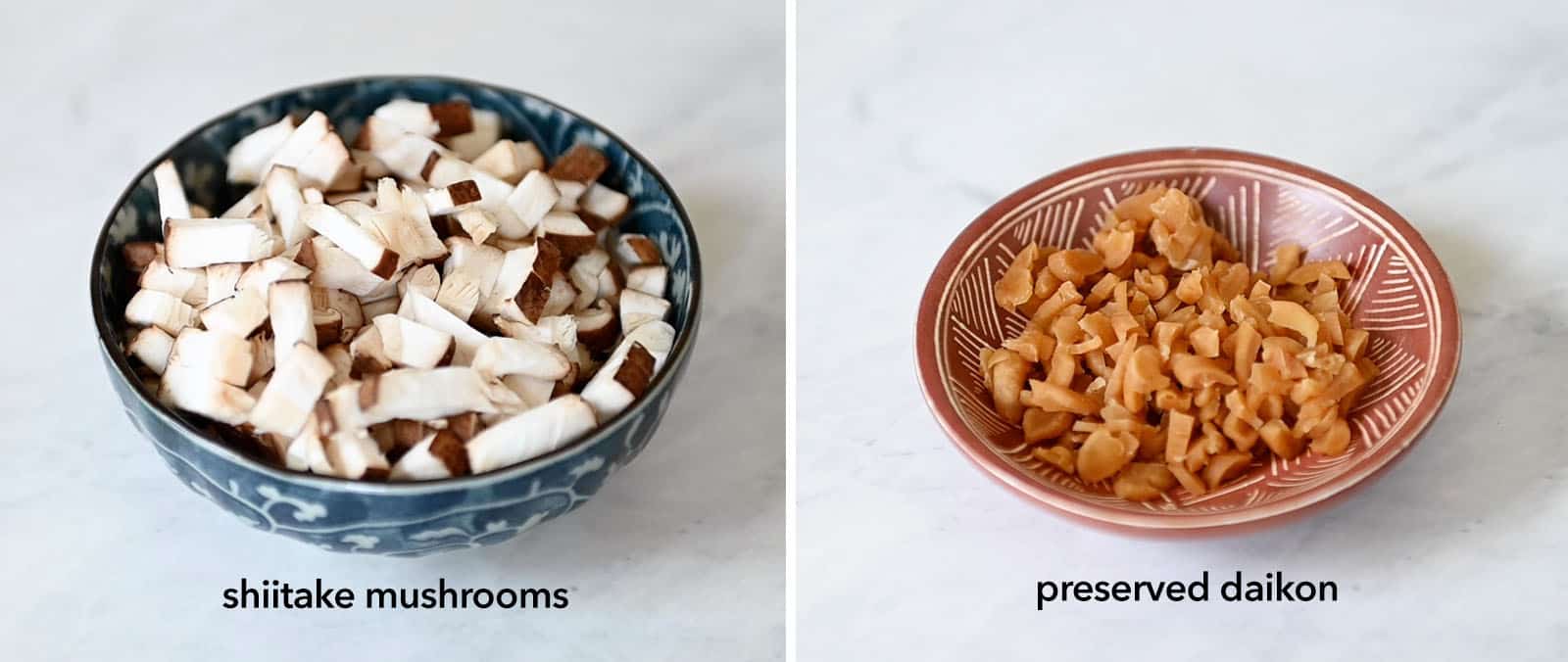 VEGETARIAN OPTION
For a vegetarian version, you can replace the dried shrimp and Chinese sausage with 50g (1 cup chopped) shiitake mushrooms and 30g (1/4 cup chopped) sweet preserved daikon (photo above, right) or any Chinese preserved vegetable for more flavor. The shiitake mushrooms will add a little umami flavor, but the pancakes need more flavor. That's why I recommend adding some type of Chinese preserved vegetable. The sweetness of the preserved daikon pairs very well with the shiitake mushrooms.
You can also replace the oyster sauce with my teriyaki sauce (photo below, left) or Lee Kum Kee's Vegetable Stir Fry Sauce (photo below, right).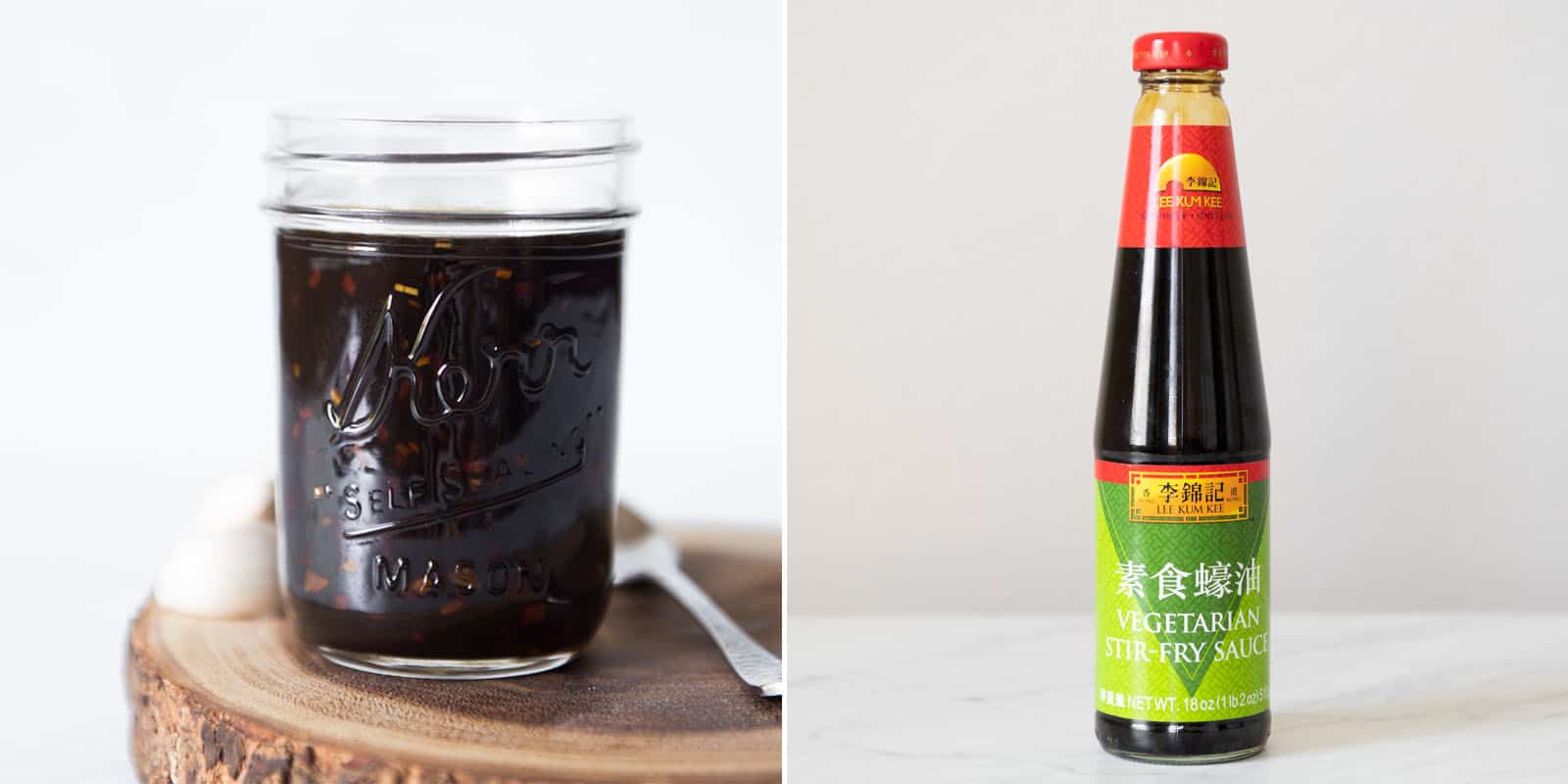 PAN-FRYING PANCAKES
You can pan fry the pancakes on a cast-iron or nonstick skillet. Make sure the pan is well heated before you start cooking the pancakes. That way, the pancakes will brown properly and crisp up on the edges.
Pour 1/2 cup of batter into the center of the pan and fry the pancake until the edges are golden brown, about 2 to 3 minutes. Then, flip the pancake over and pan fry the other side for a minute, until golden.
The first side of the first pancake might look pale and that's because the pan is still heating up. I find this to be particularly true when I'm using my nonstick pan. After I pan fry the second side, I usually go back and pan fry the first side again for another 1 to 2 minutes. That's usually enough time to brown the pancake more.
If you are cooking the pancakes on cast iron, you may need to lower the heat halfway through cooking. Because cast iron retains heat very well, the pan will be very hot when you get to the 3rd and 4th pancakes. As a result, the pancakes brown faster. Reduce the heat slightly and decrease the cooking time.
I can't flip the pancakes in the air like my mom can, so I like to use this wide spatula from OXOfor flipping pancakes. There's no shame in that!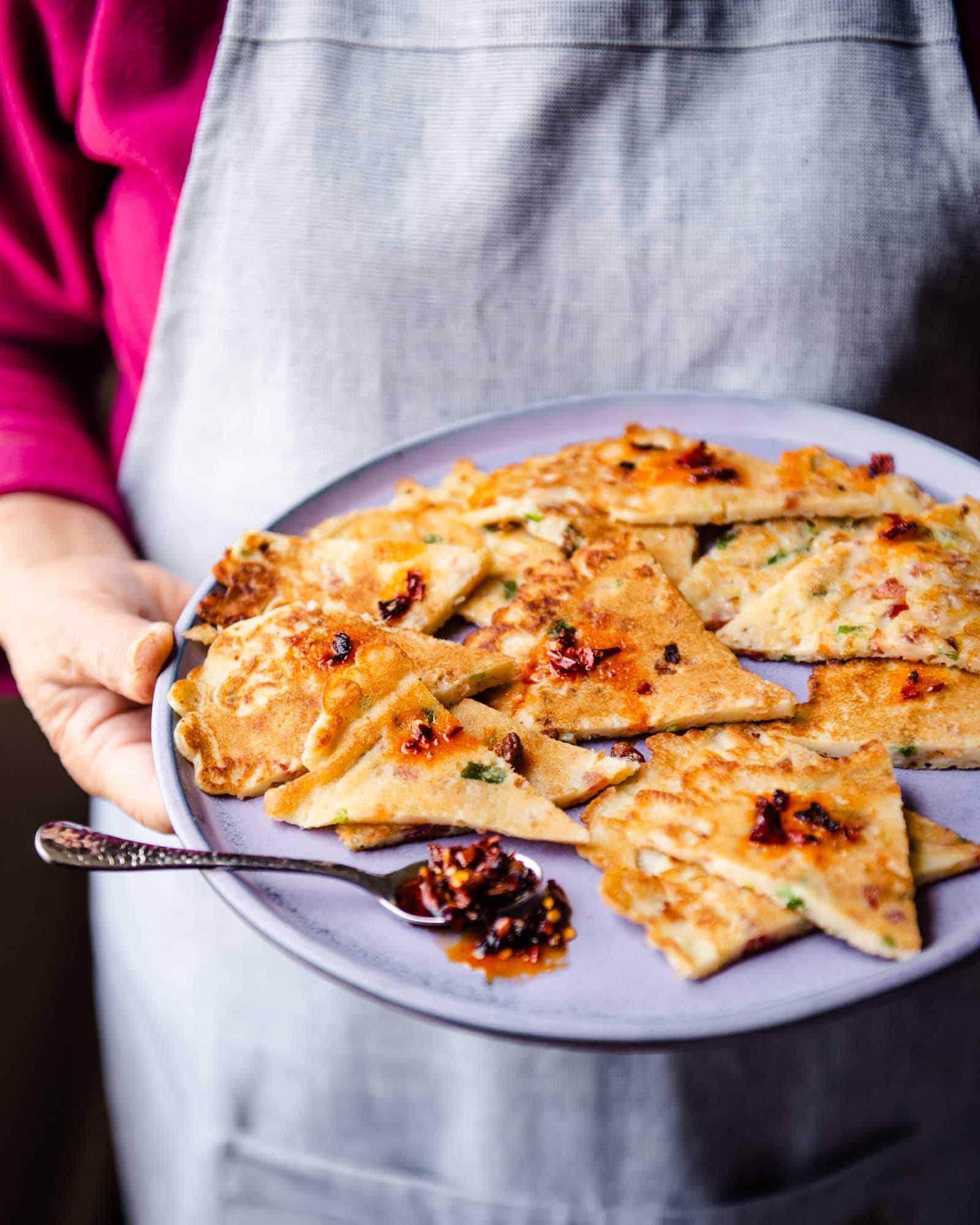 SERVING CHINESE PANCAKES
I like serving these pancakes by slathering Lao Ga Ma spicy chili crisp over them. If I'm eating the pancakes for dinner, I like to serve them with a protein (sticky chicken thighs or sweet chili garlic shrimp) and some vegetables (garlic green beans or any sautéed vegetables).
HAVE LEFTOVER DRIED SHRIMP? USE THEM IN THESE RECIPES
HAVE LEFTOVER CHINESE SAUSAGE? USE THEM IN THESE RECIPES
Mama Lin's Savory Chinese Pancakes
This recipe makes 4 large pancakes. For a larger batch, you can double the recipe. To keep the pancakes warm, you can place the pancakes on a baking sheet in an oven that's been preheated to 180ºF. See note 1 for the vegetarian option.
Ingredients
Batter
120

grams

all-purpose flour (1 cup)

1

large egg

1 1/3

cups

water (315ml)
Flavoring Bits
15

grams

dried shrimp (3 tablespoons)

,

soaked for 30 minutes

1 1/2

tablespoons

vegetable oil

,

any oil works, plus more for frying pancakes

30

grams

shallots

,

finely diced (1/4 cup)

30

grams

Chinese sausage,

chopped (1/4 cup)

25

grams

scallions

,

thinly sliced (1/2 cup)

1/2

teaspoon

salt

1

teaspoon

sugar

2

teaspoons

oyster sauce

1

teaspoon

soy sauce
Equipment
large nonstick or cast-iron skillet
Instructions
Before you make the batter, make sure to soak the dried shrimp for at least 30 minutes.

Add the flour to a bowl. Crack the egg into the bowl and beat the egg lightly. (See note 2) Gradually pour the water into the bowl, stirring the ingredients with a whisk or large fork simultaneously. Keep stirring until you no longer see large lumps of flour, about a minute. The batter will be very runny, so let it sit on the counter for at least 10 minutes while you prepare the filling.

Drain the dried shrimp and chop the shrimp into small pieces.

Heat a small skillet with 1 1/2 tablespoons oil over medium-high heat. Add the shallots and cook for 1 to 2 minutes, until the shallots start to soften. Add the chopped dried shrimp and cook for a minute more. Next, add the Chinese sausage and cook for another 30 seconds. Season the filling with salt, sugar, oyster sauce, and soy sauce. Turn off the heat. Add the scallions, and stir everything together.

Pour the flavoring bits into the batter and mix everything.

Heat a nonstick or cast-iron skillet over medium-high heat. Make sure that the pan is hot before adding 1 tablespoon of oil. Swirl the oil around the pan.

Pour 1/2 cup of batter into the center of the pan. Pan fry the pancake for 2 to 3 minutes, until you can see the edges turning golden brown. The first pancake always takes a little longer to brown. Flip the pancake over and cook the other side for another 1 to 2 minutes, until golden. (See note 3)

Serve the pancake immediately or transfer the pancake to a cooling rack. I like placing the hot pancakes on a cooling rack so that the bottoms of the pancake don't build up condensation.

Swirl another 1/2 tablespoon of oil around the pan and cook the next pancake. Subsequent pancakes will take slightly less time to pan fry because the pan is now hotter. If you are using cast iron, you'll want to reduce the heat (to medium or medium-low) so that the pancakes don't burn. Repeat until all the pancakes are cooked.
Notes
Vegetarian Option: Instead of the dried shrimp and Chinese sausage, you can cook 50g diced shiitake mushrooms (1 cup chopped) and 30g preserved daikon (1/4 cup chopped). You'll add the shiitake mushrooms the same time you add the dried shrimp and the preserved daikon when you add the Chinese sausage. Then replace the oyster sauce with teriyaki sauce or Lee Kum Kee's Vegetarian Stir-Fry Sauce.
In the video above, my mom beats the egg in the bowl first and then adds the flour. I always found that a little strange. In all honesty, this batter is very forgiving so it doesn't really matter the order in which you add the ingredients.
Oftentimes, the first pancake will look quite pale because the pan isn't hot enough yet. This is particularly true when I pan fry on my nonstick pans. You can always pan fry the pancakes for longer until they reach the desired level of golden color. Alternatively, you can flip the pancakes over a few times to make sure they're golden.
Nutrition
Serving:
1
pancake
|
Calories:
271
kcal
|
Carbohydrates:
27
g
|
Protein:
7.4
g
|
Fat:
13.9
g
|
Saturated Fat:
9.3
g
|
Cholesterol:
61
mg
|
Sodium:
531
mg
|
Fiber:
1.2
g
|
Sugar:
2.9
g
Did you make this recipe?
Tag @hellolisalin or leave a star rating and comment on the blog!