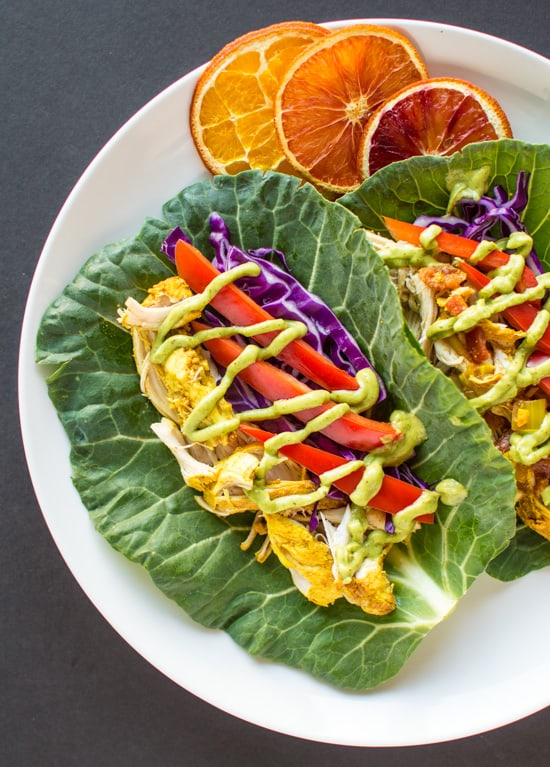 It took me three tries before I got these green tea cupcakes right. Imagine how much chocolate and cupcakes I had to go through before writing up that recipe! Food blogging is tough, isn't it?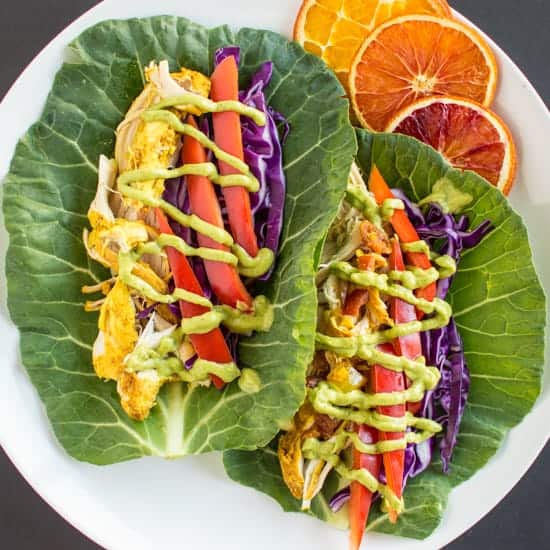 After eating all those cupcakes, chocolate, and frosting (plus some crispy roasted potatoes on the side), my body felt like it gained a brand spanking new spare tire. Let's just say that things were not pretty. I don't even want to talk about how my jeans felt.
So for the past two weeks, I've been a bit more carb conscious. Don't worry, I'm not about to go all low-carb diet on you. I like eating bread too much for that. But there are those days when I feel that swapping out carbs for vegetables is just what I need to make my body feel better. Collard greens are fantastic for this. The leaves are so strong that you can use it as a wrap or fold it in half for tacos. If you're not on top of this yet collard wrap train already, you need to get on it!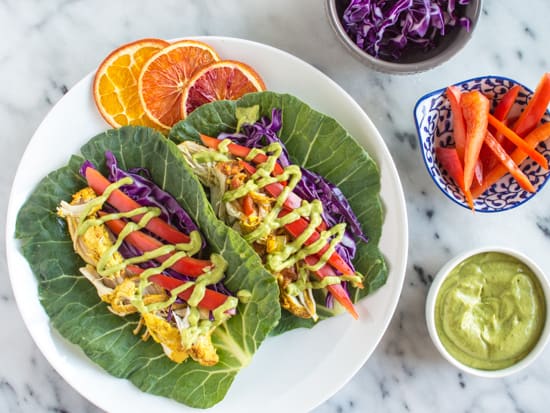 A few months ago, I saw this crock pot chicken tikka masala recipe on The Roasted Root that I've been eyeing for a looong time. I knew I had to try it because this is one of those set-it-and-forget-it slow cooker recipes that I have an acute fondness for lately. Unfortunately, I didn't have all the ingredients in the recipe, so I adapted it into a curried chicken dish. Even though this isn't a true tikka masala, the flavors of this curried chicken is purrrrfect!
Slow Cooker Curried Chicken Tacos with Avocado Crema
Serves 8.
Ingredients
Slow Cooker Curried Chicken
2

pounds

(900g) boneless skinless chicken breasts

1 15-

ounce

(425g) can of diced tomatoes

1

TBS

coriander seeds

,

ground

2

tsp

ground cumin

2

tsp

fresh ginger

,

chopped

1 1/2

tsp

ground tumeric

1

tsp

salt

1/4

tsp

cinnamon

1/4

tsp

ground cardamom

1/2

medium yellow onion

,

chopped

3

chiles de arbol

,

roughly chopped

4

garlic cloves

,

minced

2

star anise

1/2

cup

(120ml) chicken stock
Avocado Crema
1

large ripe avocado

1/3

cup

chopped cilantro

,

tiny handful

5

TBS

low-fat yogurt

1 1/2

TBS

lemon juice

,

I used meyer lemons

1 to 2

tsp

onion powder

1 1/2

tsp

chili powder

1/2

tsp

salt
Taco
1

bunch of collard greens

,

preferably with at least 8 leaves

1

large red pepper

,

thinly sliced

1/2

small head of red cabbage

,

thinly sliced
Instructions
PREPARE THE CHICKEN: In a medium bowl, mix the chicken with the diced tomatoes, spices, and onions together, leaving out the star anise and chicken stock. Pour all the contents into a slow cooker. Add in the chicken stock and star anise. Set the slow cooker on low for 7 to 8 hours, or on high for 4 to 5 hours.

PREPARE THE CREMA: When the chicken is about done, start making the crema. Blend all the crema ingredients in a food processor until everything is smooth. If sauce is a bit thick, add another tablespoon of yogurt.

PREPARE THE WRAPS: Rinse the collard greens with water and pat them dry with paper towels. Trim off the tough stems.

When the chicken breasts are cooked, shred them with a fork. Assemble the tacos by adding some chicken, red pepper, and red cabbage inside a collard green leaf. Top with some avocado crema.

Store any leftover avocado crema in an airtight container. It should last for another 5 days. Remember to give it a quick stir before serving it again.
Did you make this recipe?
Tag @hellolisalin or leave a star rating and comment on the blog!
Looking for more slow cooker recipes?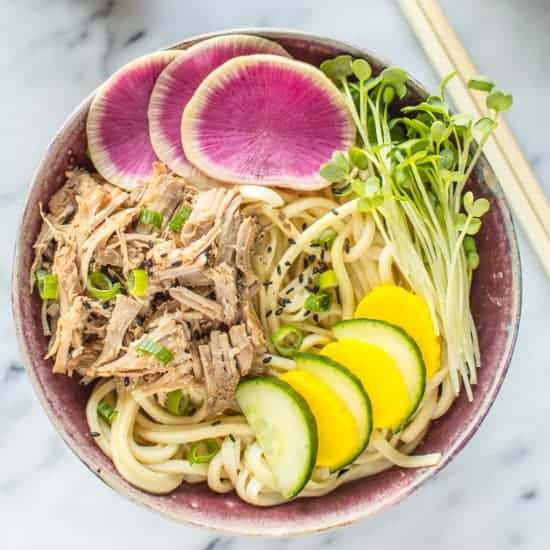 Udon Bowl with Five Spice Slow Cooker Pork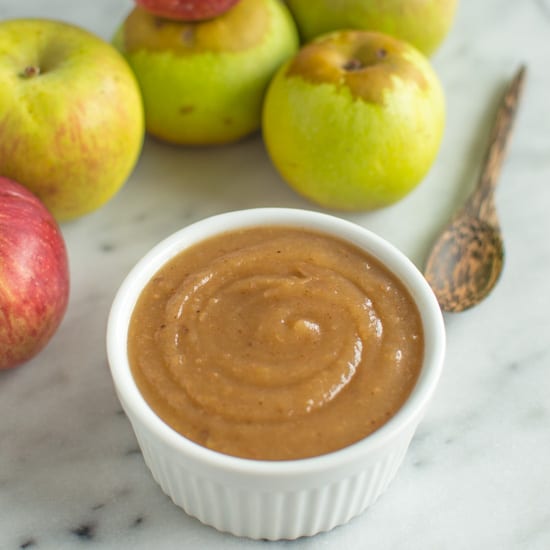 Slow Cooker Pork with Zucchini Carrot & Apple Noodles