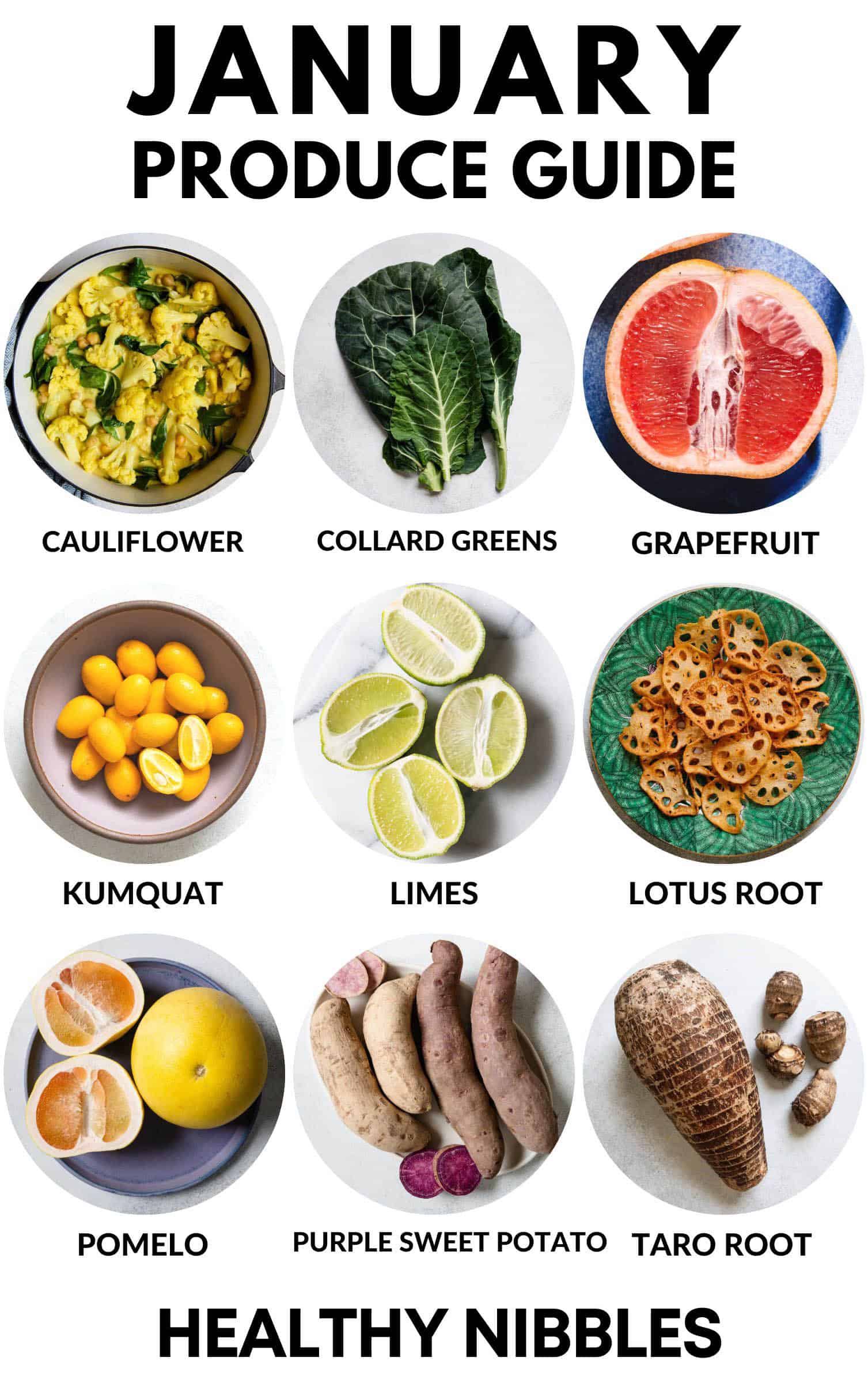 Written by Diann Leo-Omine & Lisa Lin, Photos by Lisa Lin
Happy new year! This January produce guide is coming a little late this month because I've been busy moving into our new house! It's been a few weeks of nonstop packing, cleaning, and unpacking, and I'm glad to have a moment to just sit down and work.
It's been quite a chilly winter here in Sacramento, but the cold has its rewards, though. Right in time for Lunar New Year, it's the season for grapefruit, lime, pomelo, and other types of cheerful (and auspicious) citrus. On the vegetable side, there's leafy cruciferous greens and tuberous roots to keep you on track to your new year eating goals. Stay warm!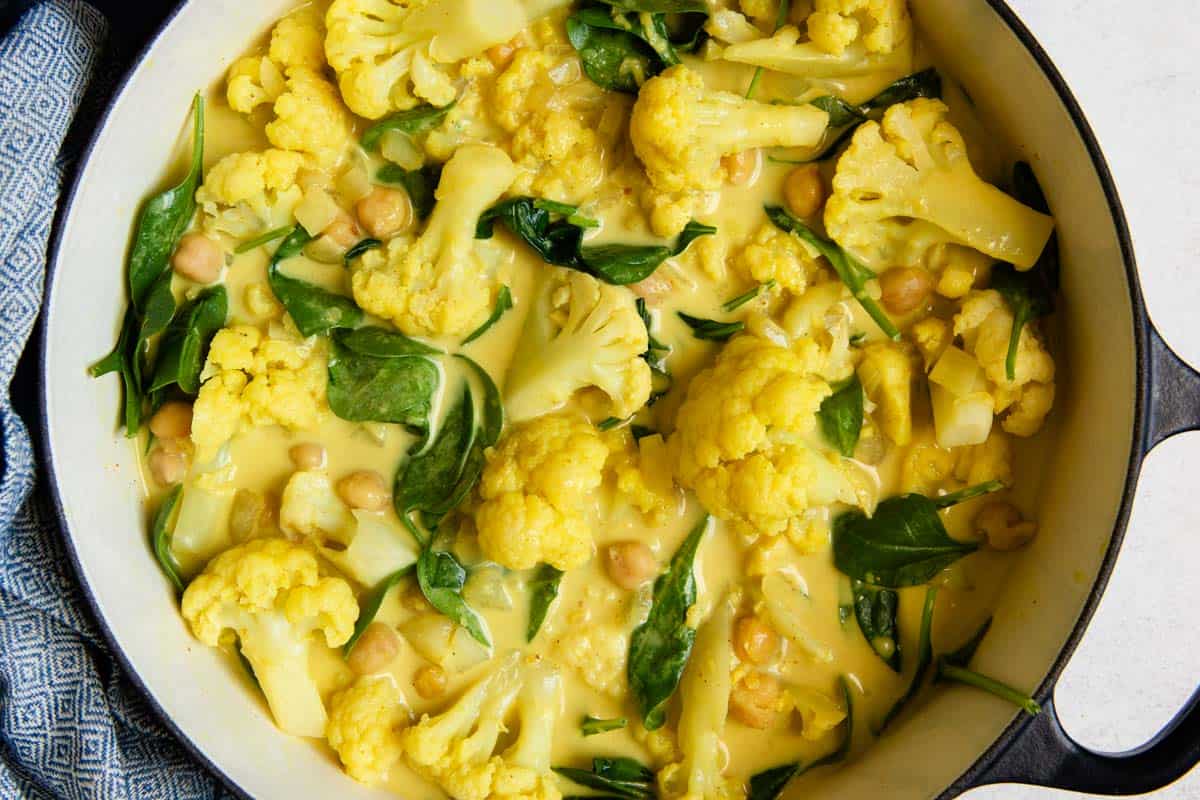 CAULIFLOWER
Cruciferous cauliflower is more than just a broccoli look-alike. Whether it's the white, green, purple, or orange varieties, cauliflower is high in folates and vitamins C, K, and B-6. In recent years, cauliflower has been popular as a replacement for rice, pizza crust, or even polenta. Cauliflower takes well to high heat cooking, and develops a nutty taste when roasted and browned.
HOW TO CHOOSE AND STORE CAULIFLOWER
Choose cauliflower with a compact head and relatively uniform coloring. Store cauliflower in a plastic bag in the refrigerator for up to a few weeks.
RECIPES USING CAULIFLOWER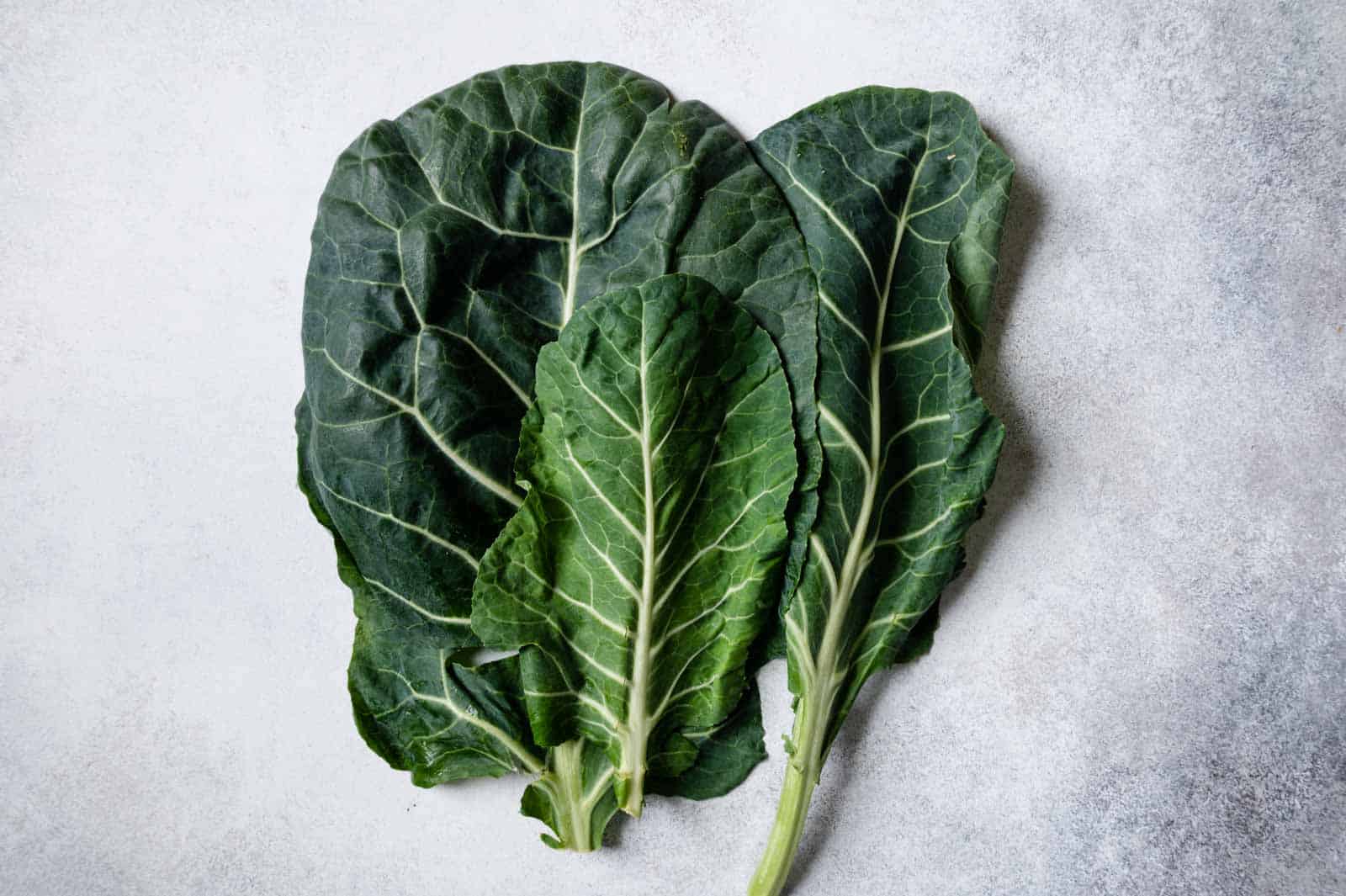 COLLARD GREENS
Collard greens are rich in vitamins and minerals, and impressively, are one of the best plant-based sources of calcium. A member of the brassica family, it's a relative to kale, Brussels sprouts, and cabbage. Rightly guessed, it's a bitter green, but stands up well to eating raw or braising. Try collard green leaves as a wrap in place of a tortilla!
HOW TO CHOOSE AND STORE COLLARD GREENS
Choose collard greens that are bright green and without holes or spotting. The leaves should feel crisp. Collard greens can be stored in the refrigerator crisper for up to a week.
RECIPES USING COLLARD GREENS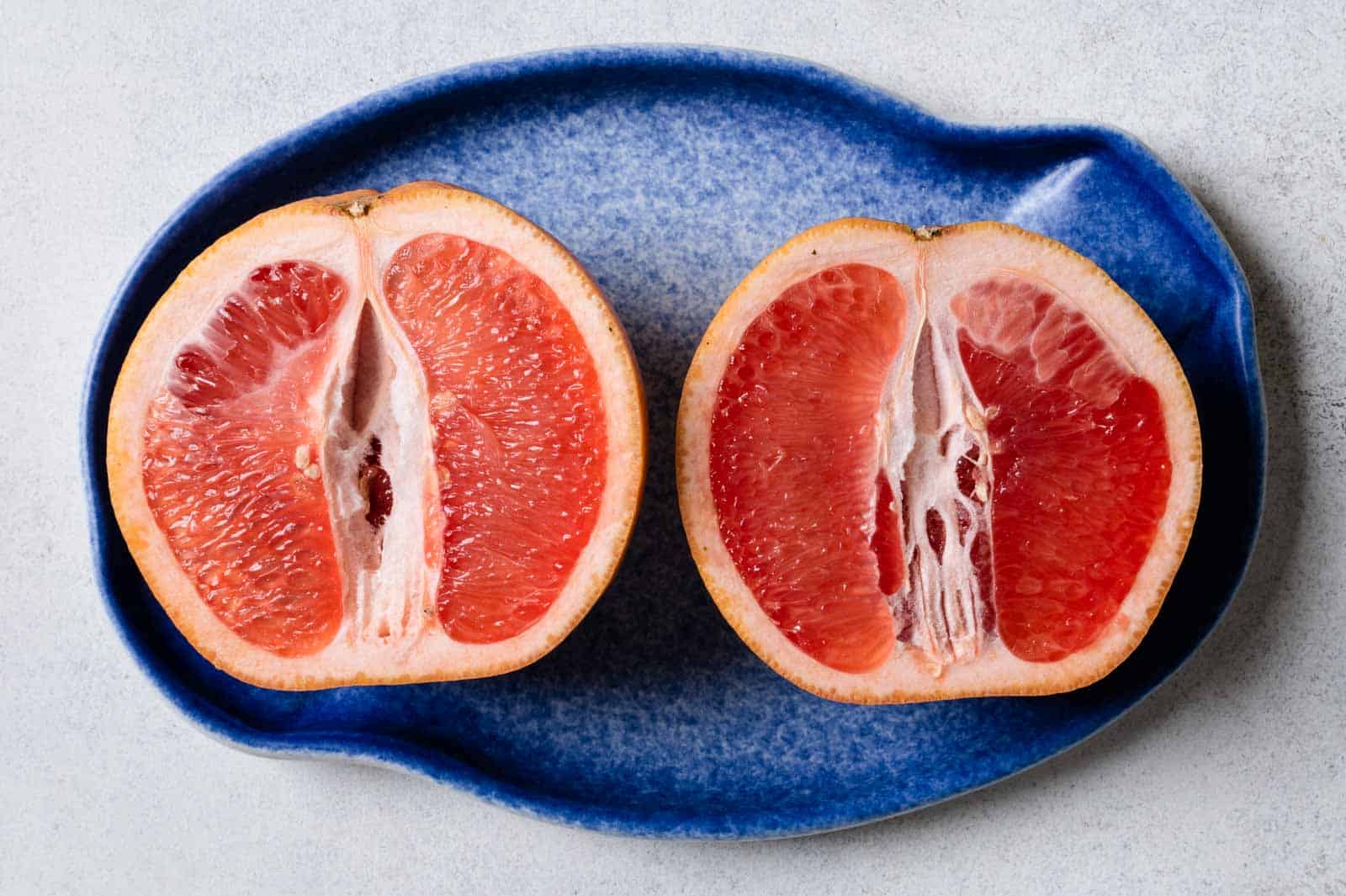 GRAPEFRUIT
Here's some sunny news for those of you who include grapefruit in your breakfast routine: just half of a grapefruit can pack in 75% of regular vitamin C requirements. Ruby red, white,or  pink flesh, grapefruits are a treasure trove of color on a cold winter's day. Slightly tart and a little bitter, grapefruit pairs well with bitter greens like arugula or frisee. You can even brulée a grapefruit for a fancy Sunday brunch type of mood.
HOW TO CHOOSE AND STORE GRAPEFRUIT
Choose grapefruit with a smooth exterior and no mushy spots. Store grapefruit in the refrigerator and eat within a week. Don't wait too long – grapefruit can go bad quickly even in the refrigerator!
RECIPES USING GRAPEFRUIT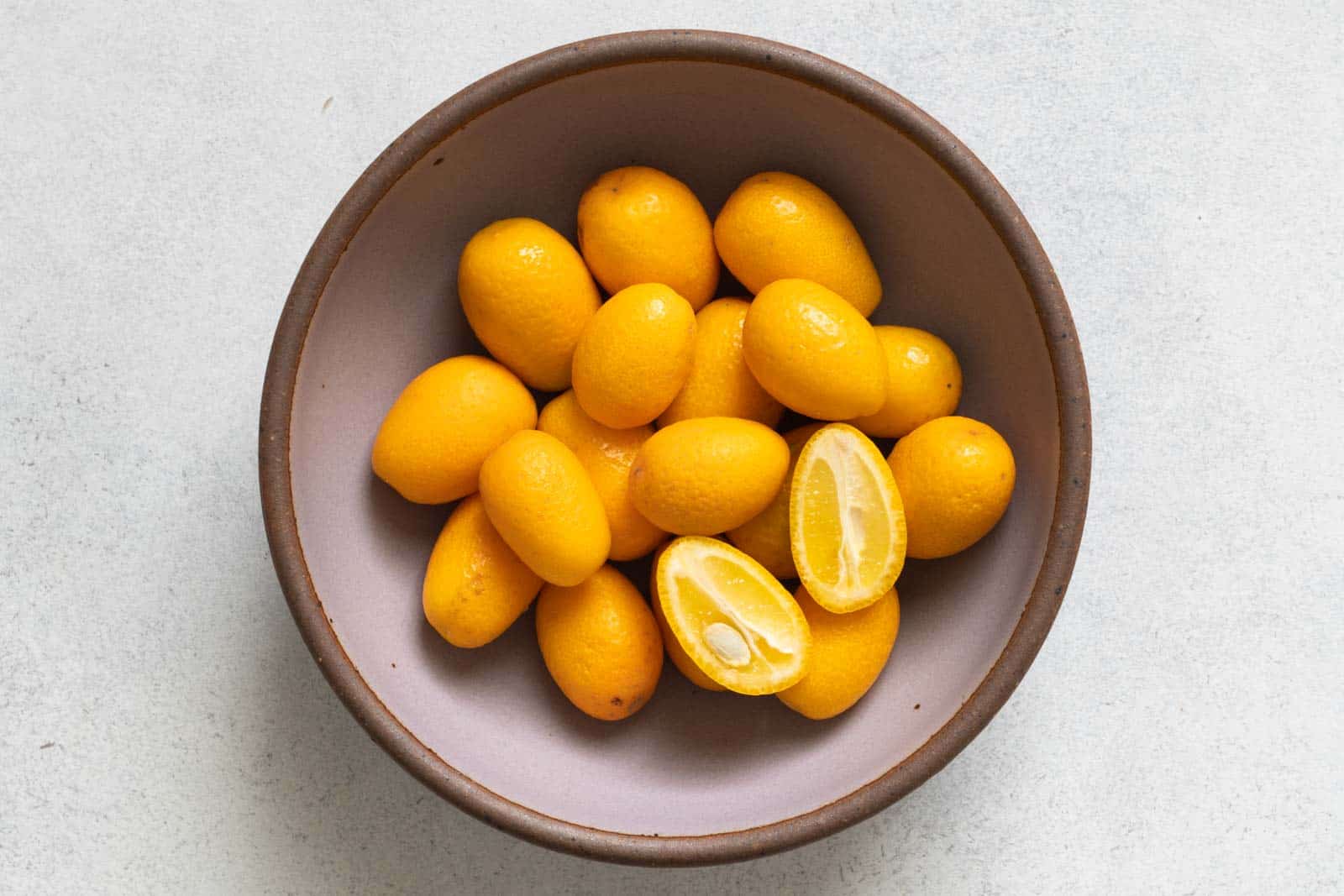 KUMQUAT
Grape-sized kumquats eat like citrus but are actually in a separate genus (Fortunella) than citrus. In any case, these citrus-ish fruits are completely edible and are most commonly cooked down in a marmalade or sliced thin and tossed into a salad. These mighty little fruits are great sources of vitamins C and A, calcium, and other minerals.
HOW TO CHOOSE AND STORE KUMQUAT
Choose kumquats with even coloring (avoid greening at the stems or ones with any soft soggy spots). Kumquats can be stored in the refrigerator for a little over a week.
RECIPES USING KUMQUAT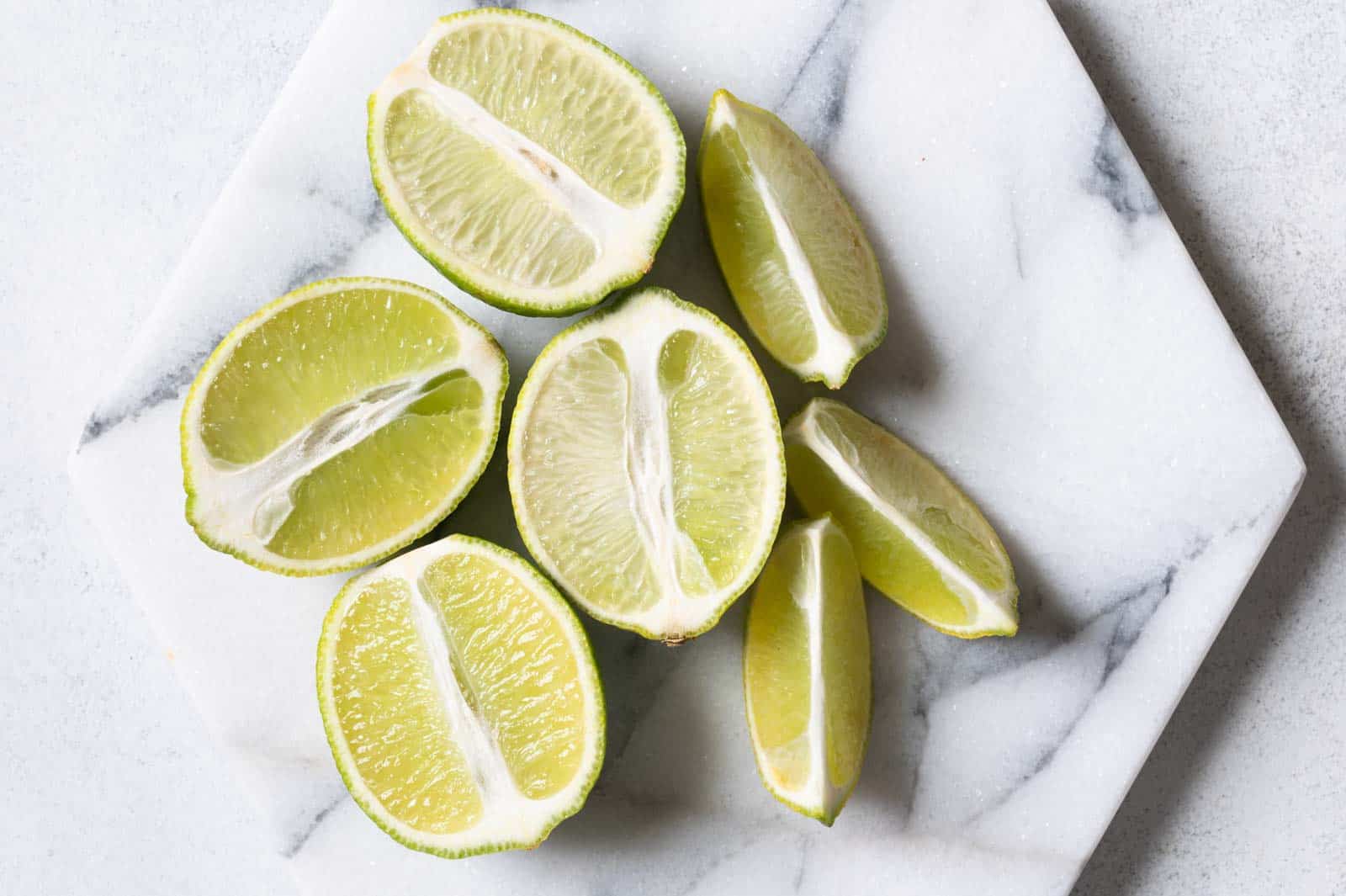 LIMES
From garnishing rice dishes, adding a tropical sweetness to smoothies, and forming the base for a sauce, limes are the little green citrus that could. Like other citrus, limes are a great source for vitamin C. Persian limes are the variety most commonly found in stores, while Mexican limes (key limes) are smaller. A squeeze of lime juice or a sprinkle of its zest can really add zing to a dressing or a dip.
HOW TO CHOOSE AND STORE LIMES
Choose limes with a uniform exterior. They shouldn't be rock hard but will be heavy for their size. While you're most likely to find deep green limes, the more mature limes are actually a lighter pale green-yellow color. Limes can be stored at room temperature, or in the refrigerator for longer storage.
RECIPES USING LIMES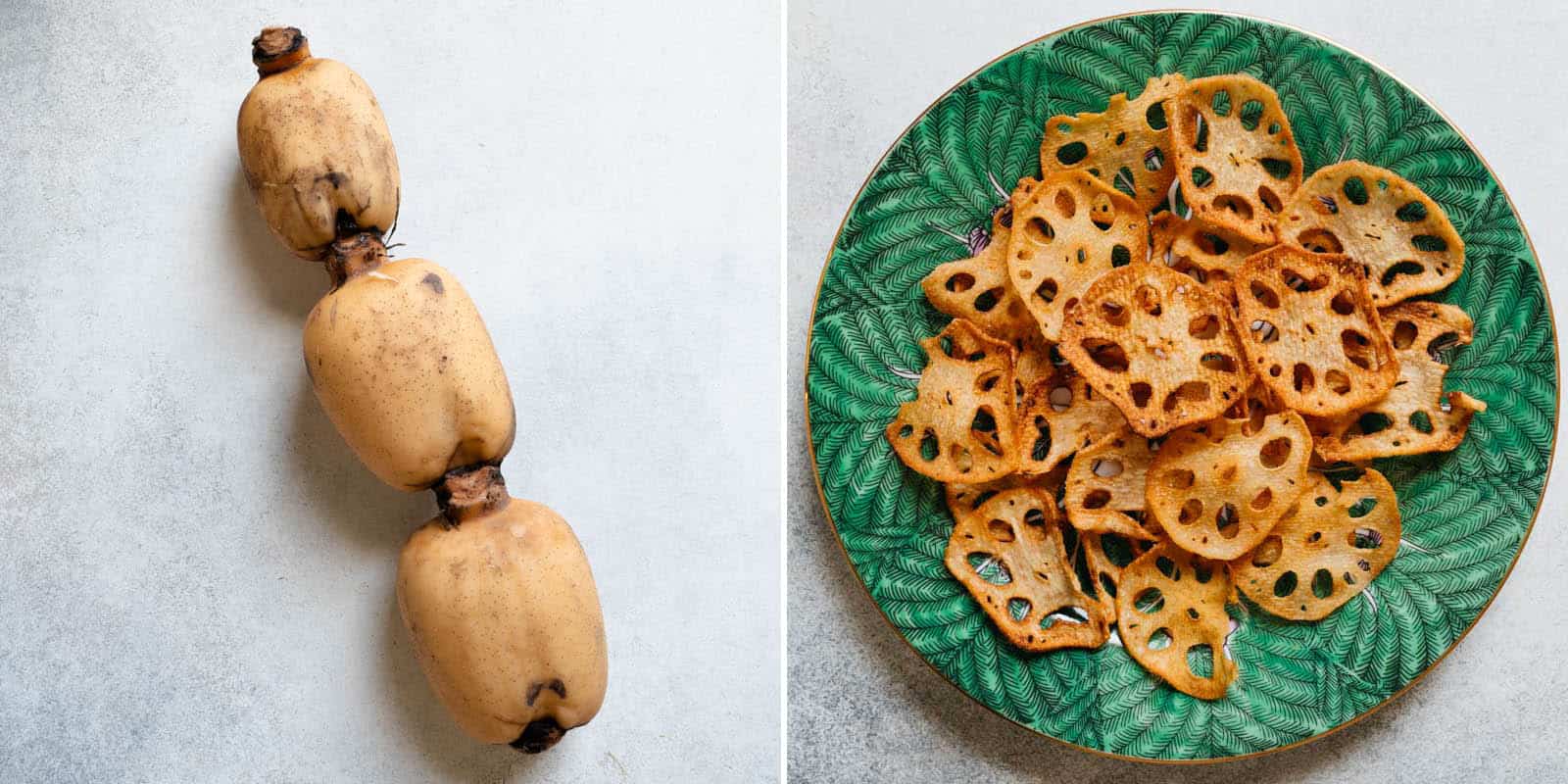 LOTUS ROOT
Starchy, crunchy lotus root is a rhizome that grows underwater.  Lotus root is high in fiber and vitamins and minerals. Like an apple, peeled lotus root can oxidize quickly so keep cut lotus root in water with a squeeze of lemon in it. Great in a stir fry or soup, lotus root is considered a cooling food in traditional Chinese medicine. Symbolizing abundance, lotus root (and its seeds) often have a place in the Tray of Togetherness, the hodgepodge candy platter assembled for Chinese New Year. 
HOW TO CHOOSE AND STORE LOTUS ROOT
Pick lotus root that doesn't have large black or grey spots–those are signs the lotus root is going bad. Whole lotus root can be stored in plastic in the refrigerator for about 1 to 2 weeks. Peeled and cut lotus root can be stored for a few days refrigerated in a container of water.
RECIPES USING LOTUS ROOT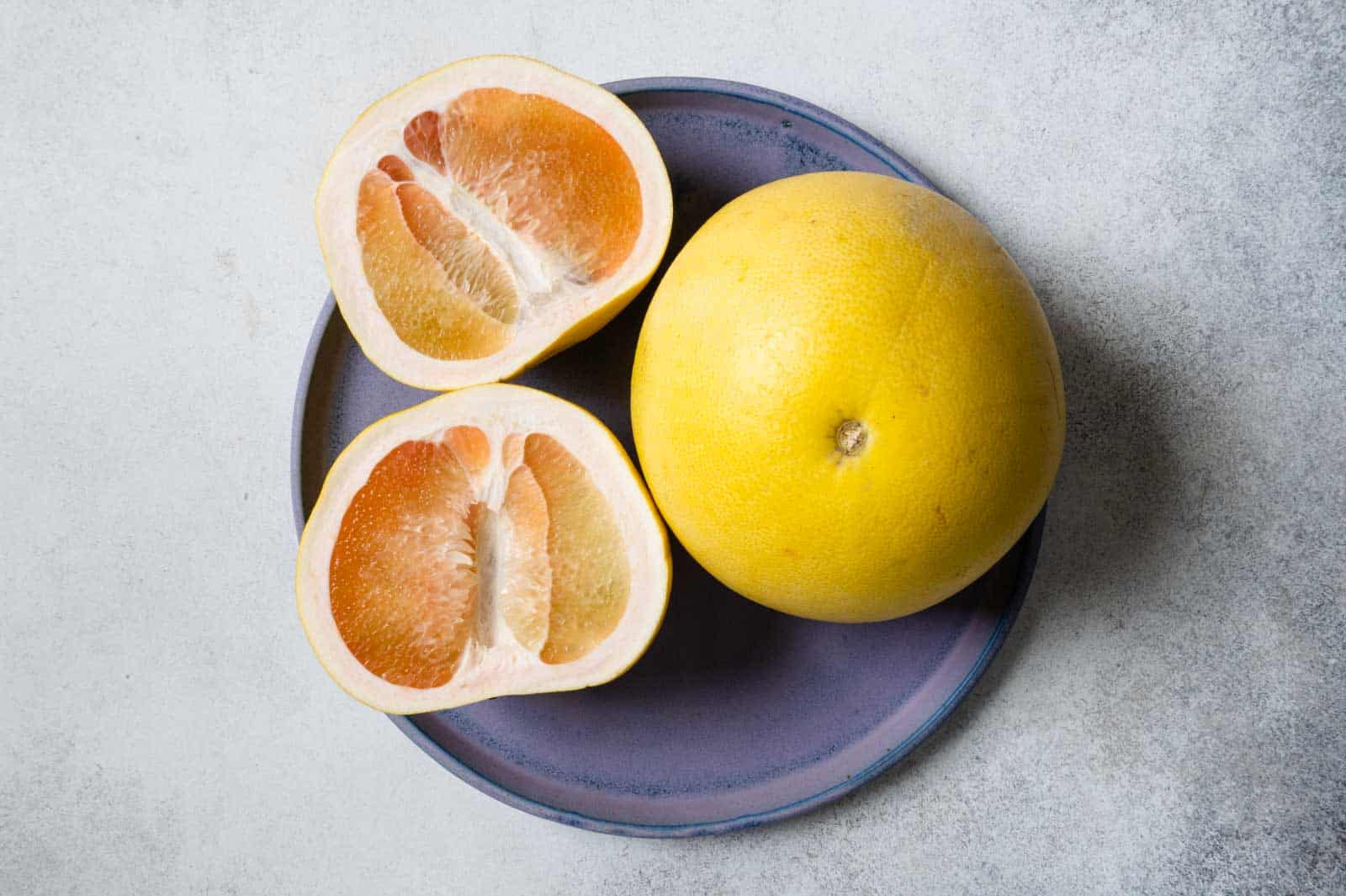 POMELO
Hold the pale yellow pomelo with both hands, this citrus is larger than life. Super-sized pomelo punches up the vitamin C even more so than the grapefruit mentioned above – 130% of your daily vitamin C needs can be fulfilled with just a quarter of this hefty citrus. Inside, the green or pink flesh is hidden by a thick but easily discarded pith. Like most citrus, the pomelo is deemed an auspicious fruit for Chinese New Year.
HOW TO CHOOSE AND STORE POMELO
Choose pomelo with even coloring and exterior. Store at room temperature until . Like the grapefruit, pomelo will go bad quickly!
RECIPES USING POMELO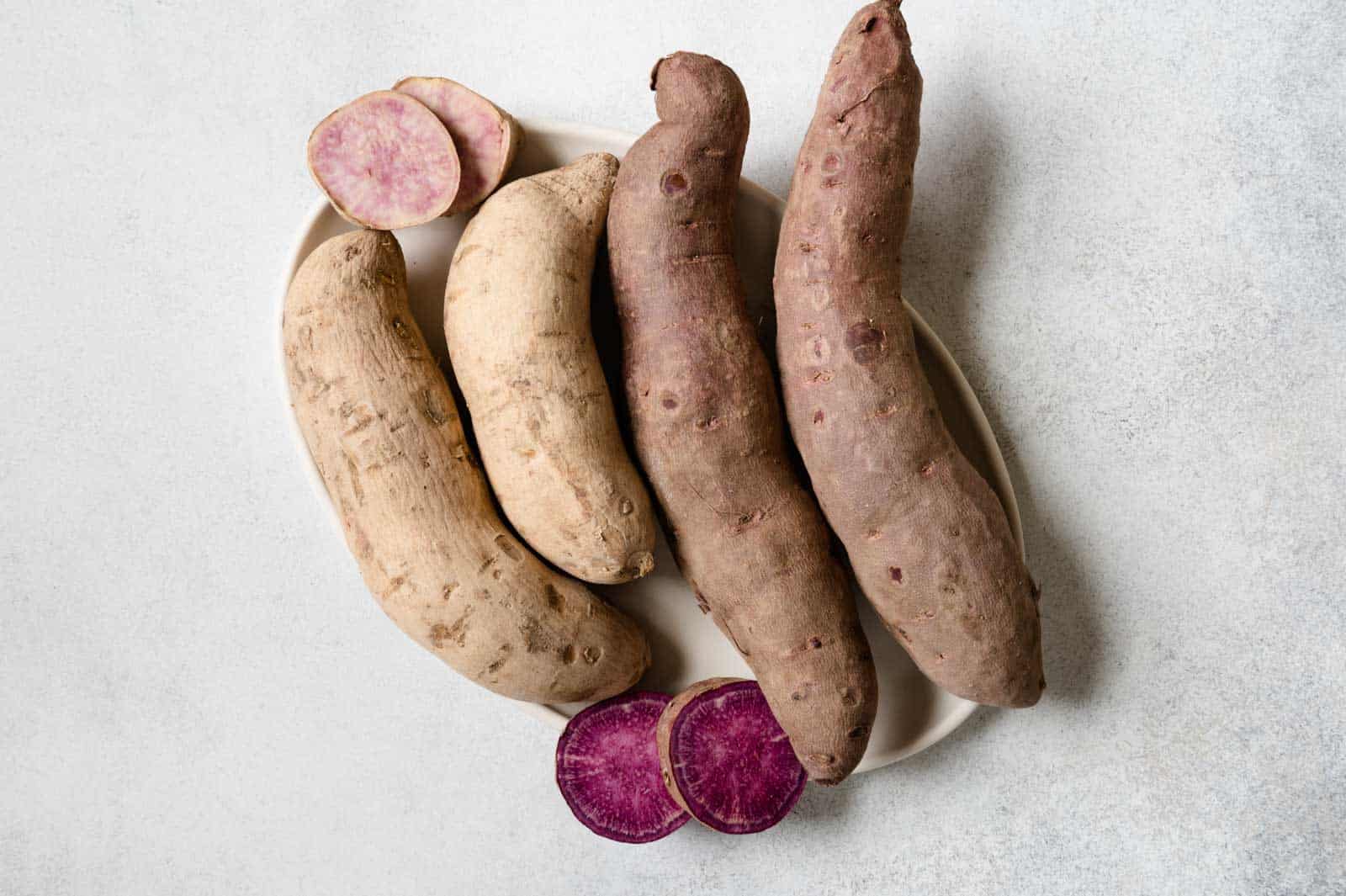 PURPLE SWEET POTATO
Often confused with taro and ube, there are many varieties of this purple sweet potato that is a member of the morning glory family. While the peel may be white or dull purple, the interior flesh is purple. Some varieties are more vibrant inside compared to others. The vibrant flesh is as nutritious as its color, packed with antioxidants. Purple sweet potatoes tend to be drier and starchy, but have richer flavor. This sweet potato can be used in both sweet and savory recipes. Serious Eats has an in-depth guide to the different types of sweet potatoes.
HOW TO CHOOSE AND STORE PURPLE SWEET POTATO
Choose purple sweet potatoes with minimal eyes and bruising. It's okay if there are some rooty strands left. Purple sweet potatoes can be stored for up to a few weeks in a cool, dry dark place.
RECIPES USING PURPLE SWEET POTATO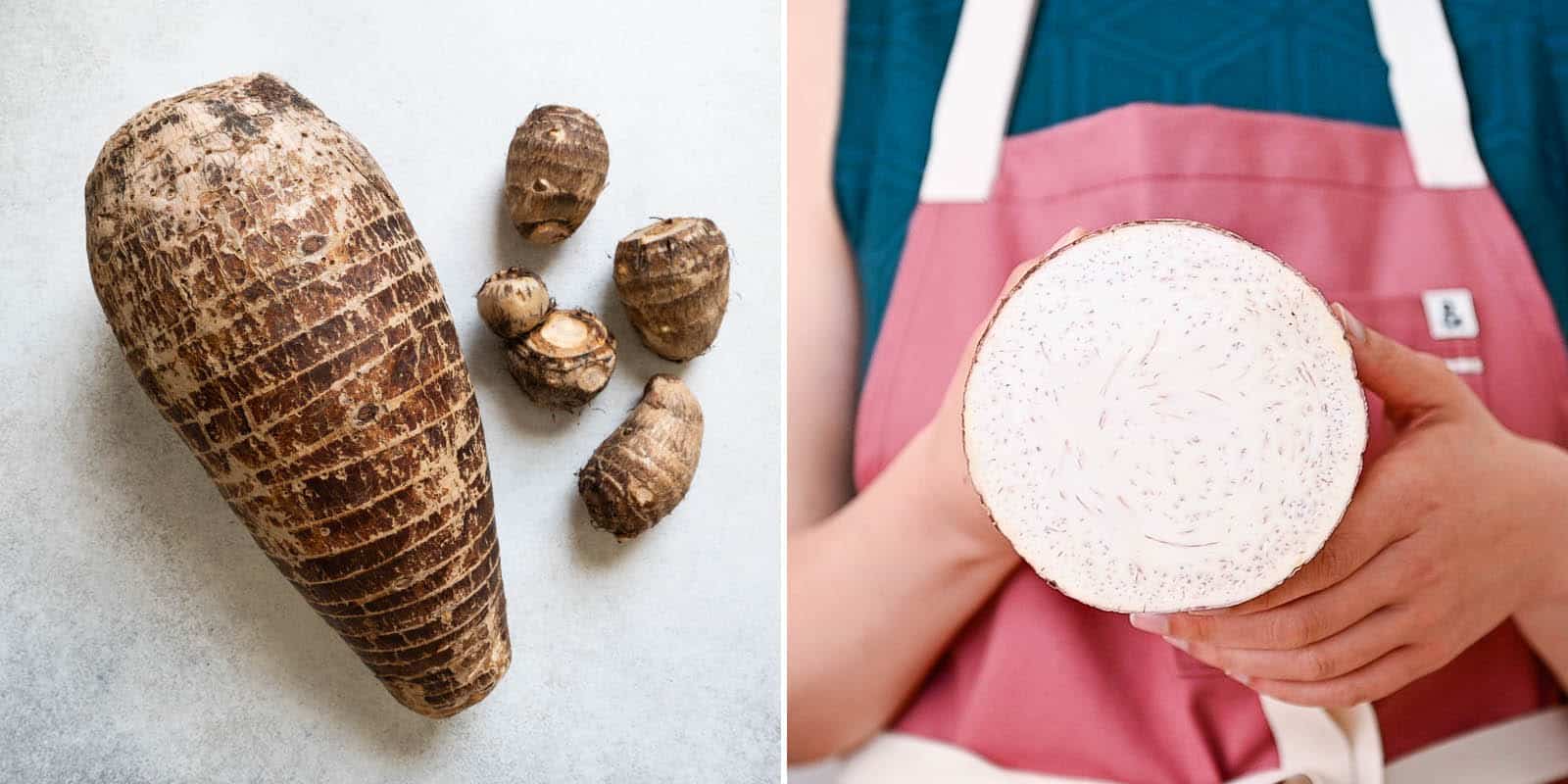 TARO ROOT
In Chinese cooking, nutty taro root can be found in savory and sweet recipes. On the savory side, taro root is featured in Mama Lin's recipes for sticky rice and steamed taro cake (芋頭糕, 芋頭糍). On the sweet side, taro root is a popular bubble tea flavor and also can be cut up and cubed for a nourishing hot dessert soup. Mama Lin taught me the art of how to choose the best taro root – I never expected it could be so complicated!
What's the difference between the large taro root and the small taro root? In Mama Lin's words, the bigger taro root tends to be more powdery soft in texture and more fragrant tasting. I tend to cook more with this big taro root. The smaller taro is smoother but more slimy and moist, like okra. But don't write the small taro root off – this small taro is fantastic steamed or boiled and dipped in soy sauce.
Note that due to the toxin calcium oxalate, taro cannot be eaten raw. Don't worry, this toxin is removed upon cooking!
HOW TO CHOOSE AND STORE TARO ROOT
Choose large taro root with dense lines (indicating it has been growing longer) and more red veins in the interior. Contrary to general produce advice to pick fruits and veggies heavy for its size, try to choose taro root that is lighter in weight. Store in a plastic bag in the refrigerator for up to a week or two.
RECIPES USING TARO ROOT