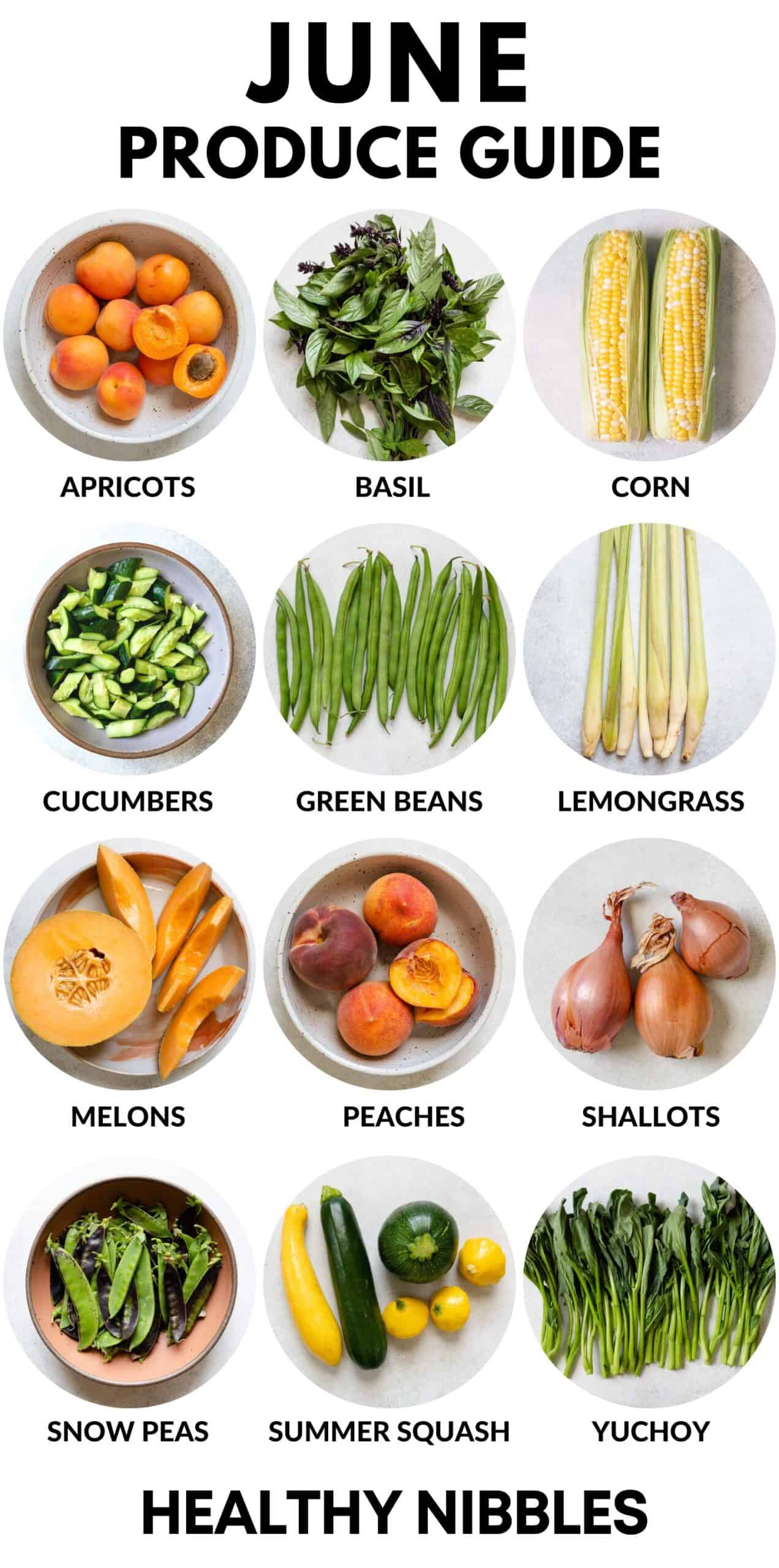 Written by Diann Leo-Omine & Lisa Lin, Photos by Lisa Lin. This post was originally published in 2016 and has been updated to include produce-picking tips and more photos.
The heat quickly ramps up in June, but so does the produce at the market. Luscious stone fruit, peppery basil, juicy candy-like corn. I could go on and on about summer produce. The best part about most of this produce is you need to do very little prep with them. The nature of the produce requires very little cooking!
Other fresh fruit and veggies that are still in season in May include: blueberries, bok choy, chives, and lettuce. Be sure to check out my May produce guide for more details on these late spring/early summer fruits and veggies!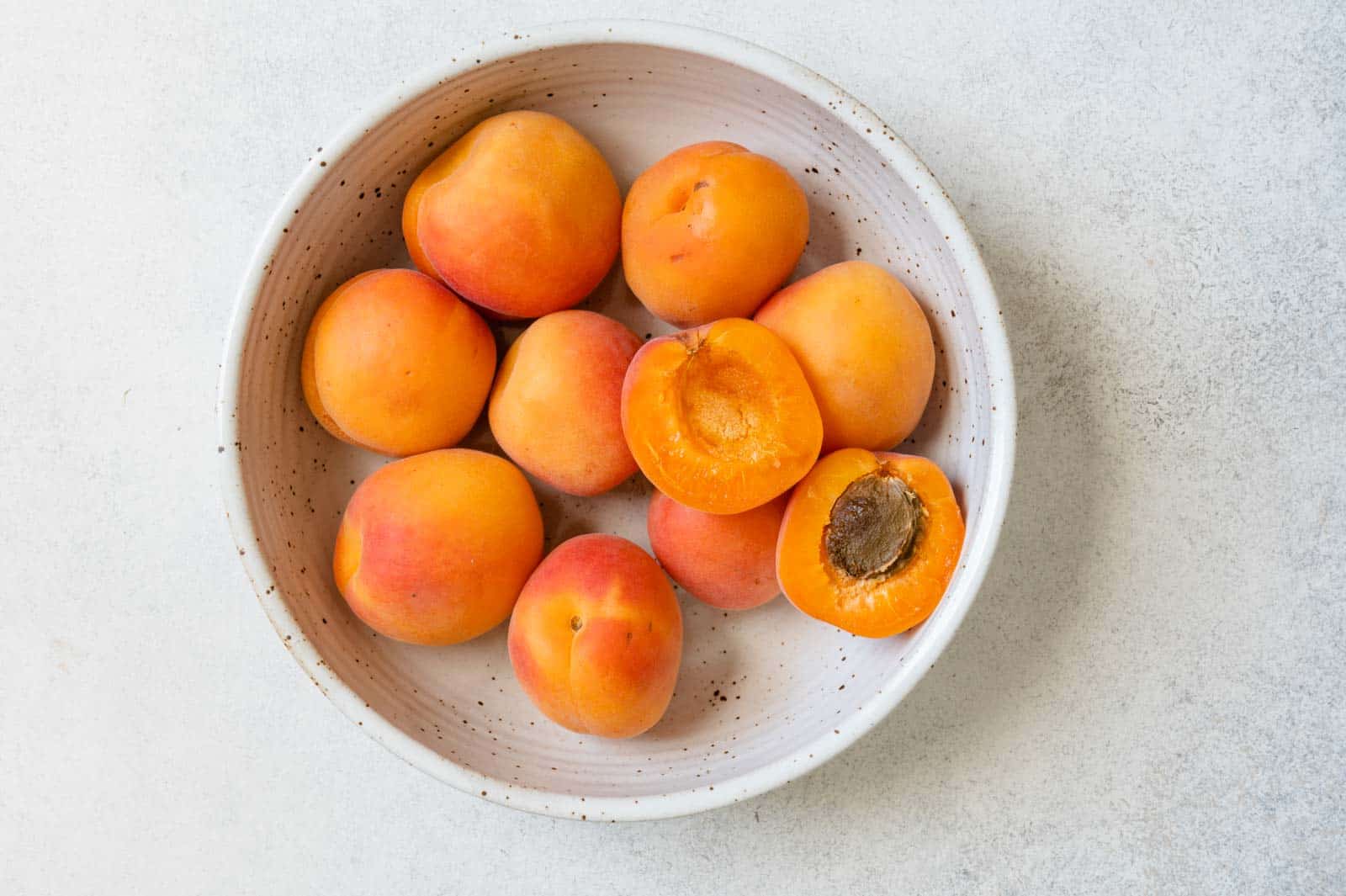 APRICOTS
Resembling baby peaches, apricots are the darlings of early summer. These cheerful, golden orange globes fit in the palm of your hand. Apricots pack a healthy dose of fiber, potassium, and vitamins C and A. Because apricots themselves are subject to a short season, apricots are crossed with plums in varying percentages to cultivate the hybrid fruits pluots, plumcots, and apriums.
HOW TO CHOOSE AND STORE APRICOTS
If you want to buy apricots that are ready to eat in the next day or two, choose apricots that have a gentle amount of give to them but are not mushy. However, if you want to store apricots for a longer period, choose ones that are firm. Apricots are best stored at room temperature. If the apricots are looking very ripe and you're not ready to eat them yet, store them in the refrigerator.
RECIPES USING APRICOTS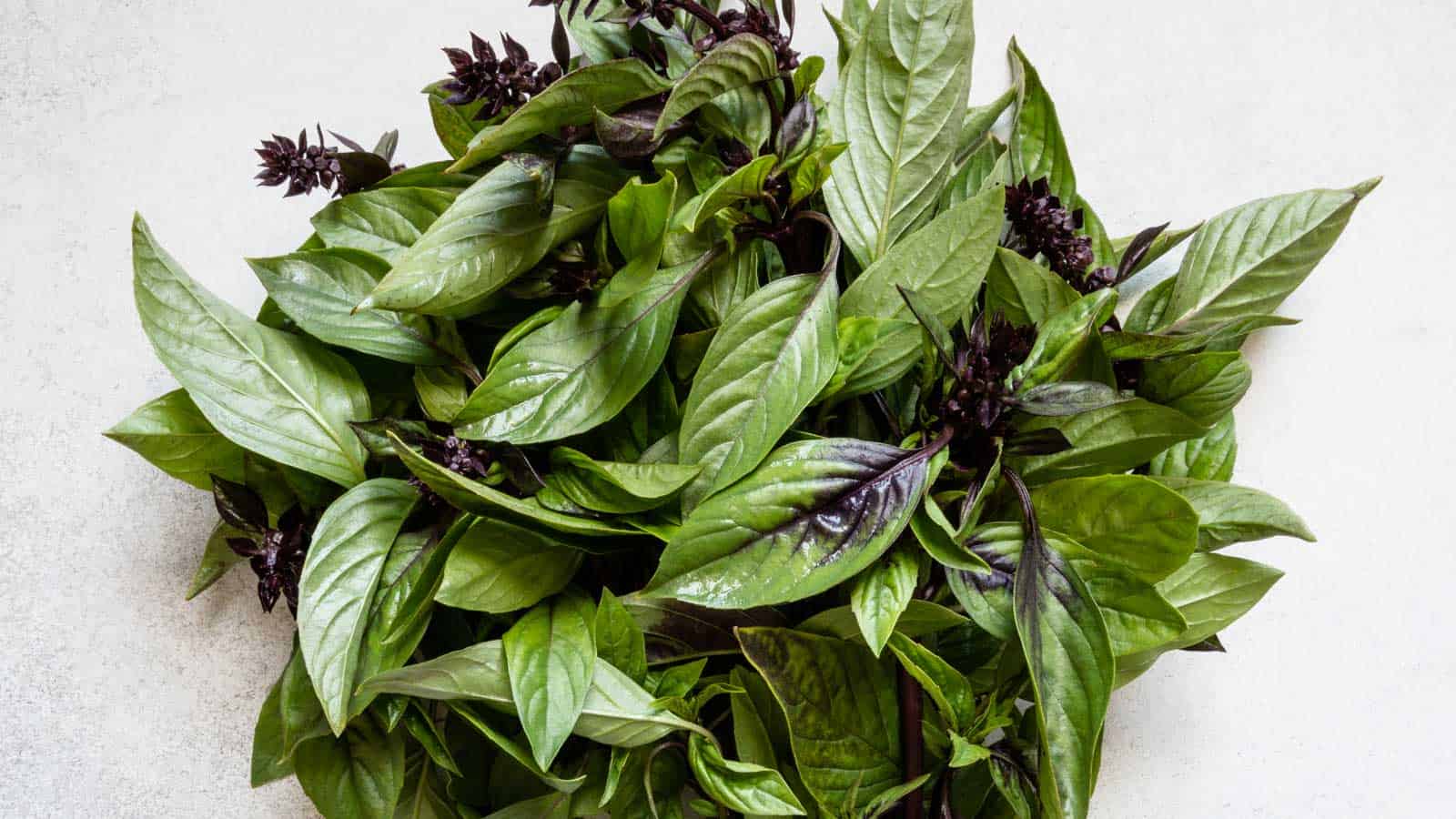 BASIL
While you can easily find basil anytime in a grocery store, the peak season for basil at your local farmer's market is in the summer. Peppered with vitamins A and K, basil's herbaceous zing pairs wonderfully with other summer fruits and vegetables. Think tomatoes, zucchini, and even peaches and strawberries!
In my recipes, I usually cook with Thai or Italian basil varieties. Thai basil is identified by its lovely green-violet stems and pointed tip leaves. It adds a stronger, almost licorice-like note, which makes it good for a curry. Italian basil is noted by its green stems and gently curved leaves, lending sweetly floral notes to pesto.
HOW TO CHOOSE AND STORE BASIL
Choose basil that's perky and bright green with no black spots or wilting. Serious Eats advises keeping the stems in a jar of water. I find the jar method doesn't work for me all the time, as it depends on the ambient heat and humidity. I usually keep them in a plastic grocery bag and place a paper towel in the bag to absorb moisture. The basil usually keeps for a week. Make sure not to keep the basil in the cold spots of the refrigerator (i.e, where cold air is released). Otherwise, the basil will form dark spots because it's too cold (like freezer burn).
RECIPES USING BASIL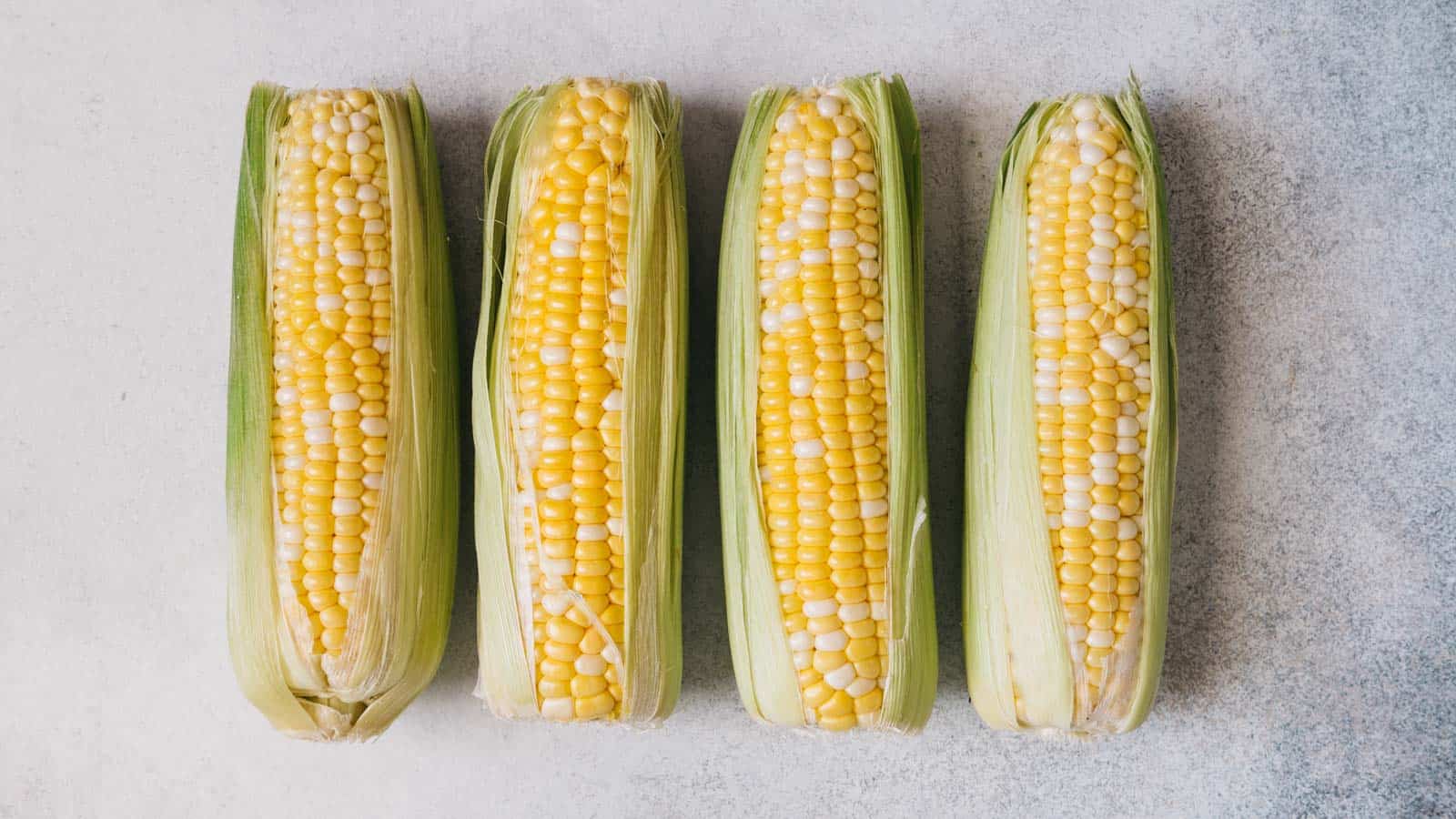 CORN
There is absolutely nothing like sweet summer corn! Corn contains vitamin B6 and a host of minerals. Yellow varieties tend to be fuller bodied while white varieties tend to be sweeter. Corn is delicious sauteed, roasted, grilled, or eaten just plain raw.
What's the best way to remove that corn from the cob? Serious Eats suggests slicing the corn over an inverted bowl sitting in a larger bowl, so the kernels don't fly everywhere in your kitchen.
HOW TO CHOOSE AND STORE CORN
Pick ears of corn with bright green husks and minimal blemishing. You should be able to feel full rows of kernels if you run your hands over the husks. Try to purchase corn as close to the day you plan to eat it, as the kernels become more starchy and less sweet the further they are from the harvest date. Keep in the refrigerator for 4 to 5 days.
RECIPES USING CORN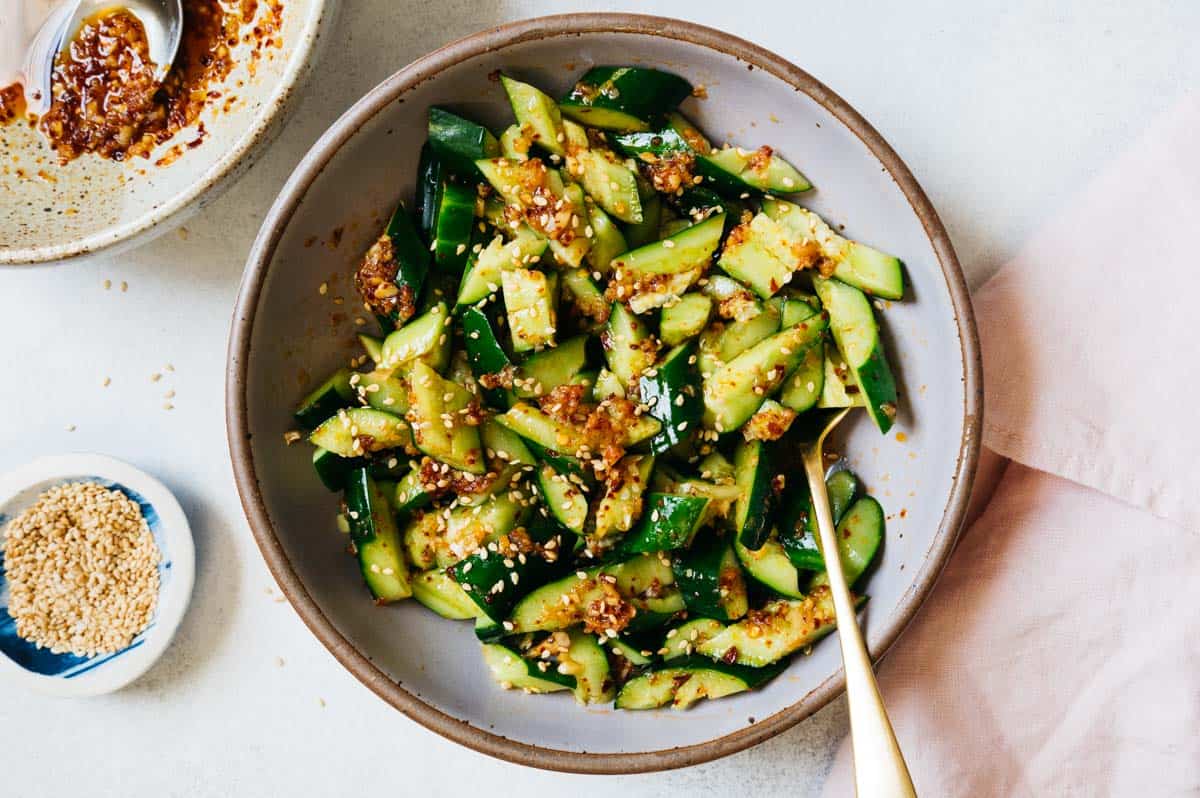 CUCUMBERS
It turns out being cool as a cucumber is not just a clever saying. Cucumbers are about 96% water by weight, which explains their cooling properties. Refreshing with vitamin C and potassium, cucumbers are perfect for quenching the thirst on a hot summer's day.
There are many varieties of cucumbers, but I most often cook with Japanese or Persian cucumbers, which have more tender seeds. English cucumbers similarly contain smaller, tender seeds, and are another great option in my recipes.
Sometimes at the farmer's market, you'll see lemon cucumbers, which resemble small yellow melons but taste more like a conventional American cucumber. These American cucumbers tend to be bigger, with a waxy tough skin, and containing large, tough seeds.
HOW TO CHOOSE AND STORE CUCUMBERS
Store cucumbers in a paper towel lined container in the refrigerator for 5 to 6 days. I also like storing cucumbers in these cotton Vejibags. I find cucumbers start to go bad after a week in the fridge.
RECIPES USING CUCUMBERS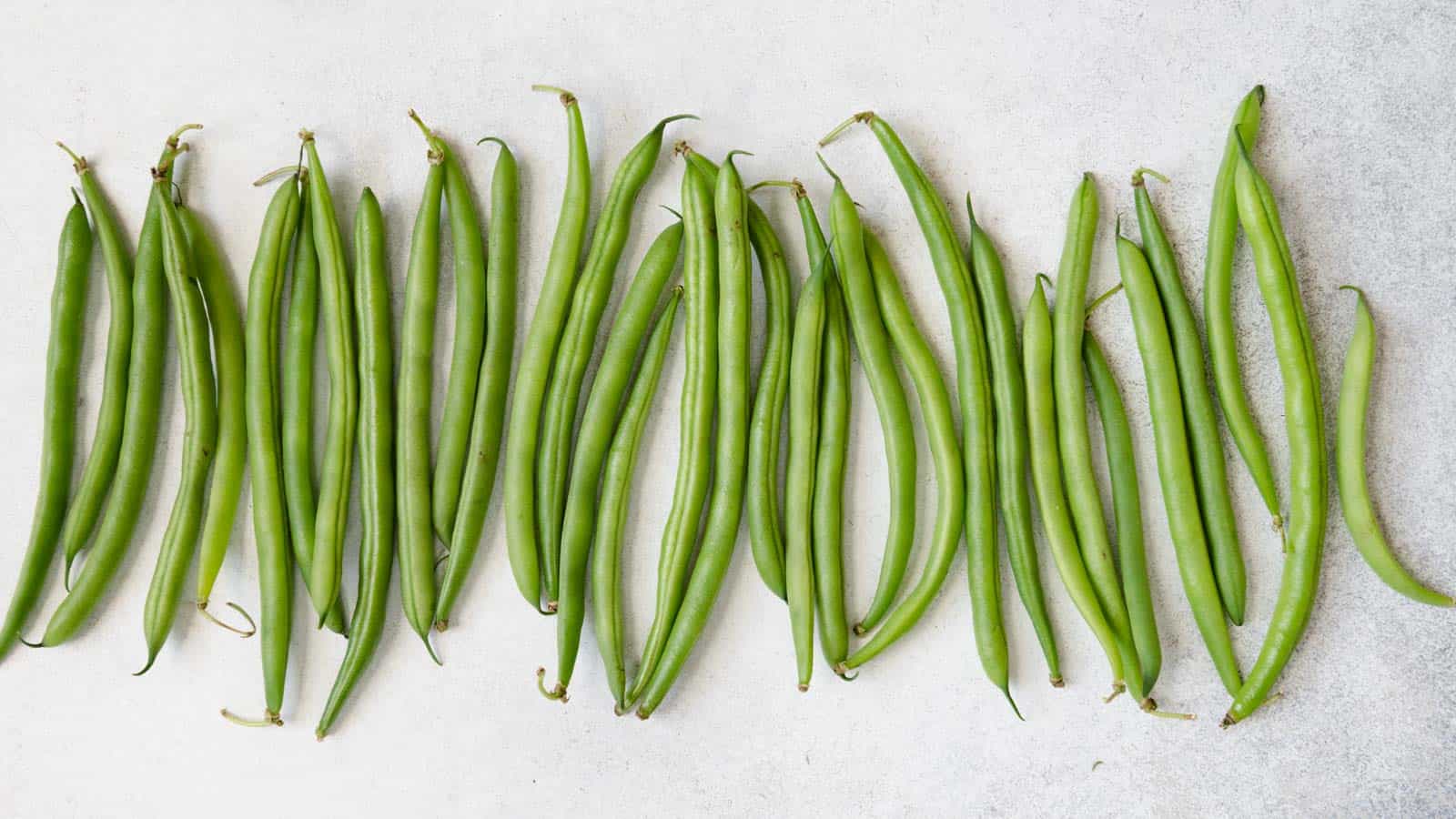 GREEN BEANS
Green beans are a type of snap bean, a young version of what eventually grows into a shell bean (think black and navy beans). They are full of vitamin C and fiber. Often called string beans, there are likely few strings to be found on these beans, as they were bred without them by the late 19th century.
Though not related, wrinkled yard-long beans (Chinese long beans) resemble a tangled bunch of green beans and even have similar applications. These yard-long beans are commonly found at Asian markets but may be found at the farmer's market in the summertime. For many recipes, green beans can be substituted for yard-long beans.
HOW TO CHOOSE AND STORE GREEN BEANS
Choose green beans that are firm and a vibrant green color. The seeds shouldn't be bulging too much. When you squeeze the bean gently, the bean should feel firm and not hollow inside. The surface of the bean should be relatively smooth and not shriveled.
RECIPES USING GREEN BEANS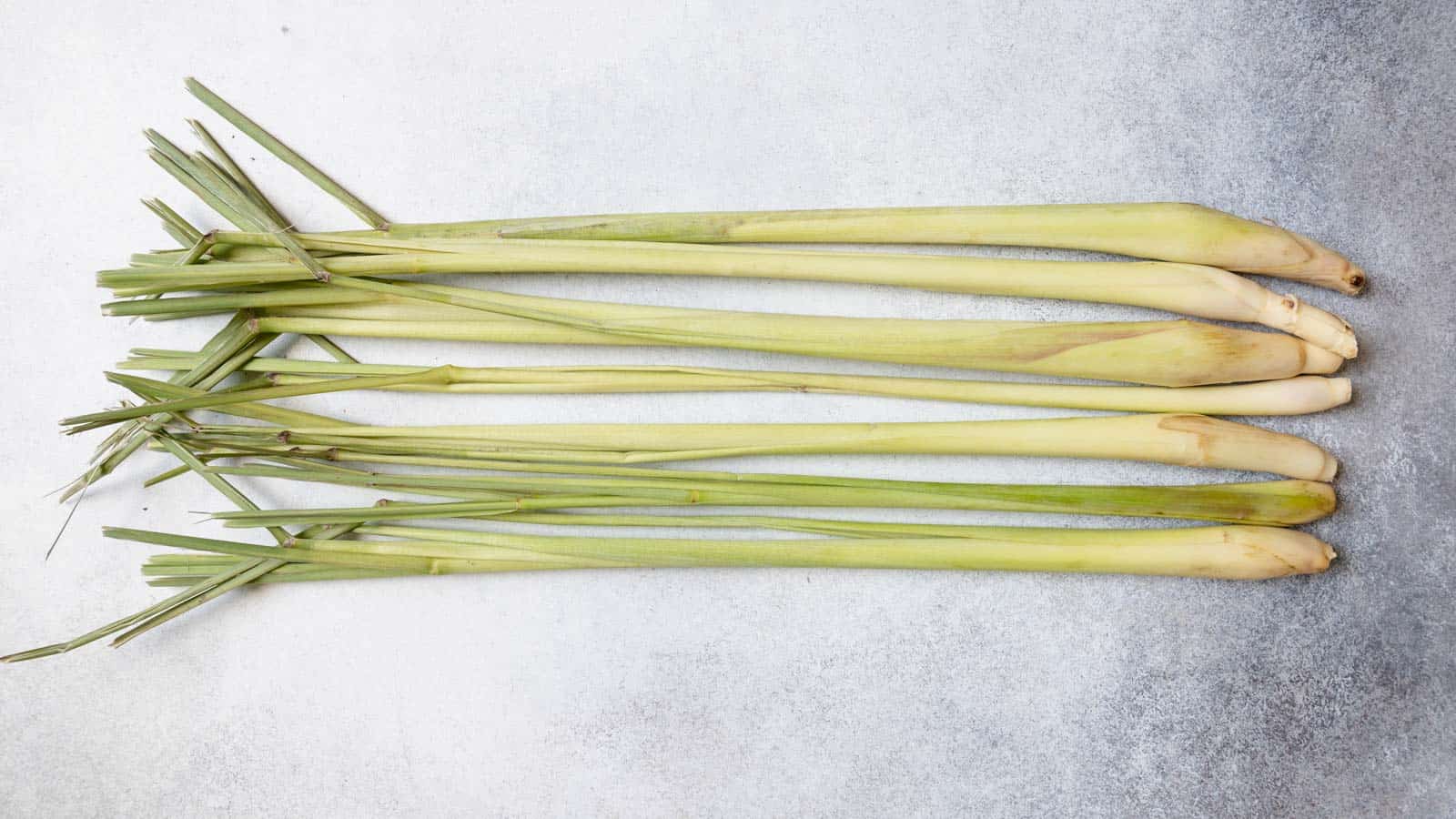 LEMONGRASS
Finding fresh lemongrass at the farmer's market is a real treat. Often bundled in bunches of up to 10 stalks, the leaves can extend the stalk two feet long. Lemongrass gets its distinct aroma from the essential oil citral, which fills the air with a sunny but sour, lemony perfume.
Be sure to check out this post on how to cook with lemongrass for more detailed information and a video on how to prepare it.
HOW TO CHOOSE AND STORE LEMONGRASS
Choose lemongrass with minimal blemishing and light green color. The tips of the stalks should be fresh and green, not dry and woody looking. Keep in a plastic bag in the refrigerator for up to two weeks.
RECIPES USING LEMONGRASS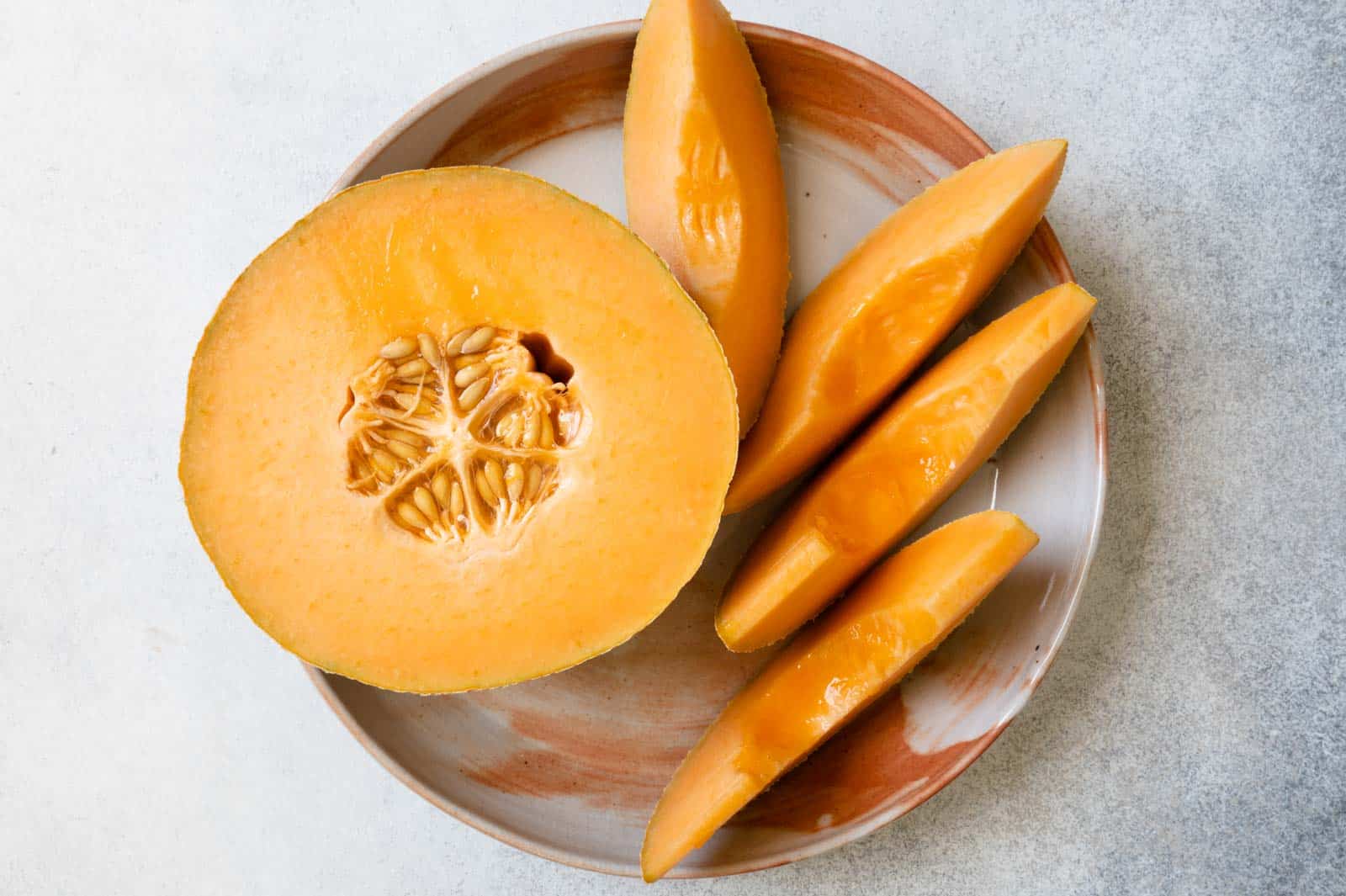 MELONS
The variety of summer melons is endless: honeydew, cantaloupe, galia, canary, to name a few. The inner flesh varies from pale key lime green to milky white to a vibrant cheese-colored orange. As diverse as the selection is, these melons are generous with vitamins A and C. As easy as they can be tossed into a breakfast fruit salad medley, the sweetness of melons really shines when paired against savory cheeses or even thrown on the grill.
HOW TO CHOOSE AND STORE MELONS
Regardless of the type of melon, be sure to choose melons free of any cuts or mold. Tap on the exterior skin, and you should hear a hollow sounding thud. Keep melons at room temperature, and don't wash the skin until you're about to slice them open. Keep cut melon in the refrigerator for up to a few days.
RECIPES USING MELONS
PEACHES
Summer peaches at the farmers market offer some choices you won't usually find at the local grocery store. Peaches referred to as clingstone or freestone are in relation to, you guessed it, just how much or at all the peach flesh sticks to its inner stone. Yellow peaches burst with a tart acidity, while white peaches offer a more pristine tasting sugary sweetness. Whatever you choose, peaches boast a healthy amount of vitamins C and A.
HOW TO CHOOSE AND STORE PEACHES
Choose peaches with reddish color, especially in the area around the stem. If I'm buying white peaches and the skin around the stem is greenish-white, that means the peach is nowhere near ripeness. A ripe peach will have gentle give to it without being mushy, and will give off a slight sweet perfume, especially around the stem. If you are planning to store the peaches for a longer time, choose peaches that are on the firmer side. Keep peaches at room temperature for a day or two. To extend the life of a ripened peach, put it in the fridge for a few more days.
RECIPES USING PEACHES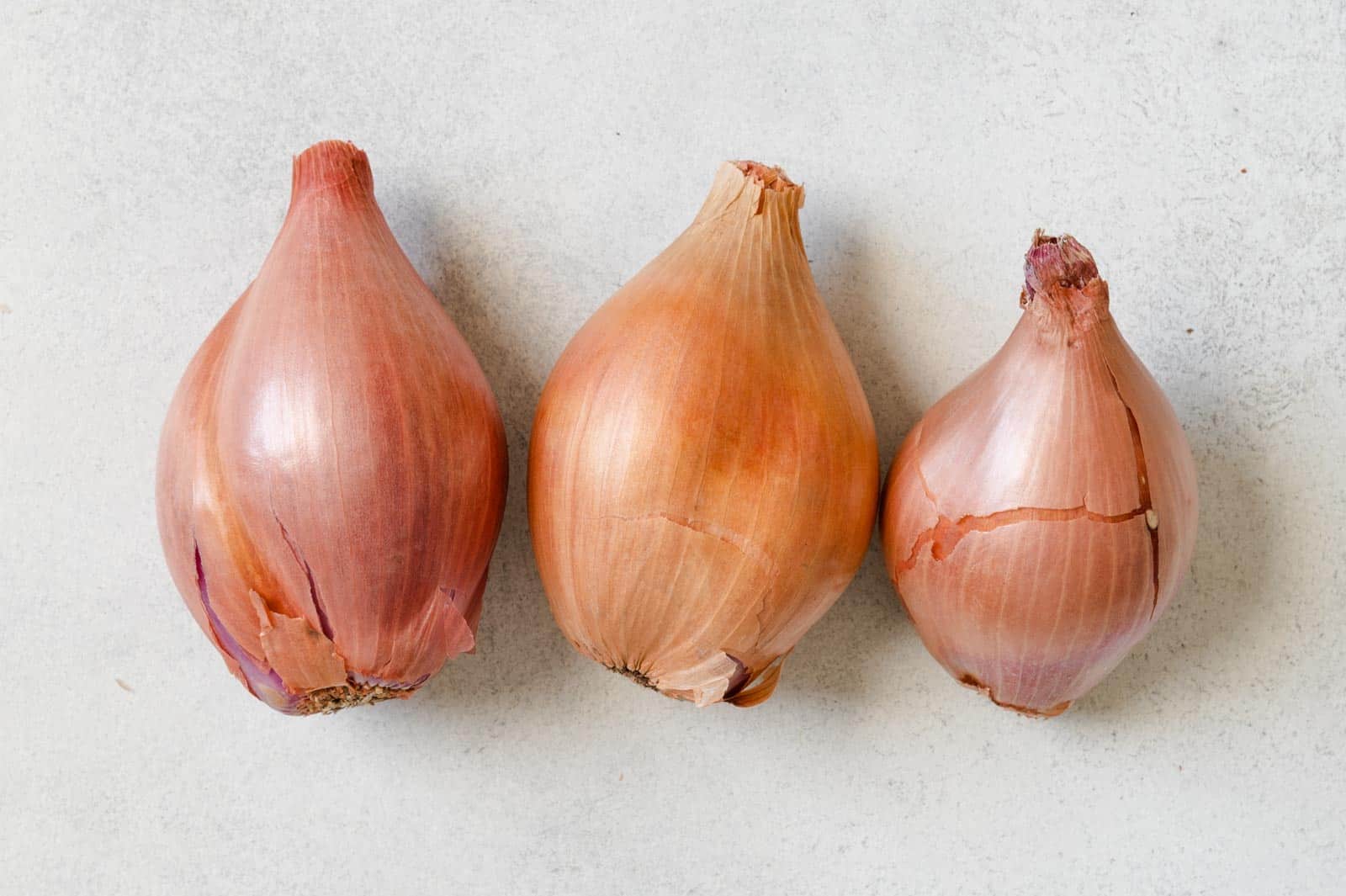 SHALLOTS
Although shallots look and taste similar to onions, they offer a more sweet flavor compared to onions. Typically, the shallots that I find in grocery stores are almost shaped like a teardrop, with a rounded bulb and a thinner, tapered tip. At farmers markets, I occasionally see banana shallots, which are much more elongated and less rotund. Asian shallots tend to be round and smaller than conventional shallots. You can usually find this variety of shallots in Asian grocery stores.
HOW TO CHOOSE AND STORE SHALLOTS
Look for shallots that feel firm throughout and don't have visible black spots on them. If you happen to come across shallots with green shoots coming out from the top, leave them behind. The shoots are usually a sign that the shallot is past its prime.
RECIPES USING SHALLOTS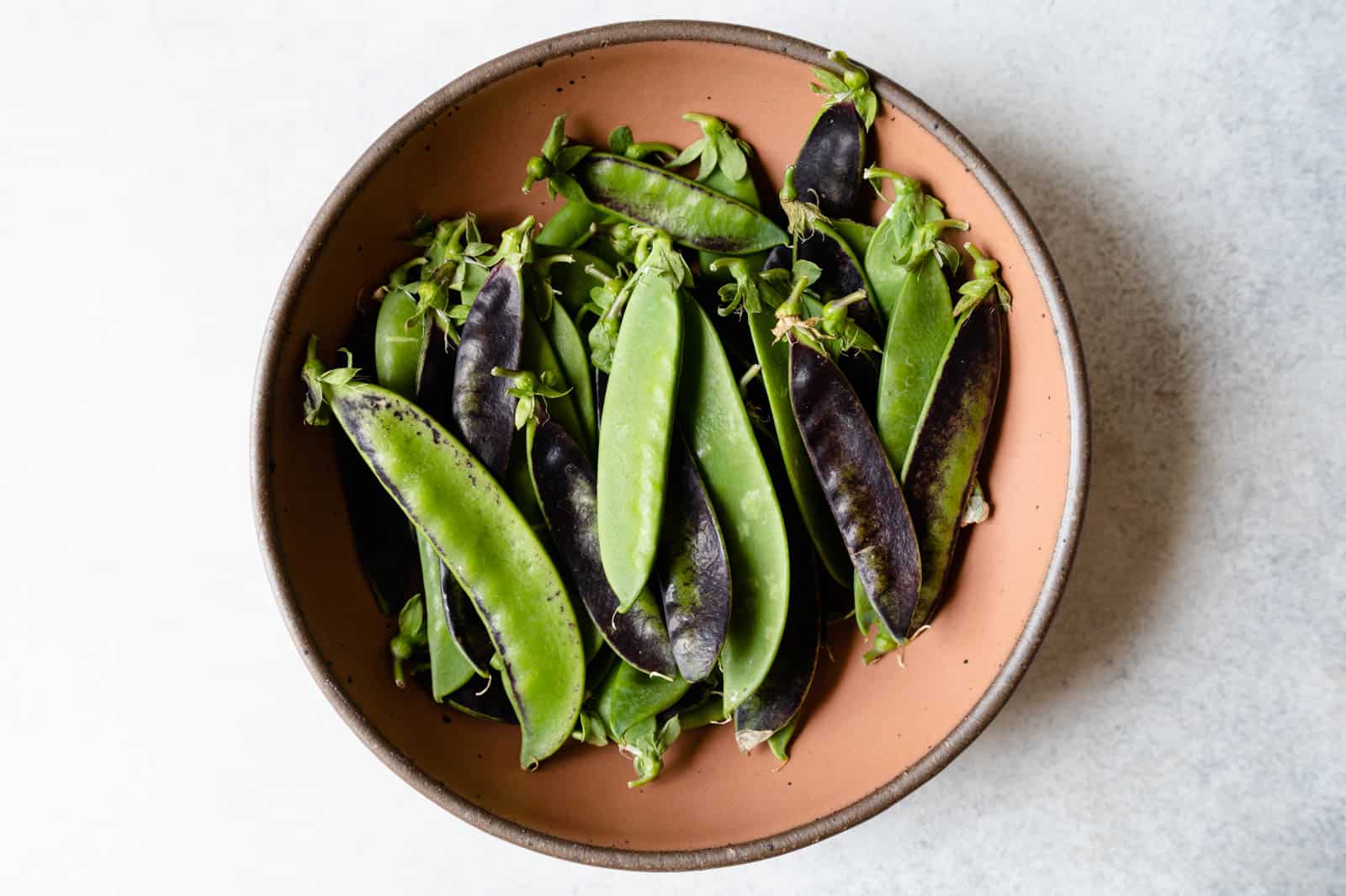 SNOW PEAS
Snow peas are frequently called Chinese peas as they're often thrown into stir fries for texture. A little grassy, a little herby, snow peas don't require much cooking to show off their sweetness. You can add them towards the end of cooking or lightly blanched before adding to your stir fry. Aside from stir fries, you can serve snow peas raw in salads or with some hummus.
You may be lucky to find the purple variety of snow peas, which are marked by various patterns of purple on their outer pods but still produce green peas inside. This variety's beautiful violet hue comes from anthocyanins, the same pigmentation that gives color to blood oranges and blueberries and benefits as an anti-inflammatory. The colors for this purple variety will dull considerably when cooked, but how stunning these purple snow peas would look on your next grazing platter! In terms of flavor, green snow peas are slightly sweeter than the purple variety.
WHAT'S THE DIFFERENCE BETWEEN SNOW PEAS, SNAP PEAS & ENGLISH PEAS?
Snow peas are characterized by their flatter pods and smaller peas inside, all of which are edible. Snap peas live up their sugar snap pea moniker with their sweetness, and are also entirely edible like the snow pea. Of the three, English peas are the only ones grown solely for their peas as their pods are too tough to eat. Note that in general, a bigger pea does not necessarily make for a better tasting pea, as the bigger peas are often mealy in texture and aren't any sweeter.
RECIPES USING SNOW PEAS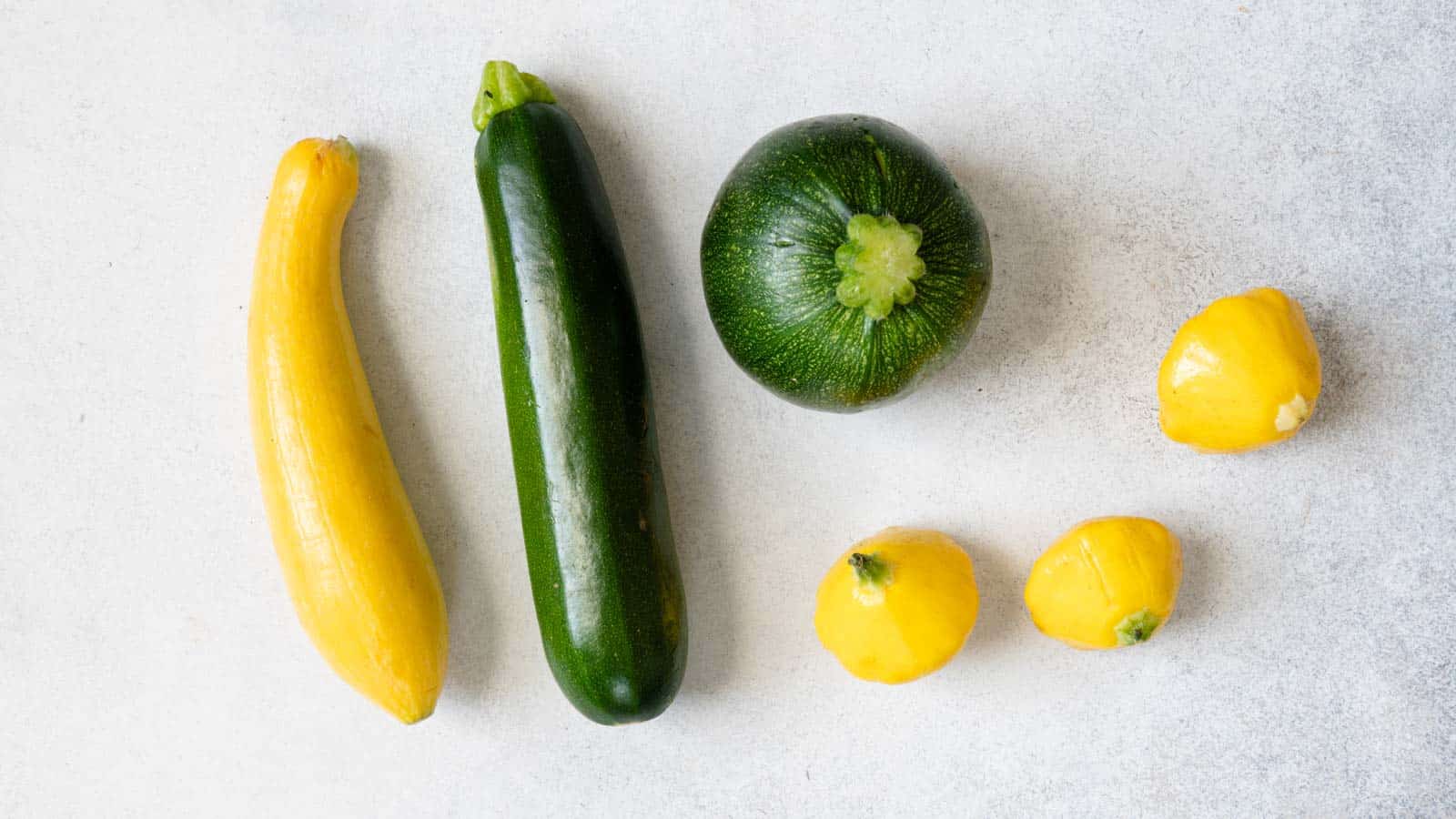 SUMMER SQUASH
There are many different types of squash that fall under the umbrella term "summer squash": zucchini, yellow squash, crookneck squash, straightneck squash, pattypan, eight-ball squash, etc. All these varieties of squash have a high water content–about 95% water. Did you know that many summer and winter squash belong to the same species? Summer squash tends to be less developed and have more tender skin. Winter squash tends to be more developed and have a thicker skin to withstand colder temperatures.
HOW TO PICK AND STORE SUMMER SQUASH
Select summer squash that don't have major visible blemishes. I tend to store summer squash in mesh produce bags like this, as they're breathable. In my experience, yellow or light green summer squash tend to go bad more quickly, so I try to consume those within 5 days. On the other hand, green zucchini stay fresh for a little over week. Of course, this also depends on the freshness of the summer squash when you purchase them.
RECIPES USING SUMMER SQUASH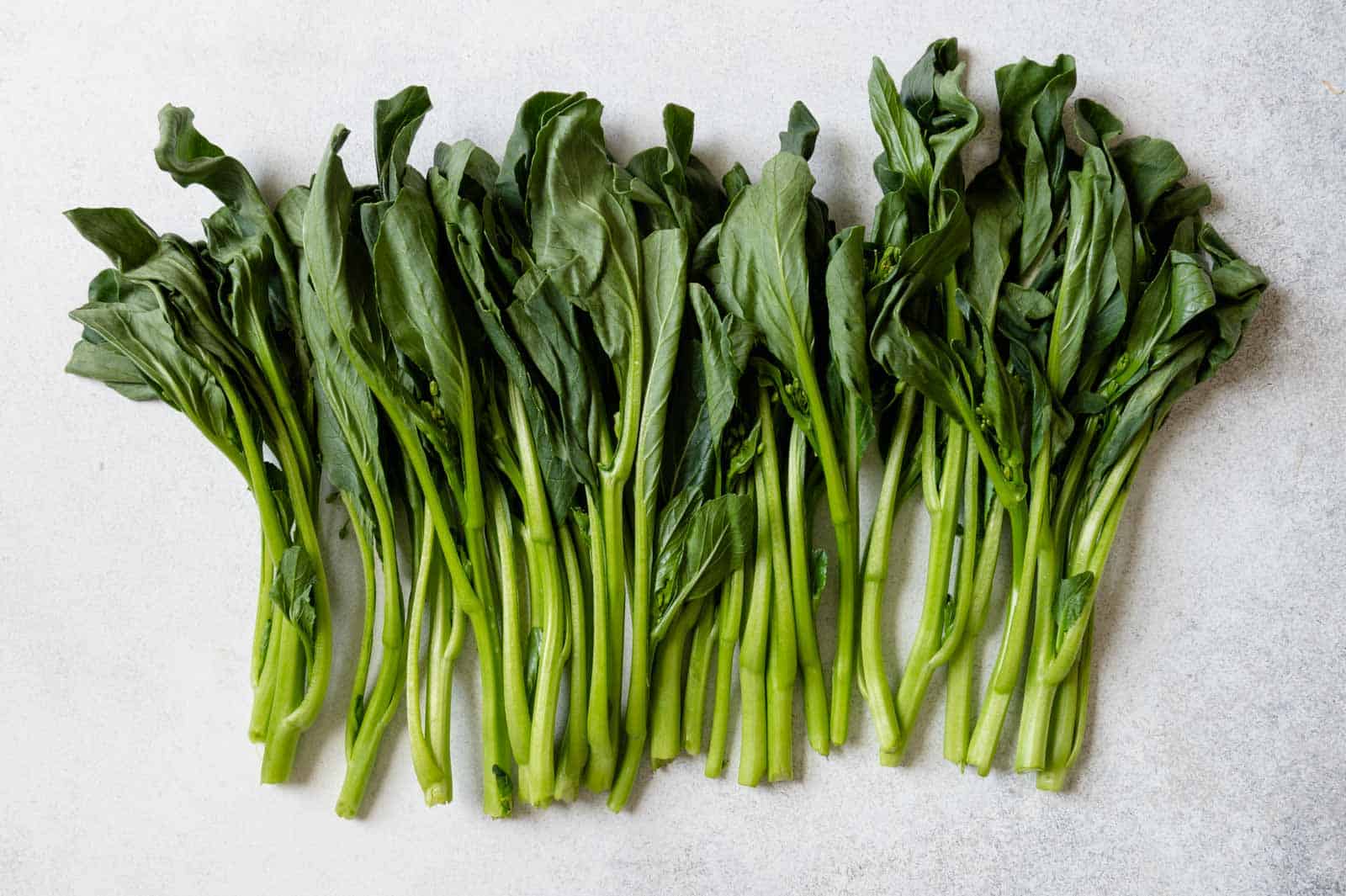 YU CHOY / CHOY SUM (油菜/菜心)
Yu choy (油菜) also called choy sum (菜心) is a leafy vegetable is very common ingredient in Chinese cuisine. It has a tender light green stalk and dark green leaves that are shaped like a large oval. Stalks that are more fully grown will have tiny yellow flowers blooming in the center. It has a very mild flavor that's similar to bok choy.
HOW TO CHOOSE AND STORE YU CHOY / CHOY SUM
Look for stalks with leaves that are not withered. The stalks should also look evenly green without browning spots. My mom tells me to avoid stalks with yellow flowers that have bloomed, as flowering is a sign that the stalk is past its prime.