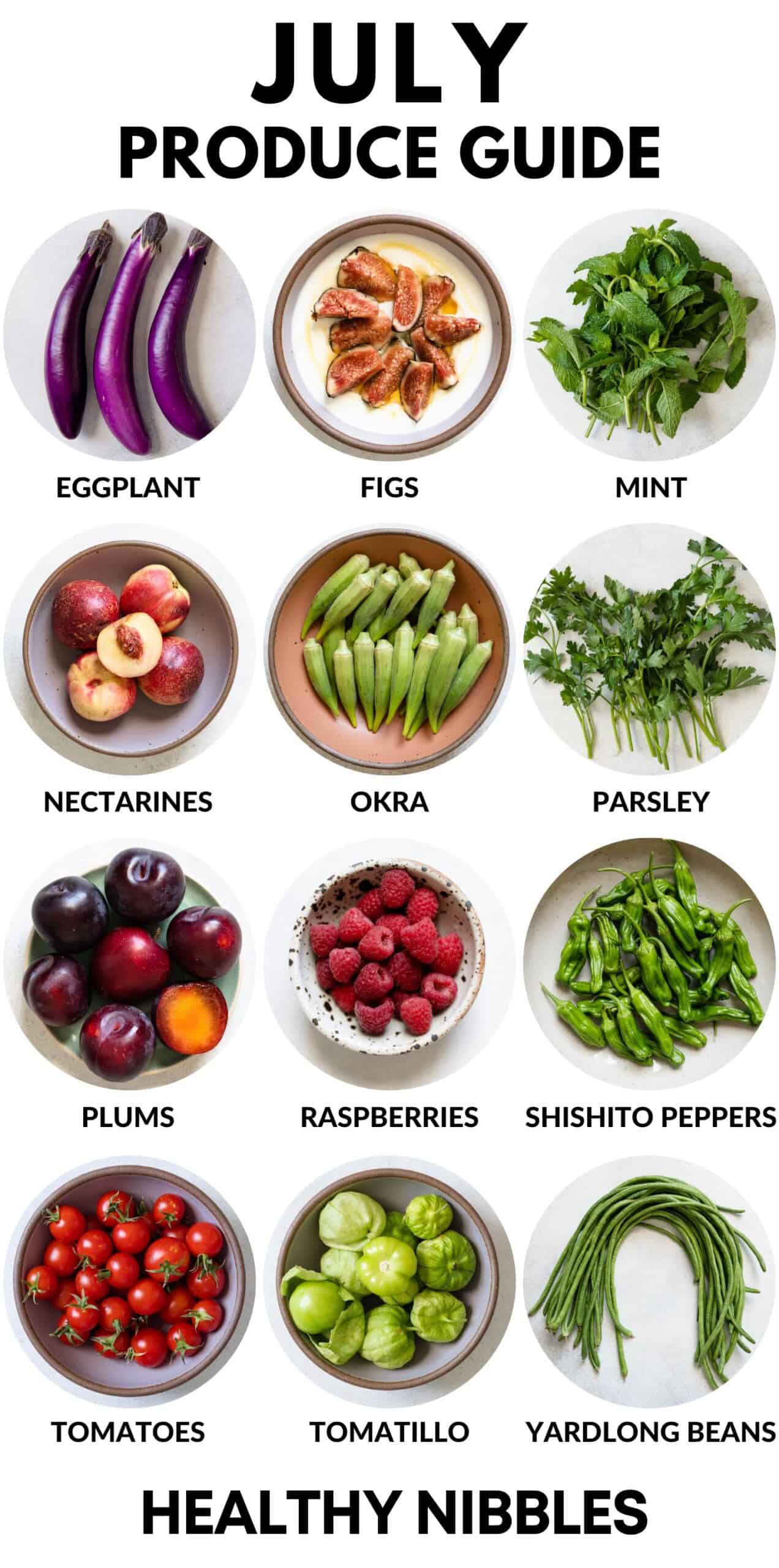 Written by Diann Leo-Omine & Lisa Lin, Photos by Lisa Lin. This post was originally published in 2016 and has been updated to include produce-picking tips and more photos.
July is everything we love about June and then some. We are spoiled with nightshades galore, with eggplants of all shapes, plump tomatoes bursting with umami, and shishito peppers by the basketful. Sunset-hued nectarines and fragrant plums join the party with other summer stone fruit. This July produce guide is packed with fruits and vegetables that will keep your taste buds happy.
EGGPLANT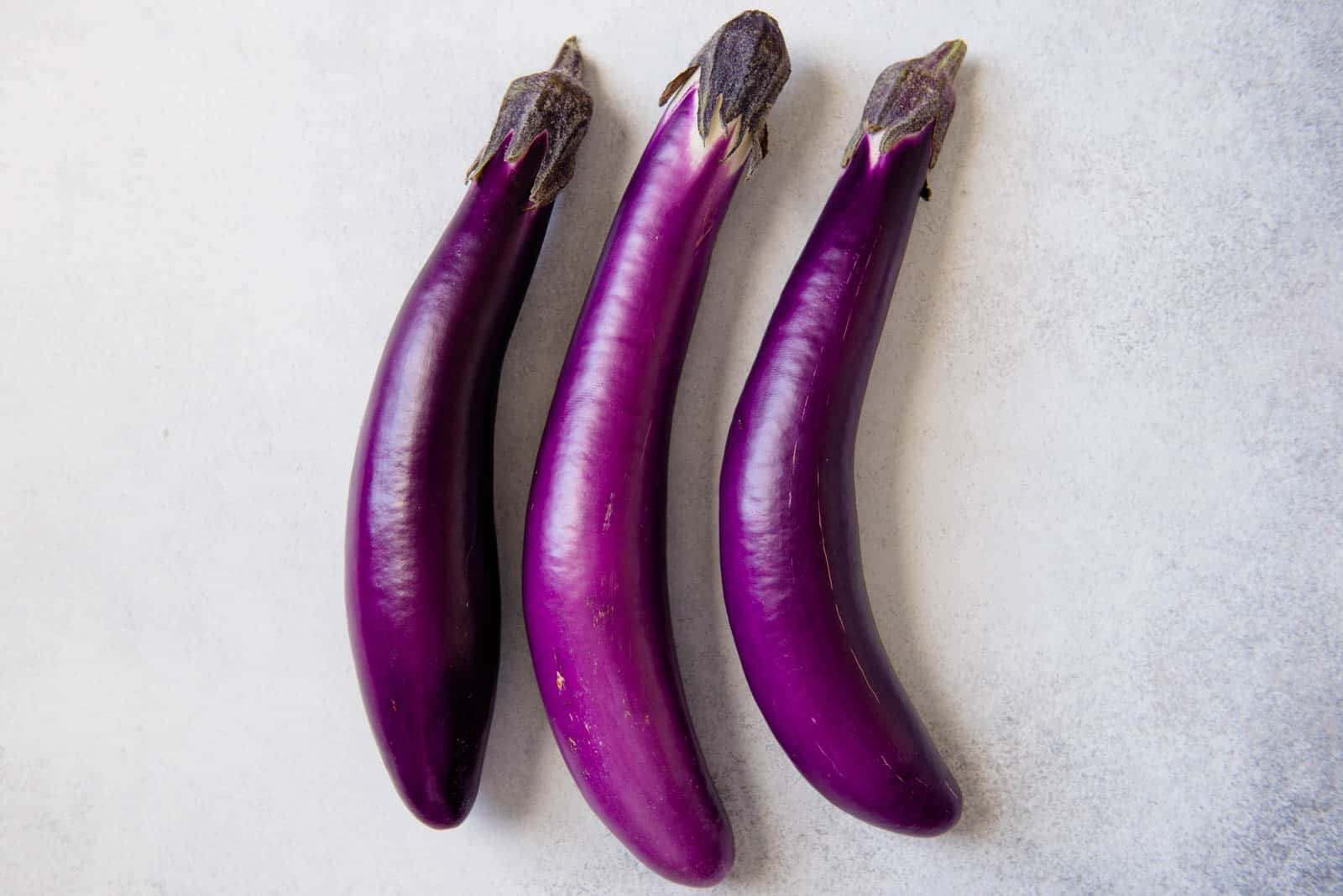 Eggplants are actually fruits, and the skin is where the antioxidant nutrition hides. Oblong, skinny, long – eggplants come in more shapes and sizes than you would think. You're probably most familiar with the globe eggplant, which is deep purple and oblong with a chubby base. There's also Thai (small and round with green and white skin; also known as Kermit), Ethiopian (orange with green stripes and shaped like a tomato), as well as Chinese (long and light purple) and Japanese (long and black-ish purple) eggplants. Who would think there's an entire rainbow of eggplant colors?
You may have heard that eggplants are bitter and that salting them removes the bitterness. Bon Appetit says that the bitterness is generally bred out of eggplants these days, but salting the eggplants will help draw out any extra water out of the flesh. I don't find salting the eggplants especially necessary anyway when using Asian eggplants, which are slender and with smaller seeds. Check out my recipes using both globe and Asian eggplants below.
HOW TO CHOOSE AND STORE EGGPLANT
Pick eggplants with a firm texture and minimal bruises or spots. With eggplants being warm weather fruits, keep at room temperature for a day or two. In the worst case, store in the fridge for a day or two more, but bear in mind they can turn bitter the longer they sit from harvest.
RECIPES USING EGGPLANT
FIGS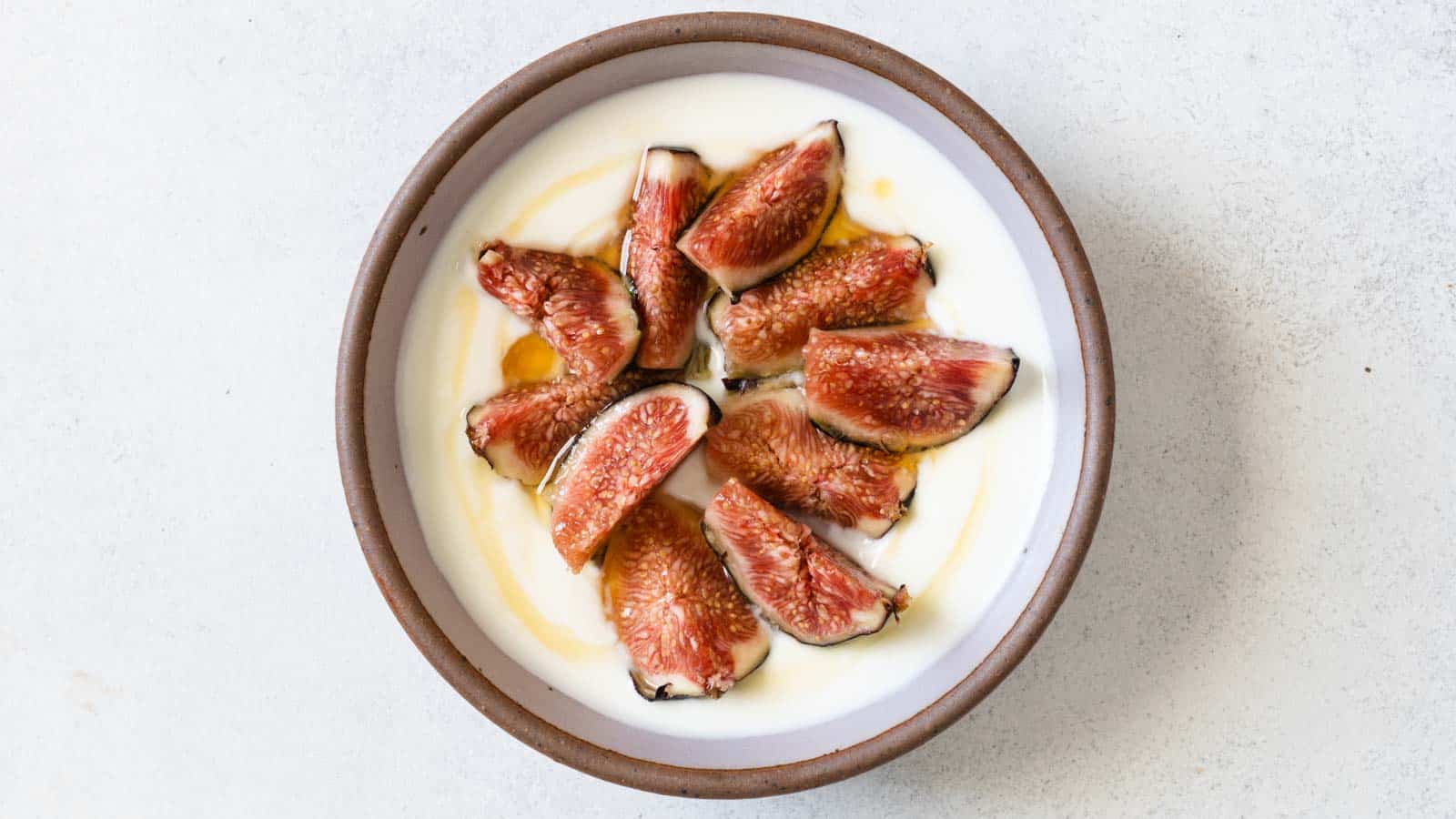 There are many varieties of this teardrop-shaped fruit with deep purple, green, yellow-ish, and brown skins. The inner flesh is contained by a pale wall (syconium), giving way to a juicy center (often pink-ish red or brown) with crunchy edible seeds. Common varieties include the Black Mission, Kadota, Calimyrna, and Brown Turkey. Figs contain vitamin K and, notably, a whopping high source of plant-based calcium. I love slicing up figs and serving them with yogurt and a drizzle of honey.
HOW TO CHOOSE AND STORE FIGS
Pick figs that are soft, but by no means mushy. Figs do not continue to ripen after harvest, so the soft flesh is telltale to just how sweet it will be. Pass on hard textured or tangy smelling figs. Store in the refrigerator for up to a week.
RECIPES USING FIGS
MINT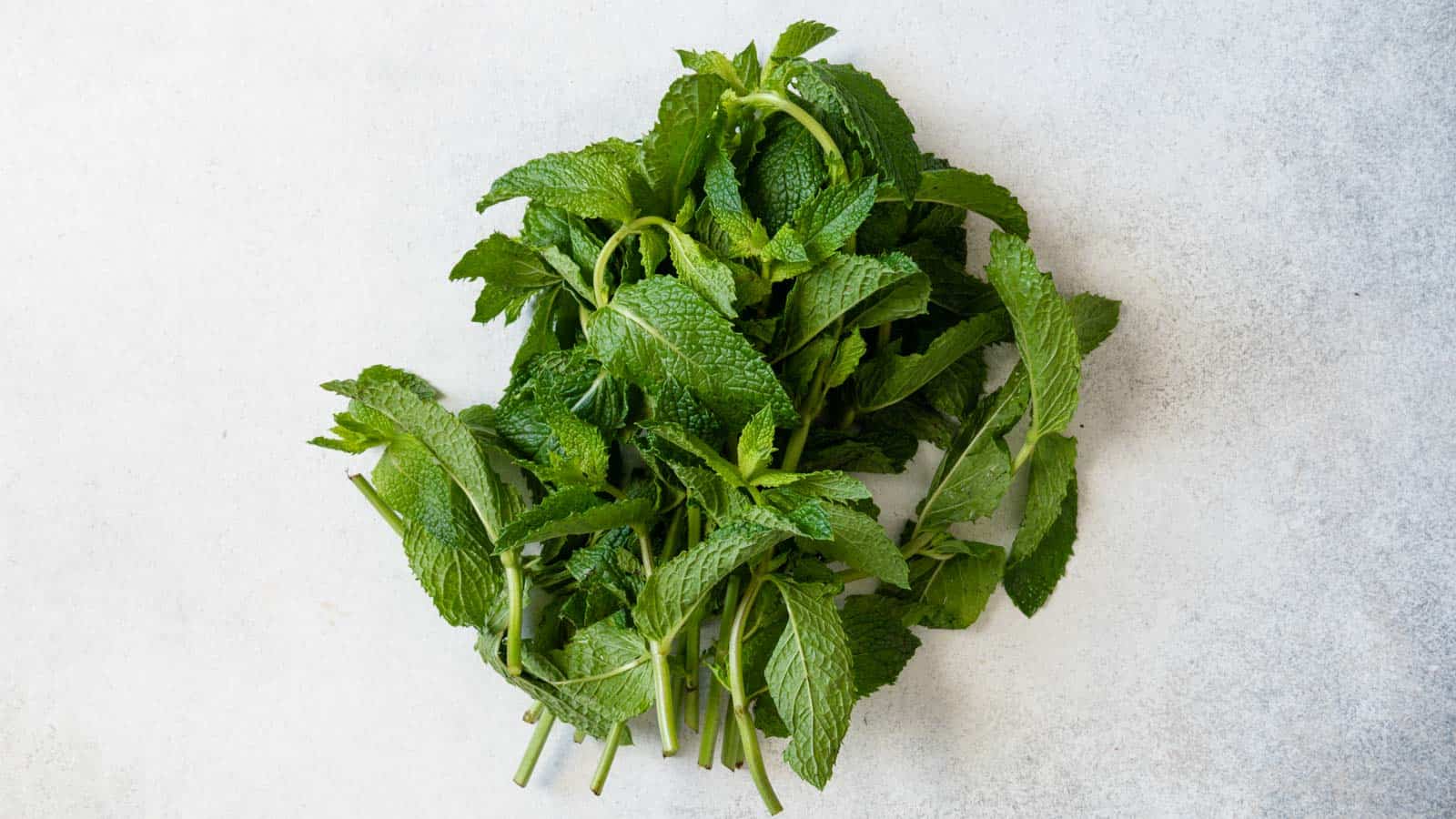 At the supermarket, you're likely to encounter fresh mint in peppermint (purple stems) or spearmint (green stems) varieties. One of my favorite farmers at the Sunday Farmers Market in Sacramento, Andy Rogers, sells a variety of mint every Sunday: candy mint, apple mint, chocolate mint, etc.
Because the peppermint variety contains menthol, which is noted by the distinctive cooling sensation like a mouthful of chewing gum, the spearmint variety is generally more popular for cooking. Toss a few sprigs of mint into a glass of ice water for an instant refresher. Just a few leaves of mint also adds a crisp flavor to Vietnamese shrimp or vegan spring rolls.
HOW TO CHOOSE AND STORE MINT
Choose bunches of mint that are bright green and without any black spots. Skip mint that looks sad and droopy. Many sources recommend keeping mint in a jar of water on the kitchen counter and changing the water regularly, like a bouquet of flowers. This hasn't worked well in my kitchen, but you can certainly give it a try. I otherwise will roll the stems of mint in a damp towel and store in a plastic bag in the refrigerator for up to a week.
RECIPES USING MINT
NECTARINES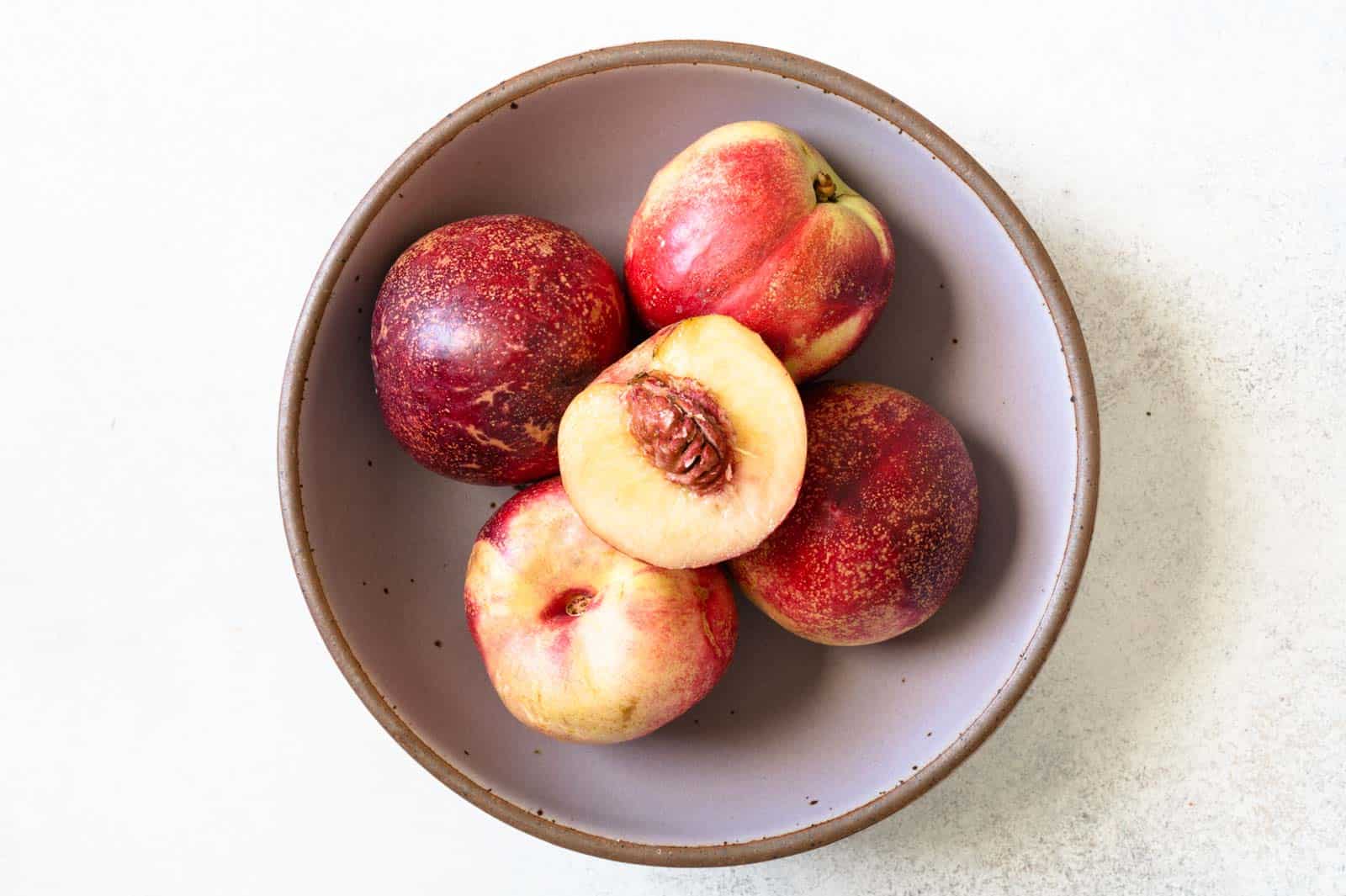 Nectarines are a type of peach. Like peaches, nectarines come in many varieties with white or yellow flesh. Generally smaller and firmer, they lack the characteristic fuzz that marks a peach's exterior skin. According to the Kitchn, the difference between nectarines and peaches lies in a gene variant, which results in that fuzz. Because they are on the firmer side, nectarines tend to hold up better to cooking, even handling high heat from the grill.
HOW TO CHOOSE AND STORE NECTARINES
Choose nectarines that have a gentle give to their flesh. You can ripen nectarines by keeping them at room temperature. Store nectarines at room temperature until they ripen. If you want to keep nectarines for a longer period, store firm nectarines in the fridge. Depending on how firm they were when you started storing them, the nectarines can keep for 1 to 2 weeks.
RECIPES USING NECTARINES
OKRA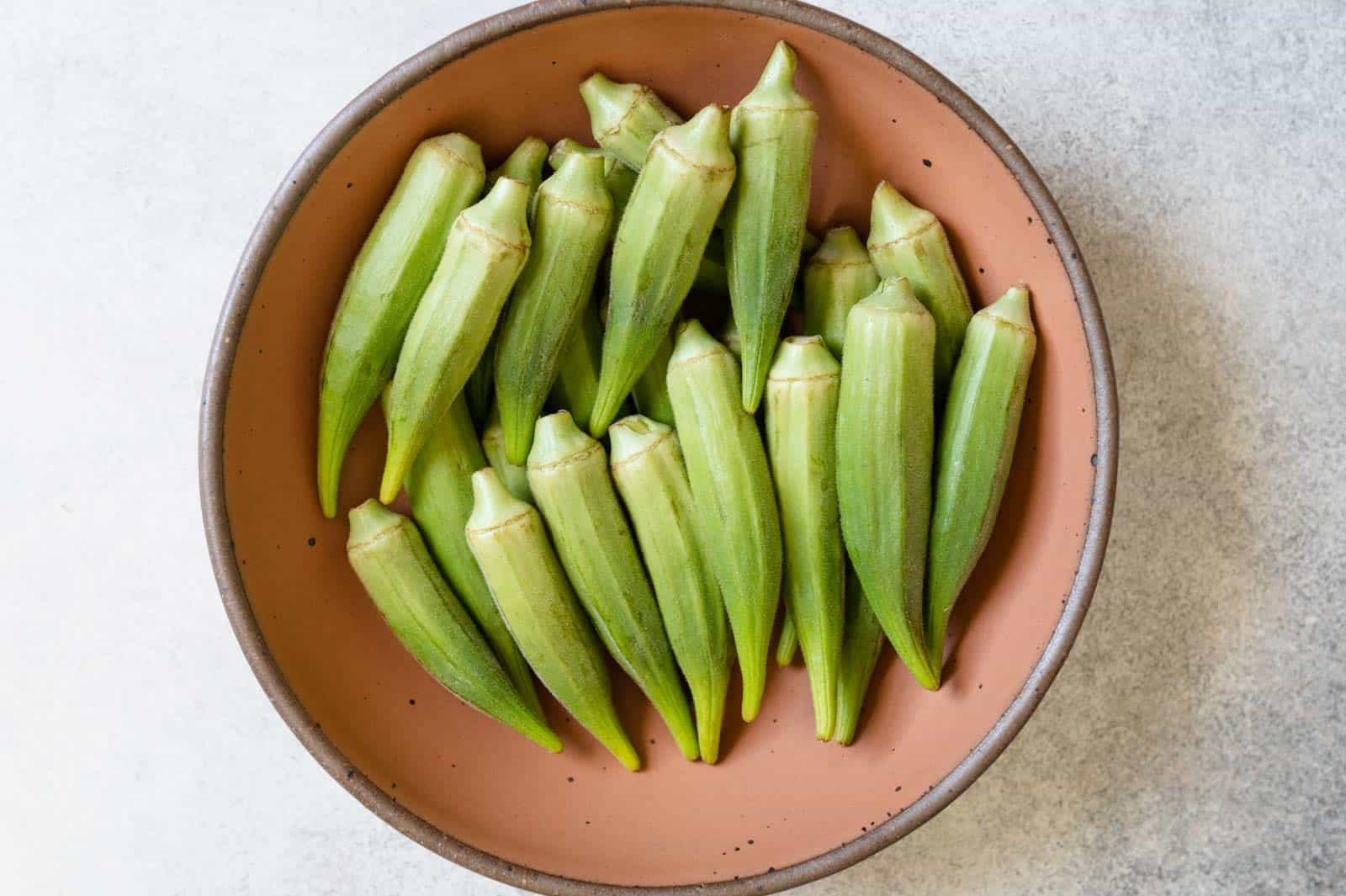 A member of the hibiscus family, okra is a fruit that we cook as a vegetable. Okra offers a sweet grassy flavor and is rich in vitamins K and C. Okra is most notable for its mucilage, the slimy inner substance hidden in each pod. If this slippery texture bothers you, try a high heat cooking method – roasting, grilling, or frying. Simply Recipes also advises keeping the okra as dry as possible before cutting it so as to avoid any added moisture.
HOW TO CHOOSE AND STORE OKRA
Choose okra that's firm and without brown or yellow marks. Look for pods that are about 4-5 inches long – bigger is definitely not better. Store at room temperature if planning to cook right away, or in the refrigerator for 3 to 5 days.
RECIPES USING OKRA
PARSLEY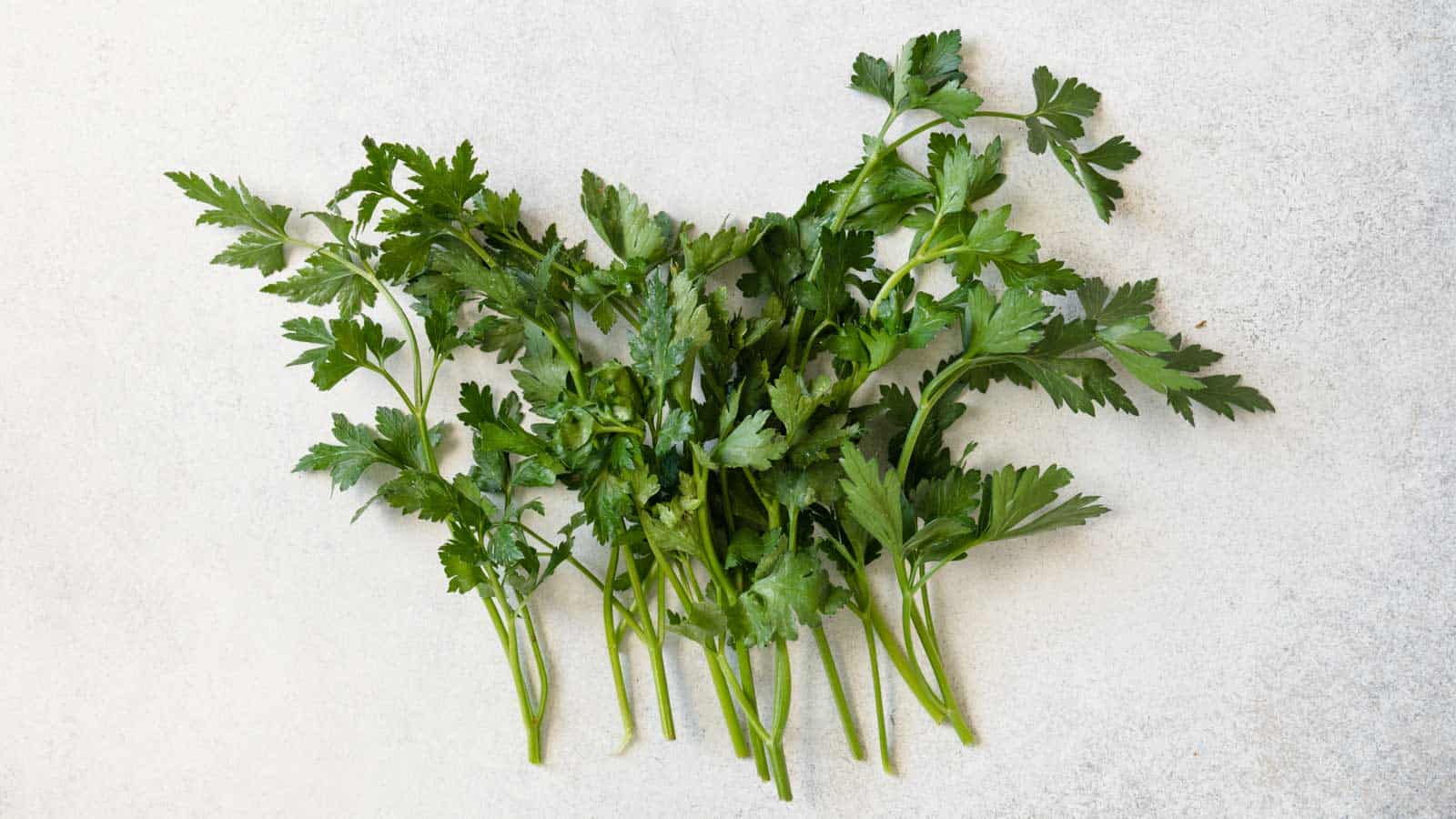 Parsley is often thrown on finished dishes as a garnish, but did you know a half cup of parsley fulfills 50% of the recommended vitamin C requirements? In addition to vitamin C, parsley is high in vitamins A and K.
What's the difference between curly leaf and flat leaf parsley? Curly leaf parsley tends to be more subtly herby while flat leaf parsley tends to be more forward and punchy.
HOW TO CHOOSE AND STORE PARSLEY
Choose parsley that's green and perky. Avoid bunches that are limp or discolored black and yellow. Store in the refrigerator for up to a week in a plastic bag.
RECIPES USING PARSLEY
PLUMS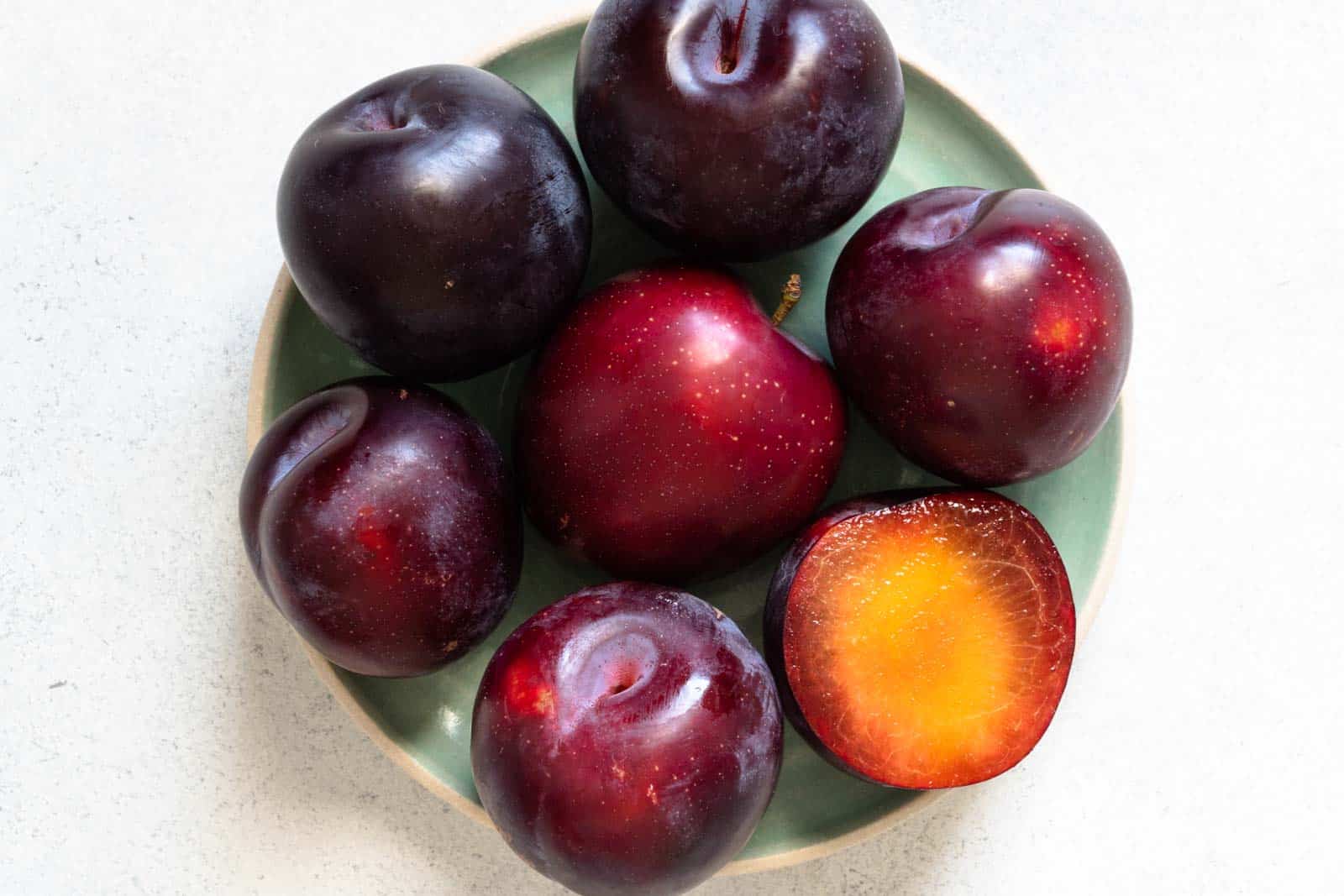 Plums are yet another summer stone fruit, related to cherries, apricots, and peaches. The varieties of plums we encounter are most likely crosses between the Asian and European species.
Don't forget about prunes! Renowned for their fiber content, these dried plums were a favorite snack for me as a kid. For a savory twist, dried plums also inject a natural sweetness into stir fry sauce.
HOW TO CHOOSE AND STORE PLUMS
Choose plums that are firm yet with a little give to them. Avoid plums with discolored or mushy spots. Store in the refrigerator for up to a week. If not yet ripe, store in a paper bag.
RECIPES USING PLUMS
RASPBERRIES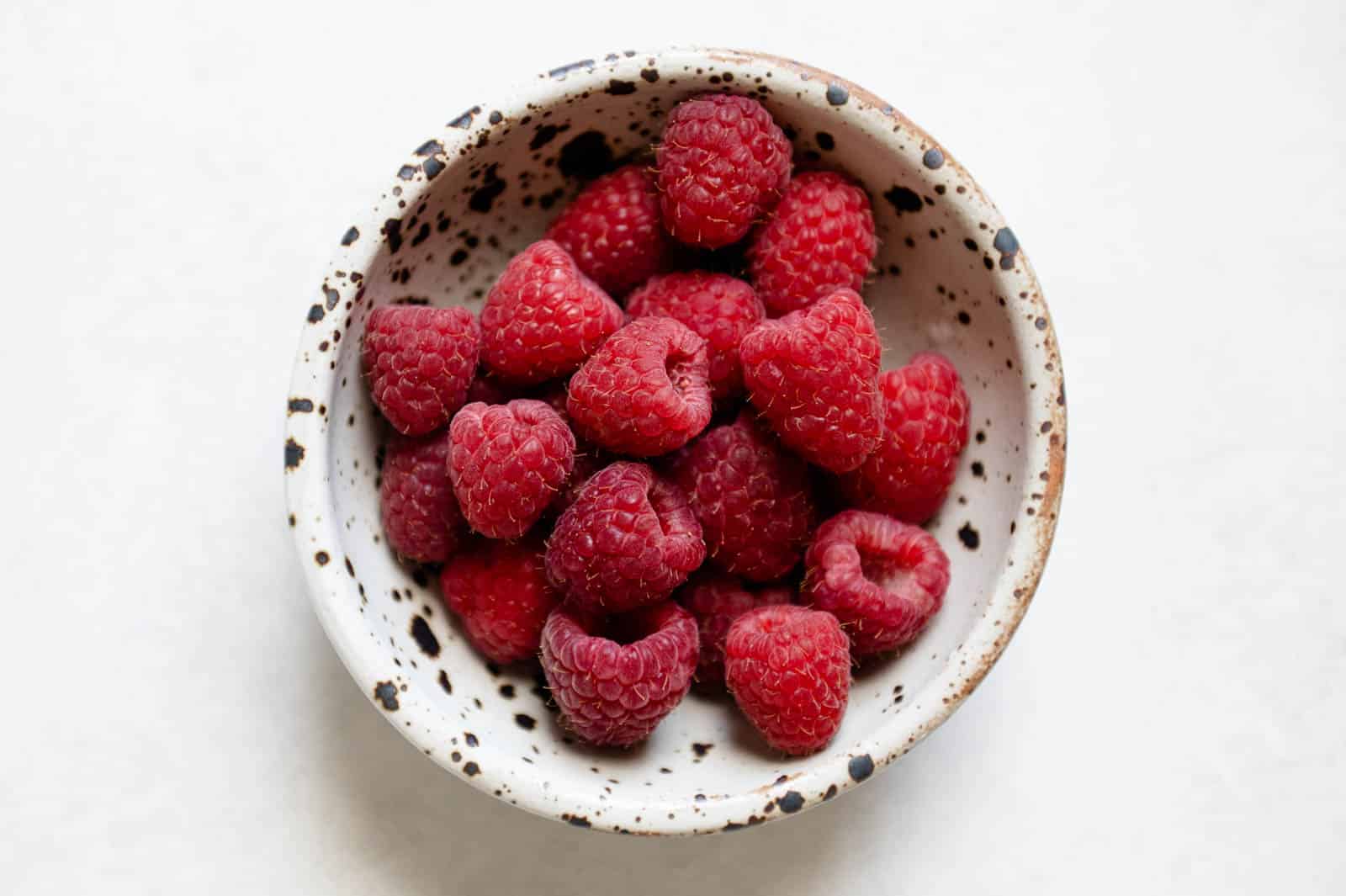 This ruby-pink fruit is a type of bramble, plants that grow in thorny shrubs or long vines that bear fruit. Besides raspberries, berries like blackberries, boysenberries, and loganberries are all types of brambles. Brambles and roses are also part of the same family. Each raspberry consists of many tiny drupelets, seed-containing fruits, that stick together to form one berry.
HOW TO CHOOSE AND STORE RASPBERRIES
Raspberries are most often sold by the basket or inside plastic clamshells. When selecting raspberries, I try to avoid packages where the berries look mushy or starting to mold. Store raspberries in the refrigerator and try to eat within 4 to 5 days.
RECIPES USING RASPBERRIES
This is not an official recipe, but I love eating raspberries with some yogurt, toasted walnuts, and a drizzle of honey. Here's some more recipe inspiration:
SHISHITO PEPPERS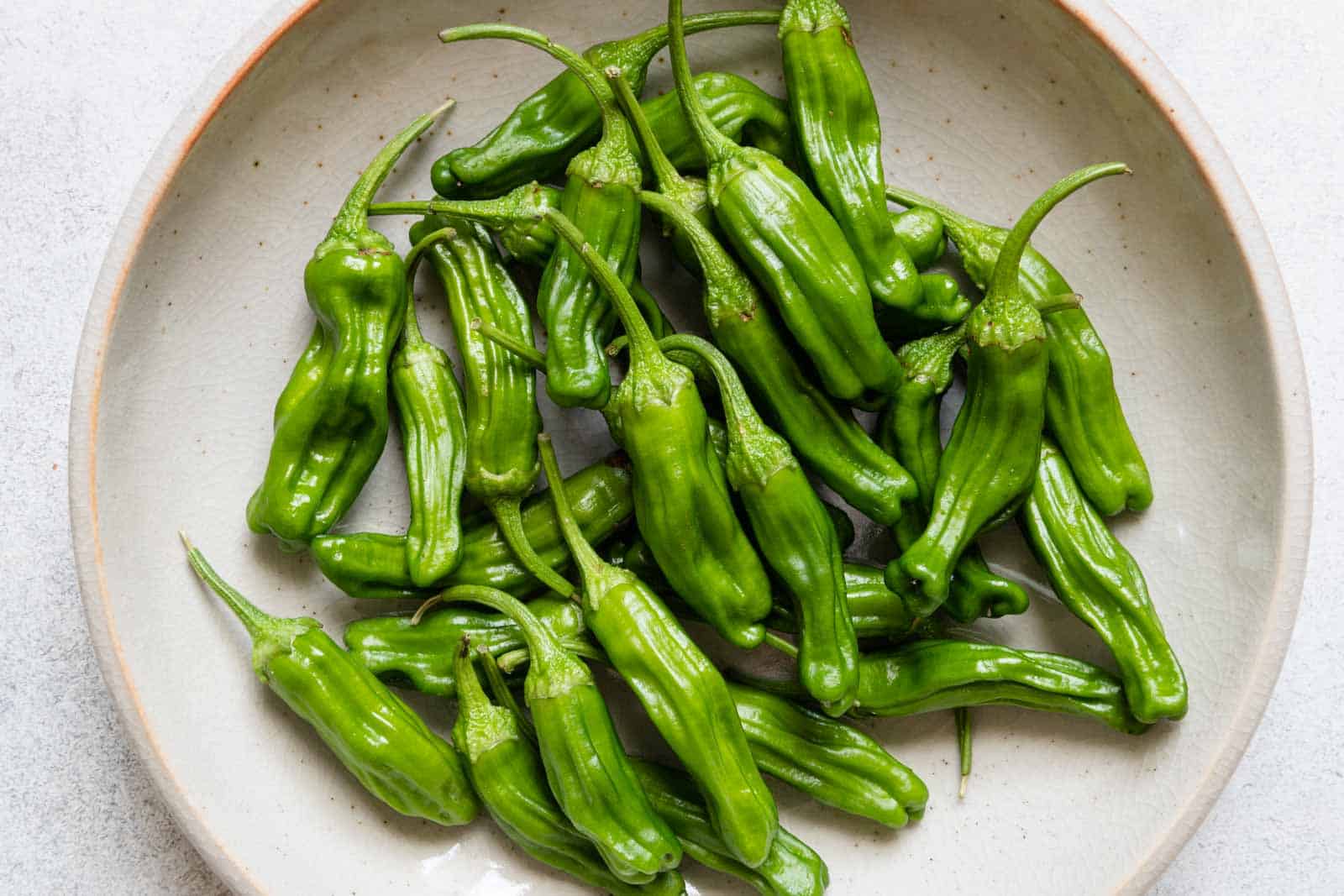 TOMATOES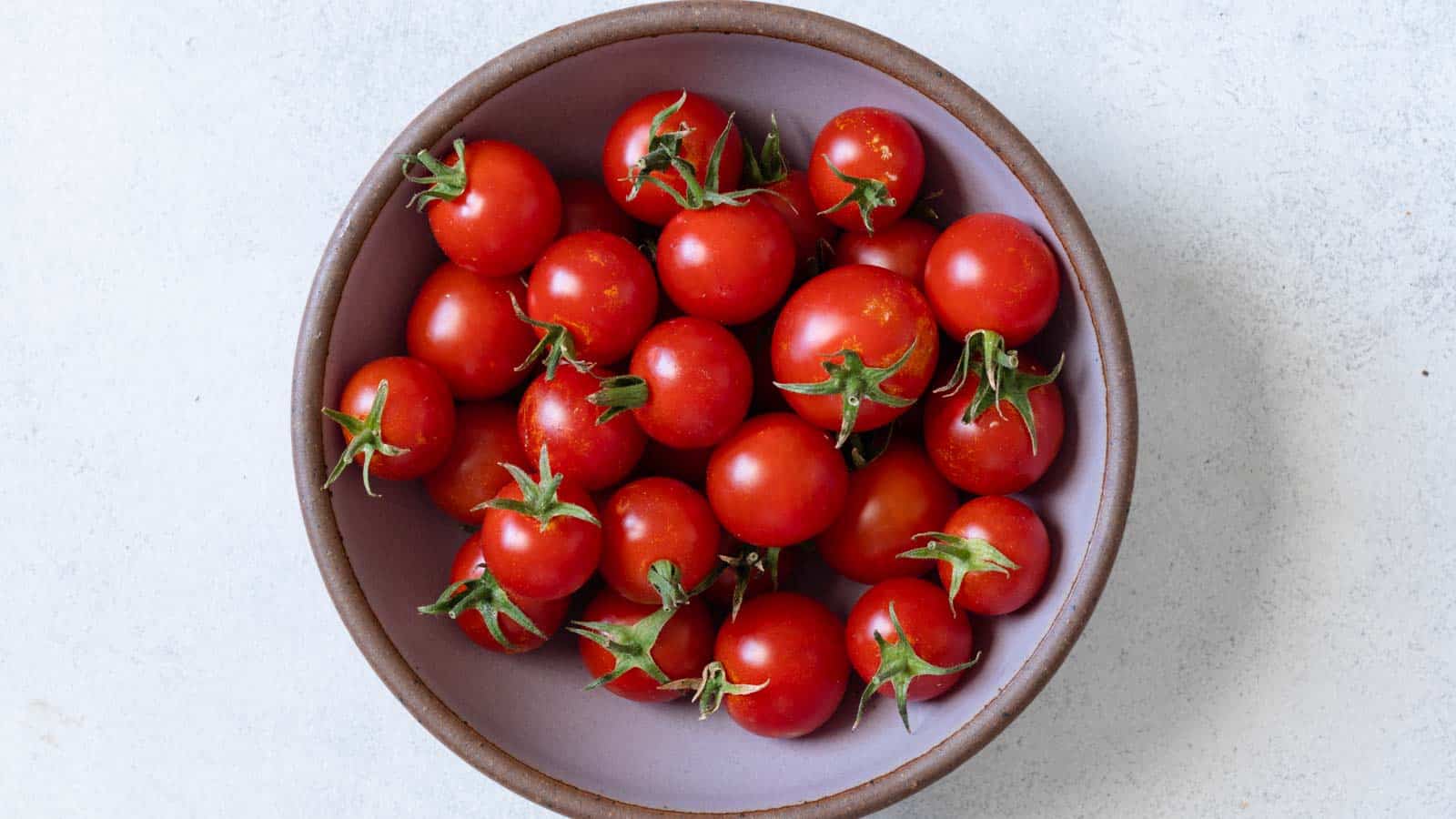 There is nothing quite like eating ripe, juicy tomatoes during the summer. Tomatoes originated in Central and South America, and the Aztecs introduced tomatoes to the Spanish in the 16th century. Eventually, tomatoes made their way into Italian cuisine, and the Spanish introduced tomatoes to their colonies in Asia and Central America. Tomatoes are part of the nightshade family, and they are a good source of vitamin C, potassium, and lycopene, an antioxidant that's been linked to reducing the risk of heart disease.
Growing up, I thought that tomatoes were red only. My mind was blown when I saw all the different types of heirloom tomatoes available at farmers markets! Each type of heirloom tomato has different levels of sweetness and acidity, so it's worth trying as many varieties that you can get your hands on!
HOW TO CHOOSE AND TOMATOES
Pick tomatoes that have vibrant color and taut skin, if you're planning to eat them over the course of a few days or a week. Store them at room temperature; tomatoes tend to turn mealy when you store them in the refrigerator. The one caveat is if the tomatoes are bruised, they're best stored in the refrigerator, as mold can form around the bruises. I buy blemished or not-so-perfect tomatoes from the farmers market often because they tend to be discounted. I'll refrigerate them and cook with those tomatoes in a day or two.
RECIPES USING TOMATOES
TOMATILLOS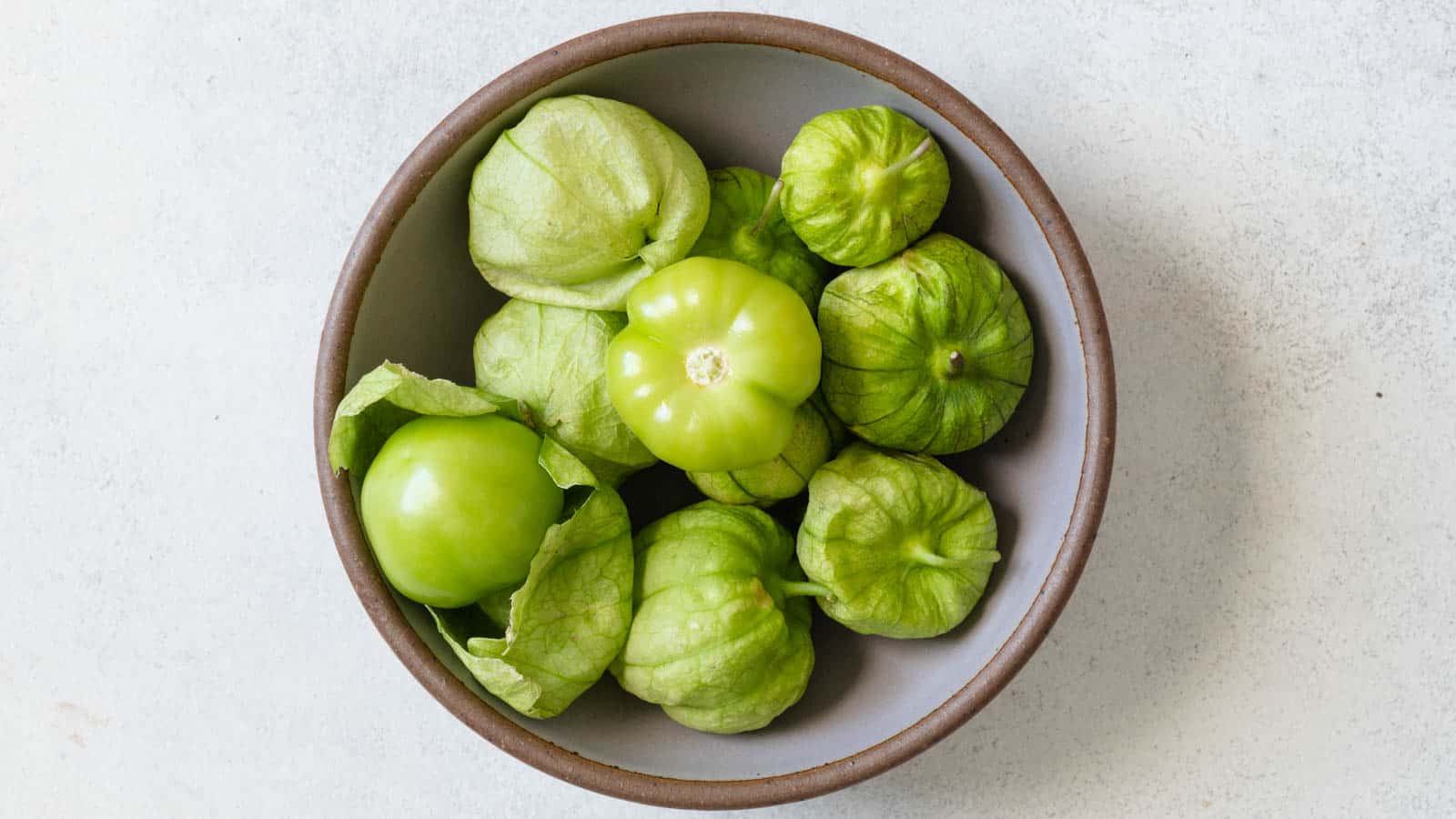 Tomatillos are native to Mexico, where it has been part of their cuisine for thousands of years. The name tomatillo means "little tomato" in English, and like tomatoes, they are part of the nightshade family.
Tomatillos are generally green with a sticky skin and encased in a thin, papery husk. As the fruit matures, the papery husk will dry up and go from a light green to light brown color. The tomatillos I buy at the farmers market tend to be about 1 to 2 inches in width, though I've seen larger ones at the grocery store. Occasionally, I'll buy purple tomatillos at the farmers market!
Although they look like tomatoes, the flavor of tomatillos are quite different. Tomatillos have a tart flavor and generally not as juicy as tomatoes. If you've ever had salsa verde, you'll have eaten tomatillos, as it is the main ingredient in salsa verde.
HOW TO CHOOSE AND STORE TOMATILLOS
Look for tomatillos that don't have major brown spots and skin that hasn't completely dried out. You'll likely find tomatillos completely encased in the husk or ones here the husk has split open. It's totally fine if the husk has split, as long as the actual fruit doesn't look like it's going bad. Store the tomatillos in the fridge for 2 to 3 weeks.
RECIPES USING TOMATILLOS
YARDLONG BEANS (CHINESE LONG BEANS)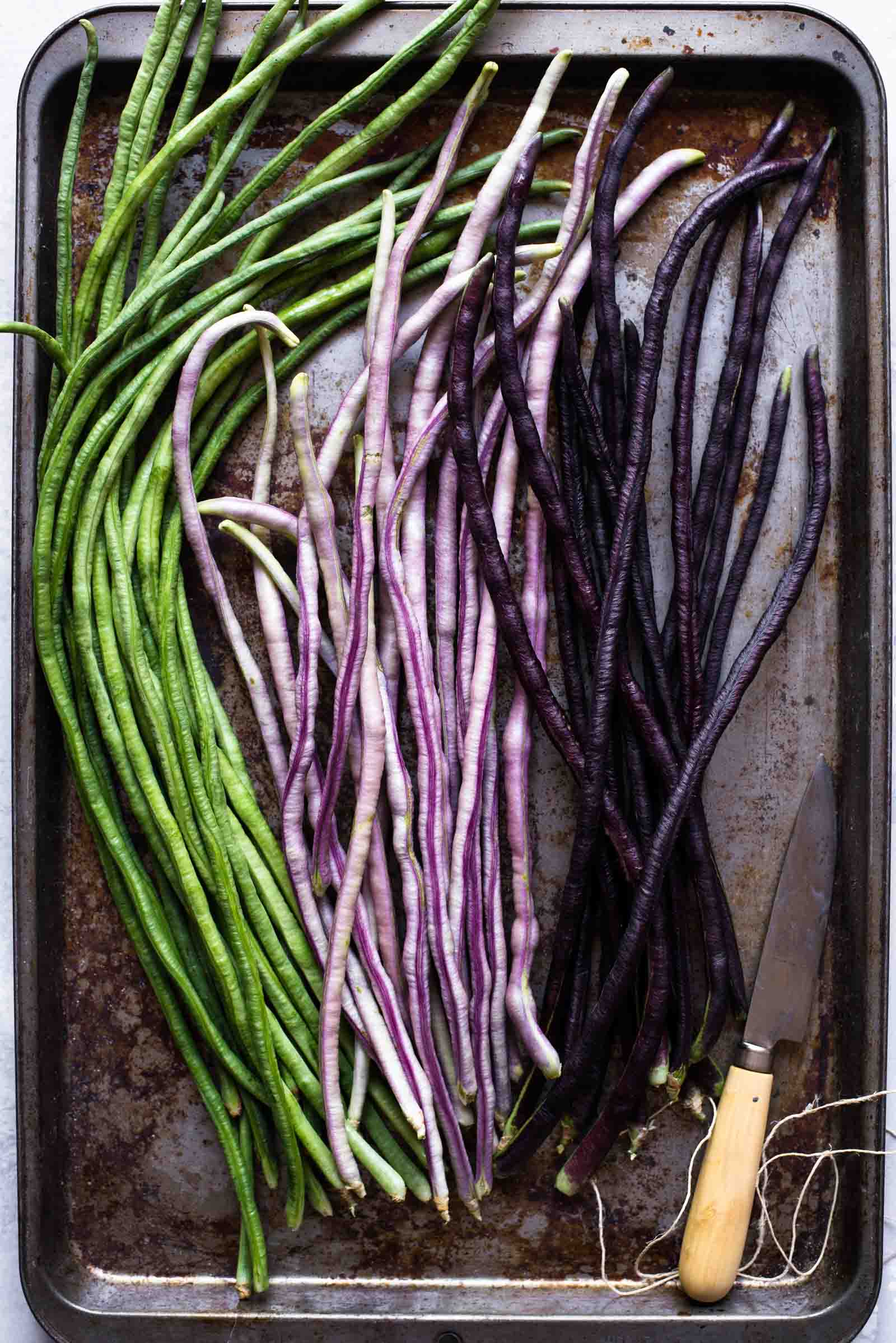 Also known as Chinese long beans or asparagus bean, yardlong beans are very long beans that have a slightly bumpier exterior, compared to regular green beans. In Chinese, there are several names for yardlong beans: 長豆 (literally "long bean," pronounced cheung dau in Cantonese; chang dou in Mandarin) and 豇豆 ("cowpea," pronounced gong dau in Cantonese; jiang dou in Mandarin).
Rich in Vitamis A & C, yardlong beans can come in many different shades, such as forest green, light green, deep purple, and lavender. I find yardlong beans have more bean-y flavor compared to the standard green bean.
HOW TO CHOOSE AND STORE YARDLONG BEANS
Yardlong beans that are younger tend to be thinner, so the skin and flesh of the beans wrap tightly around the seed. Conversely, more mature beans are thicker and have looser skin. Personally, I prefer the beans when they are thinner but I know some people like the texture of mature beans with looser outer skin and larger seeds.
Yardlong beans tend to be sold in bunches. Whether you prefer the younger beans or more mature beans, make sure to select bunches that don't have much brown spots on the beans. Store the beans in a plastic bag for up to a week.
RECIPE IDEAS WITH YARDLONG BEANS
My mom loves stir frying yardlong beans with some garlic, onions, and a bit of fermented bean curd. That will be one of several vegetable dishes that she would serve for dinner.
I love to add some yardlong beans to my egg fried rice. I just cut up the beans into 1-inch chunks, until I get about 1 1/4 cups of the beans. Then, I stir fry the beans along with other vegetables and mix them with the rice.