Written by Diann Leo-Omine & Lisa Lin, Photos by Lisa Lin
The arrival of spring means the arrival of produce that you'll only find this time of year. Consider it the season of limited edition veggies. There's nothing like fresh artichokes, asparagus, and spring onions, which may only have a few weeks of availability. Citrus, especially the gorgeous pink cara cara orange, is still growing strong. It's often said that "what grows together, goes together" and I find this to be especially true about the produce during the spring!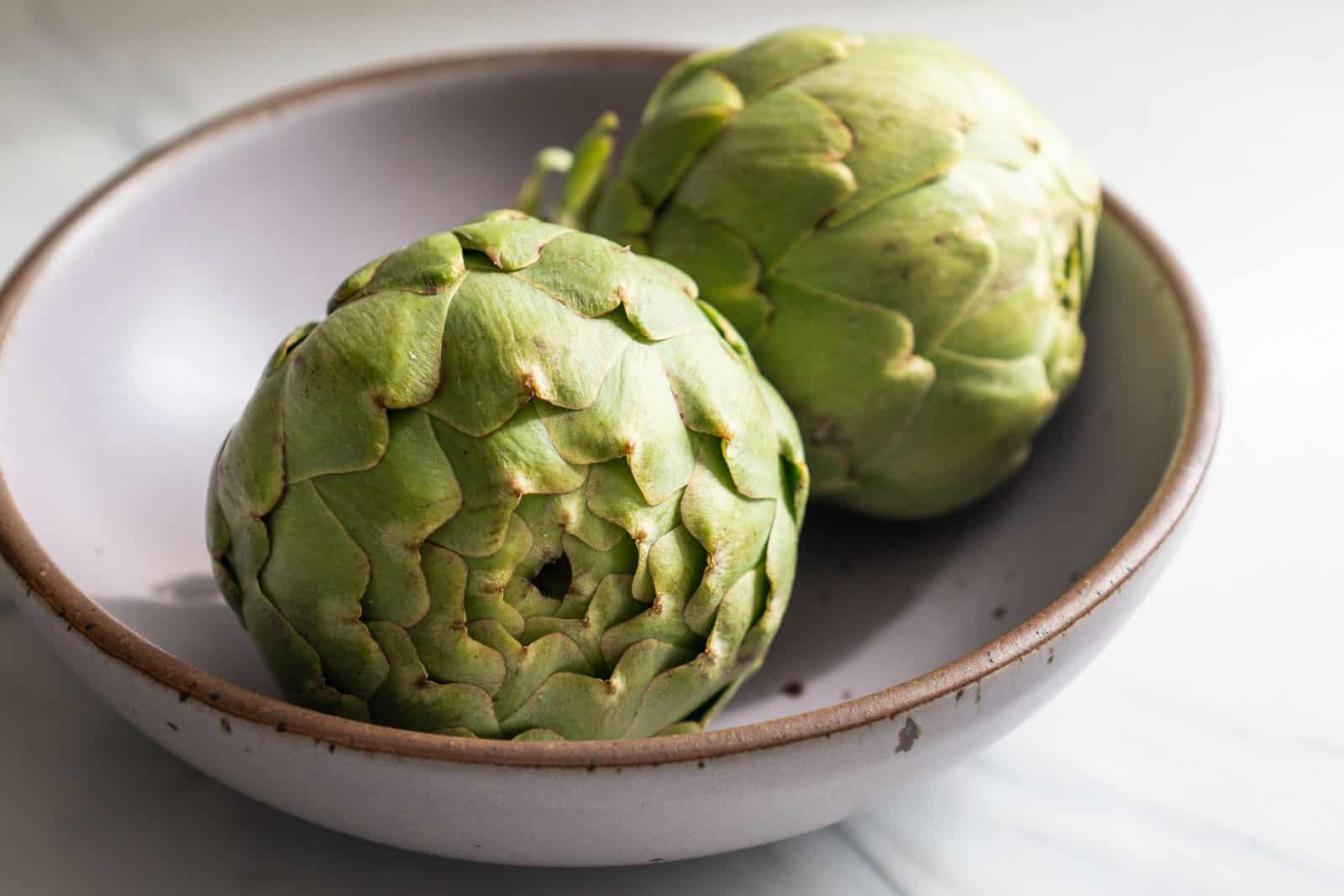 ARTICHOKES
Braised, roasted, or grilled, artichokes offer an assertive tang. The vegetable is almost exclusive to the state of California, where a majority is grown in the Mediterranean-like climate of Castroville (near Monterey). There's even an annual fair there held in honor of the vegetable! For an easy way to enjoy artichokes, steam them up and dip into a sauce as Simply Recipes suggests – why not give it a try with my peanut sauce?
HOW TO CHOOSE AND STORE ARTICHOKES
Choose artichokes that feel heavy and have relatively compact bracts (the outer thorny leaves). If you press lightly on the bracts, you will hear a slight squeaking sound. This is normal! Store artichokes in a plastic bag in the refrigerator for up to a week.
RECIPES USING ARTICHOKES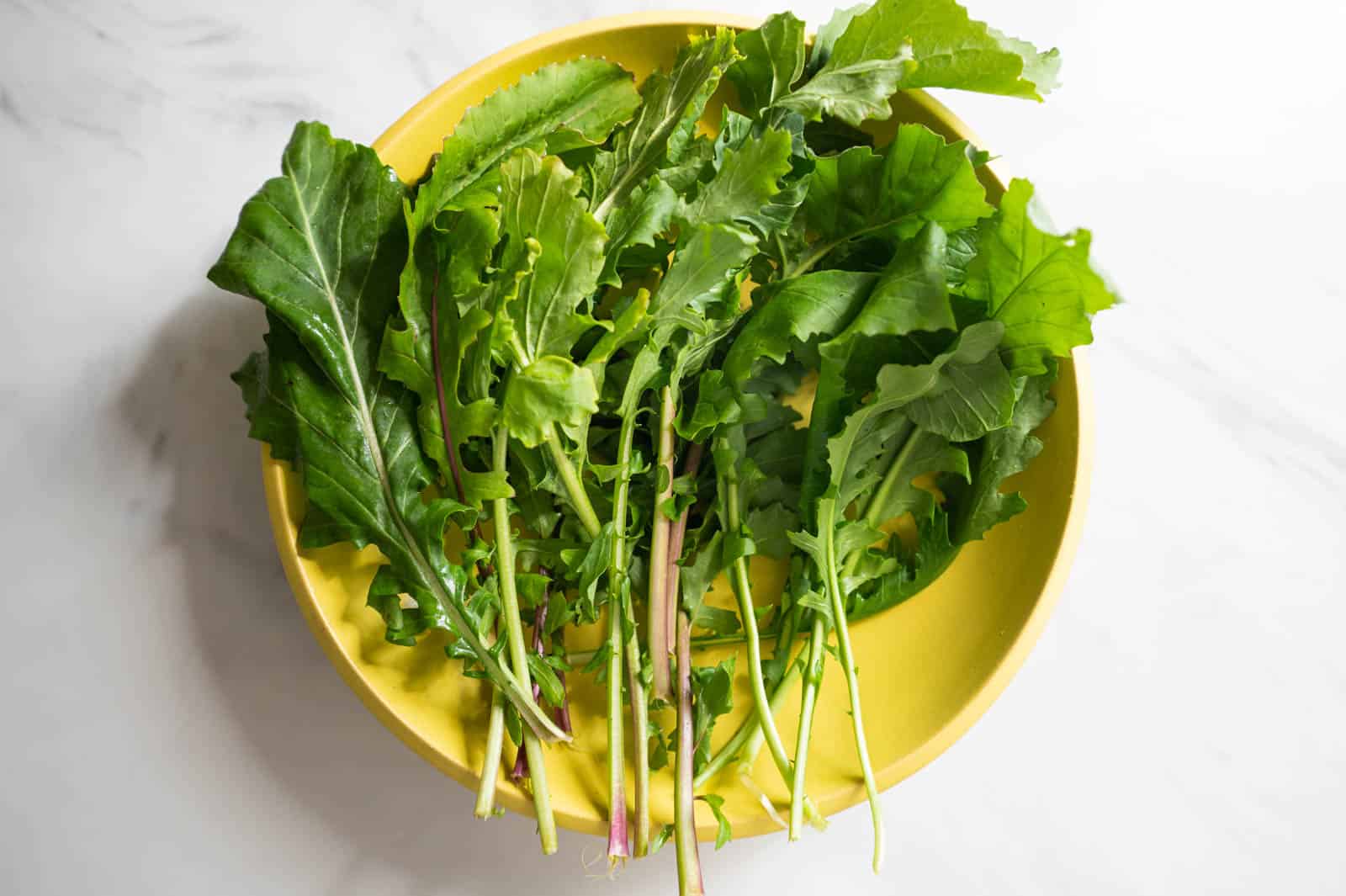 ARUGULA
Spicy arugula has gained some traction over the years, and for good reason. More than just a humble salad green, arugula's bitterness is tamed with heavy and tart ingredients. Don't be afraid to blend it up into pesto or mix it up with hot, cheesy pasta.
Because arugula can be sandy, make sure to rinse in several changes of water and then spin it dry. Especially if eating raw, arugula must be completely dry or the leaves will just hang onto the water.
HOW TO CHOOSE AND STORE ARUGULA
Choose arugula that's crisp and green. Skip over leaves that show signs of yellowing or are soggy. Store arugula in the refrigerator crisper for up to a few days.
RECIPES USING ARUGULA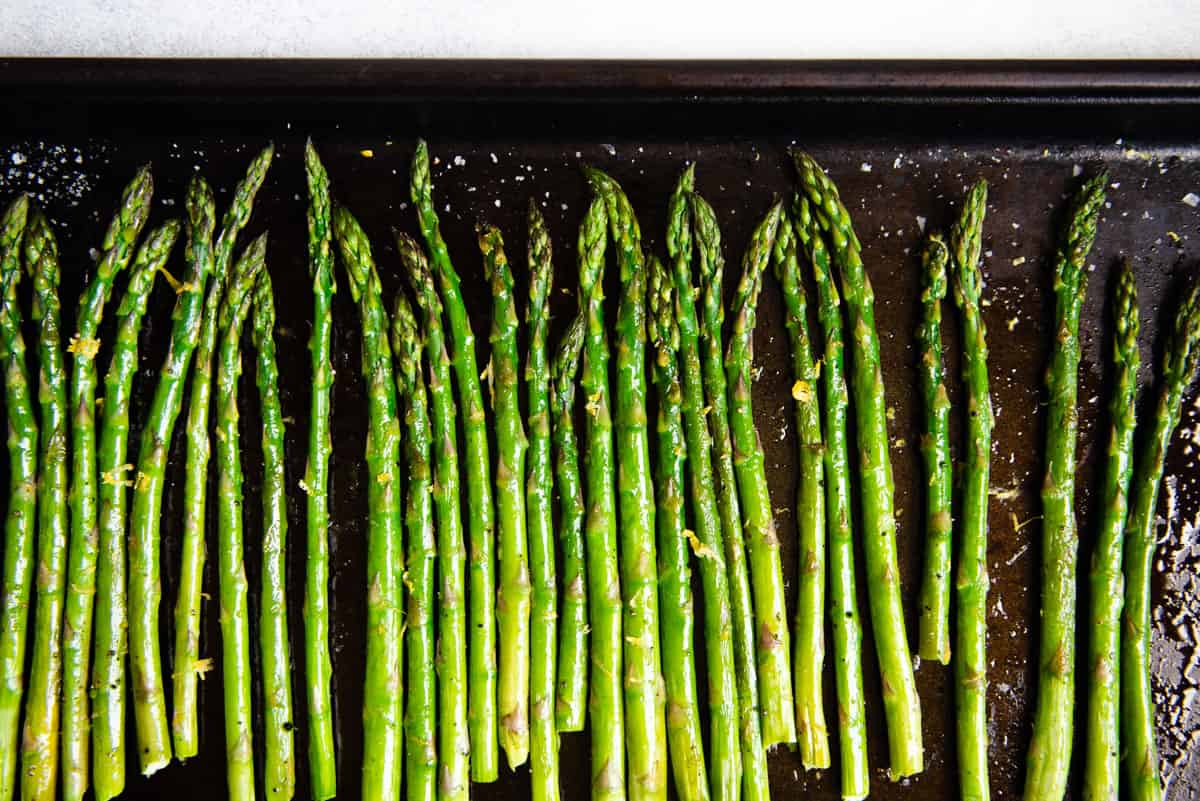 ASPARAGUS
Stir fried with chili or wrapped in coppa, there is absolutely no wrong way to enjoy asparagus. At its prime in the springtime, nutty, sweet asparagus pairs well with spice, and at its simplest can just be tossed with olive oil, lemon zest, and salt.
Now, the important question is, to snap or to cut the ends? You can do what is more comfortable to you – snapping can be more fun, but I've found that cutting the ends yields less waste of perfectly good asparagus.
HOW TO CHOOSE AND STORE ASPARAGUS
Choose asparagus with crisp-looking stalks and tight, compact tips. Skip over bunches that look droopy. Store asparagus in a plastic bag in the refrigerator for up to a week.
RECIPES USING ASPARAGUS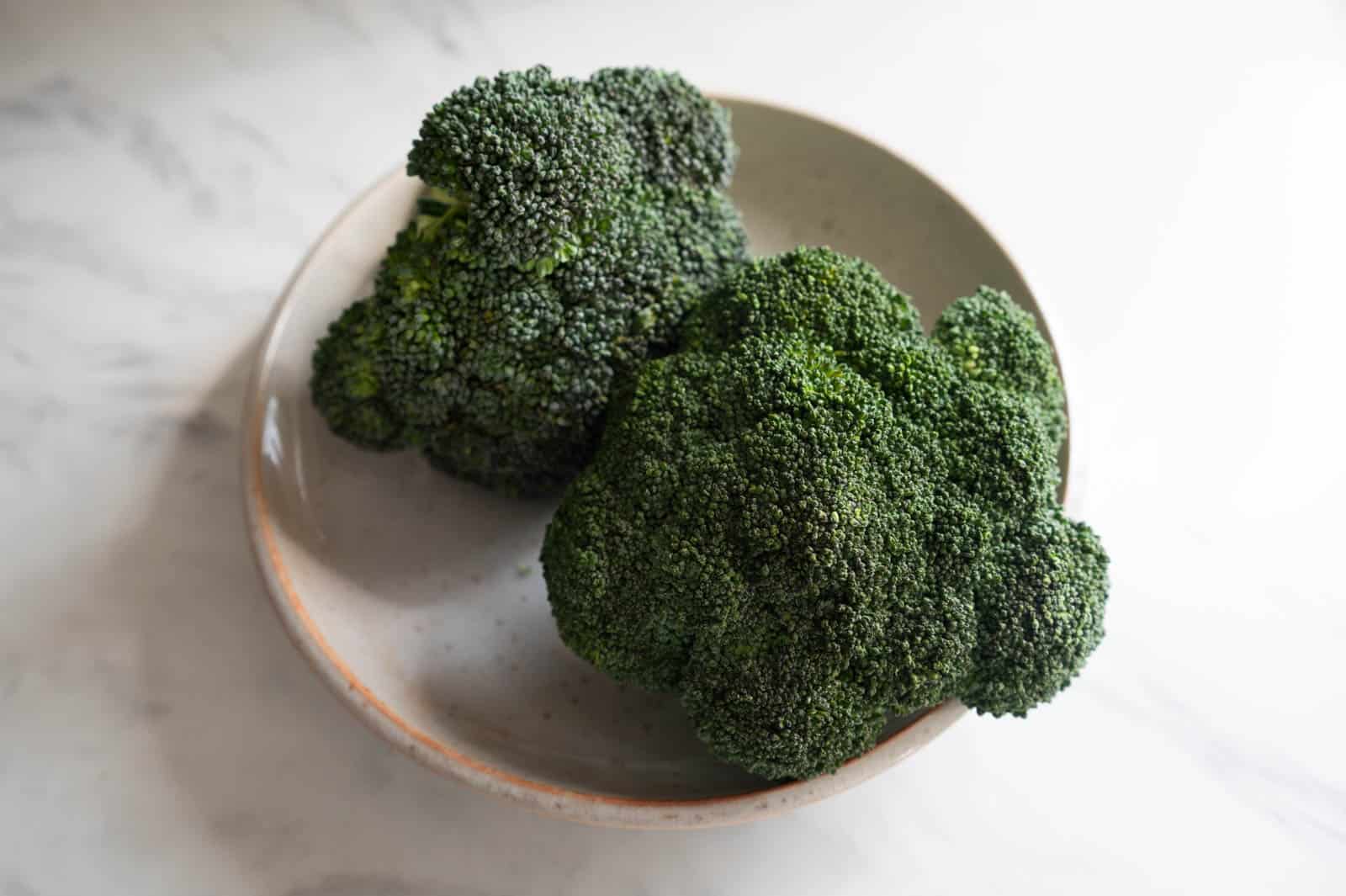 BROCCOLI
Give broccoli a chance! Maybe you're traumatized from the childhood memory of being forced to eat your broccoli before having dessert. Like with so many greens in the cabbage family, the key to tender broccoli is not to overcook it. When done right, its delicate mild flavor plays up well to all flavor profiles. Broccoli is an excellent candidate for roasting (which makes it taste even nuttier) or stir frying.
HOW TO CHOOSE AND STORE BROCCOLI
Choose broccoli that's deep green, with firm stalks and relatively tight florets. Store broccoli in the refrigerator crisper for up to a week.
RECIPES USING BROCCOLI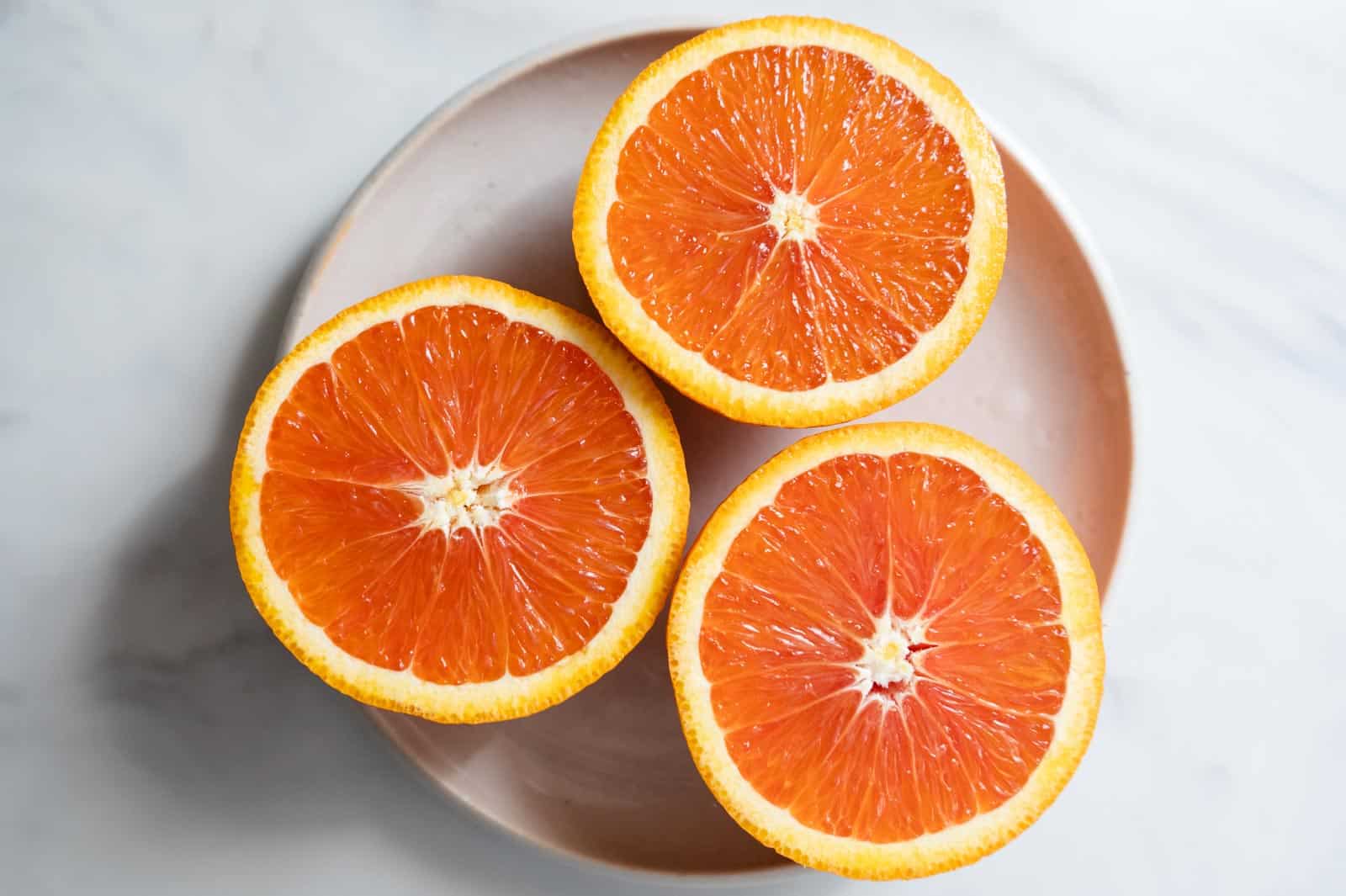 CARA CARA ORANGES
Cara cara oranges get its salmon-pink color from lycopene, which is the same naturally occurring pigment that gives the tomato its blush. Early in the season, cara cara oranges can be on the tart side. By March, cara cara oranges should be on the sweet side and taste similar to navel oranges. Use cara cara orange juice anywhere you want to show off its color. Think drinks, citrus curds, and salads.
HOW TO CHOOSE AND STORE CARA CARA ORANGES
Choose cara cara oranges that are heavy for their size. Skip over any with mushy spots. Store cara cara oranges at room temperature for a week or more, making sure there is plenty of air circulation around the oranges. I usually place them on a large plate or in a large fruit bowl.
RECIPES USING CARA CARA ORANGES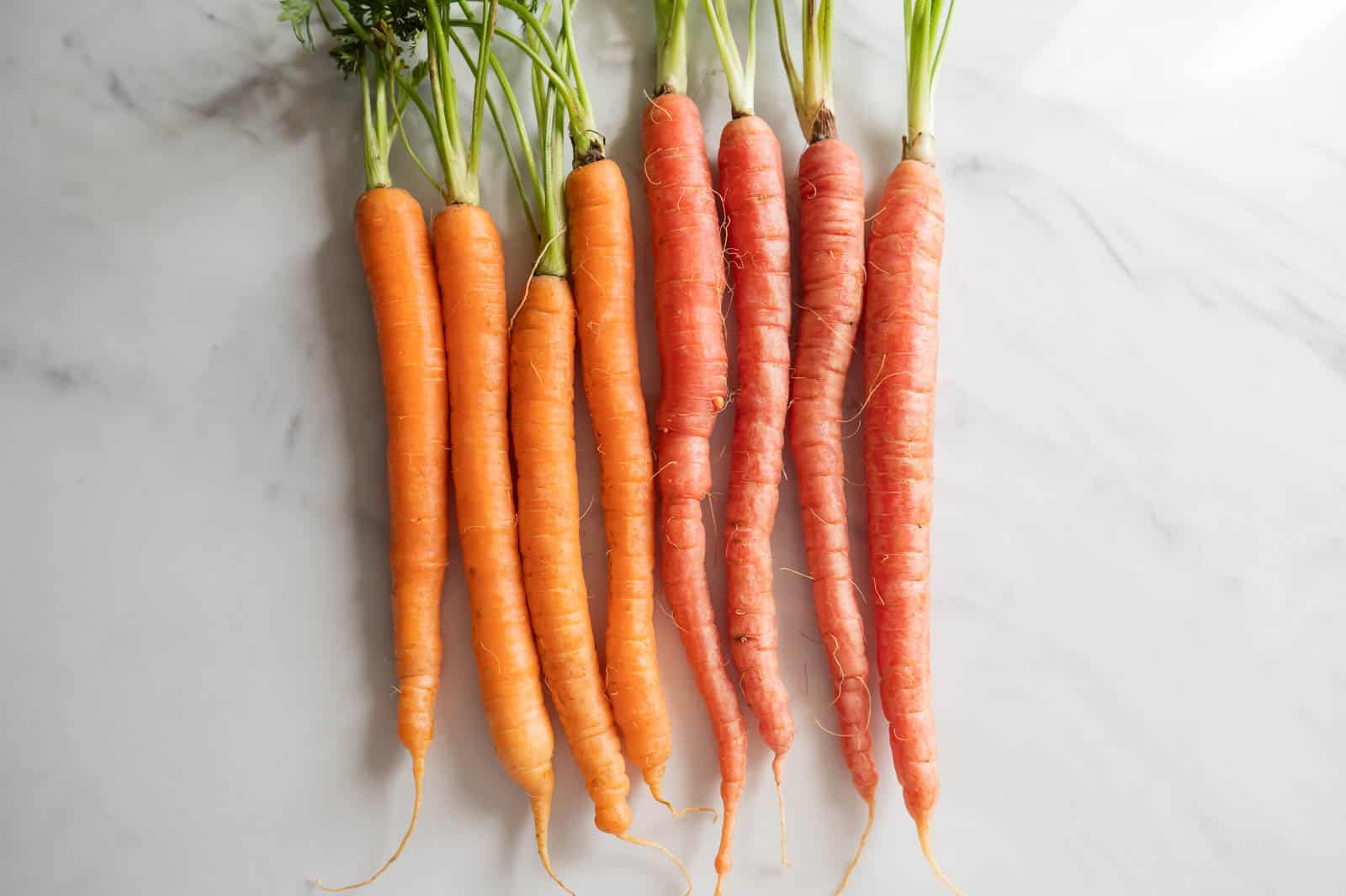 CARROTS
Carrots add textural contrast and natural sweetness. Extremely versatile, earthy carrots can be pickled, blended into hummus, and featured raw on a grazing platter. You can even add carrots into dumplings. I dare you to think of a dish carrot wouldn't fit in! Truly a zero waste vegetable, the leafy green tops, which are herby like parsley, can be blended up into pesto.
By the way, the bunched organic carrots from Riverdog Farm are amazing. They're sweet, especially the orange carrots. Whenever I serve Riverdog Farm carrots to my family and friends, everyone tells me how pleasantly surprised they are by the robust flavor of the carrots. You can usually find Riverdog Farm at farmers markets in the Bay Area and Sacramento. 
HOW TO CHOOSE AND STORE CARROTS
Choose carrots that are crisp with smooth skin, free of blemishes. Store carrots in the refrigerator crisper for up to several weeks. If you find carrots with the tops attached, separate the greens from the root and use within several days.
RECIPES USING CARROTS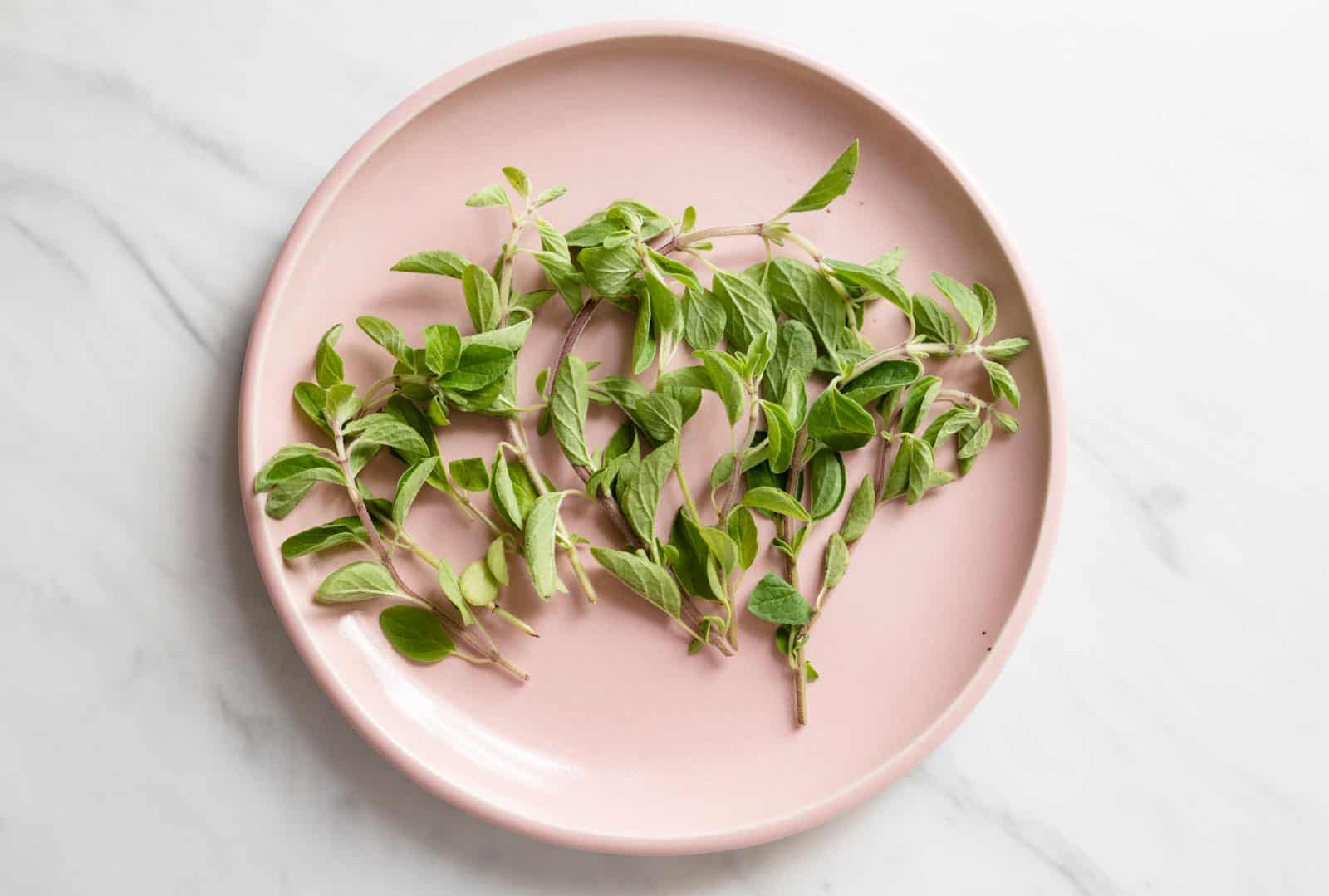 OREGANO
With its heady aroma, oregano is classified in the mint family. We most commonly encounter the type of oregano known as Greek oregano in the spice aisle at the grocery store. (This may be confusing, but this type is also known as wild marjoram.) Oregano is complementary to dishes with tomato, so next time add some fresh oregano to your spaghetti sauce at the end of its cooking time.
How do you know how much fresh herbs to use when a recipe calls for dried herbs? If a recipe calls for 1 teaspoon of dried herbs (as many of my recipes with oregano do), try using 1 tablespoon of fresh herbs.
HOW TO CHOOSE AND STORE OREGANO
Choose oregano with perky green leaves. Store oregano wrapped in a damp paper towel in a plastic bag in the refrigerator for up to a week.
RECIPES USING OREGANO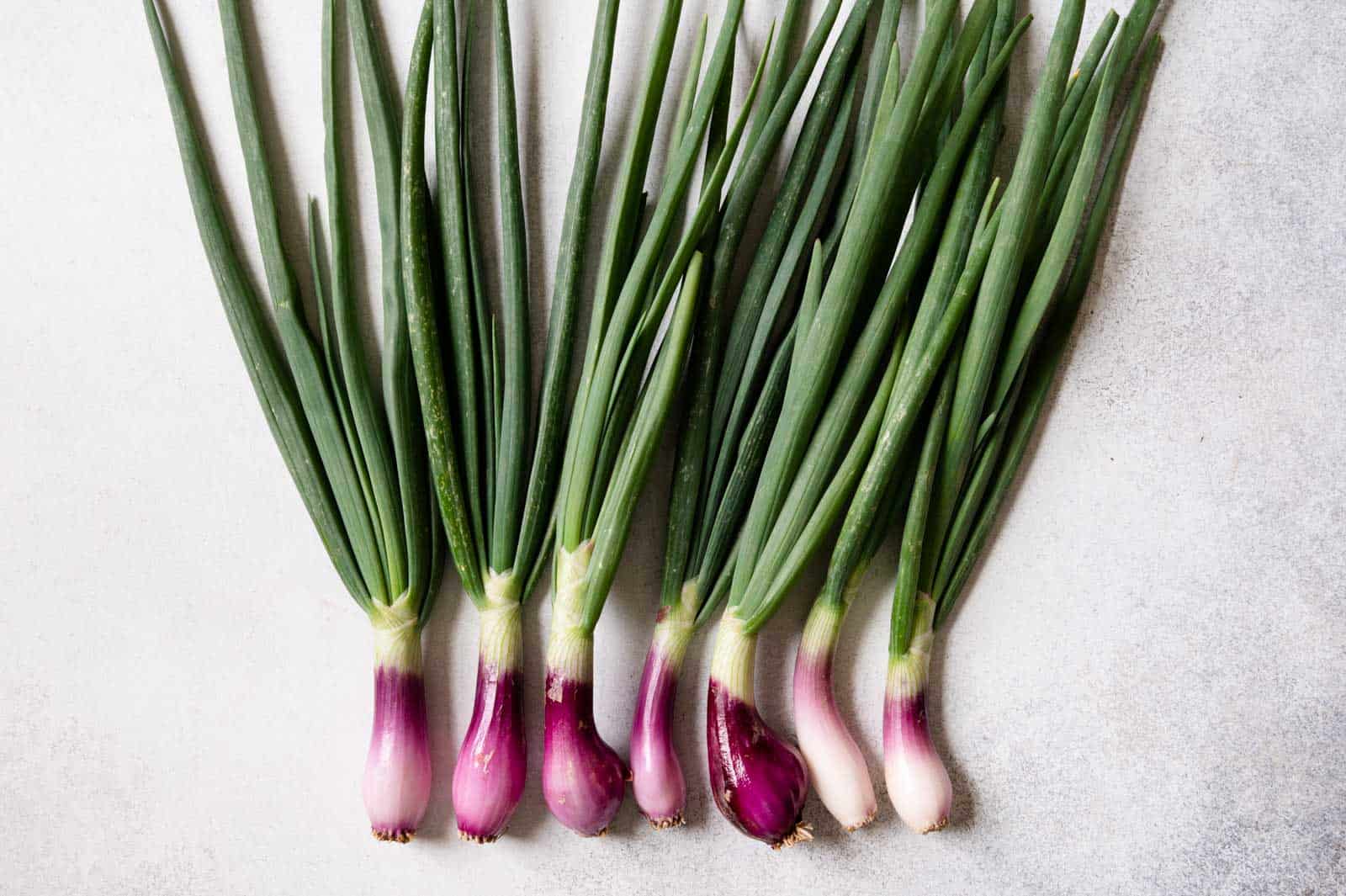 SPRING ONIONS
Spring onions are onions that are harvested before full maturity and are sold with the greens intact. As far as pungency, spring onions are stronger than the green onion/scallion but milder than a conventional "dry" onion. Note that the terms spring onion and green onion/scallion are frequently used interchangeably in the U.K. and Canada, but the spring onions sold here are indeed their own variety.
Can you replace spring onions for green onions? It depends on what you're making! Keep in mind that both the green and bulbous sections of spring onions tend to be more pungent, so you may prefer to use them in cooked applications.
HOW TO CHOOSE AND STORE SPRING ONIONS
Choose spring onion bunches with crisp green tops and relatively smooth bulbs. Store spring onions in a plastic bag in the refrigerator for up to a few weeks.
RECIPES USING SPRING ONIONS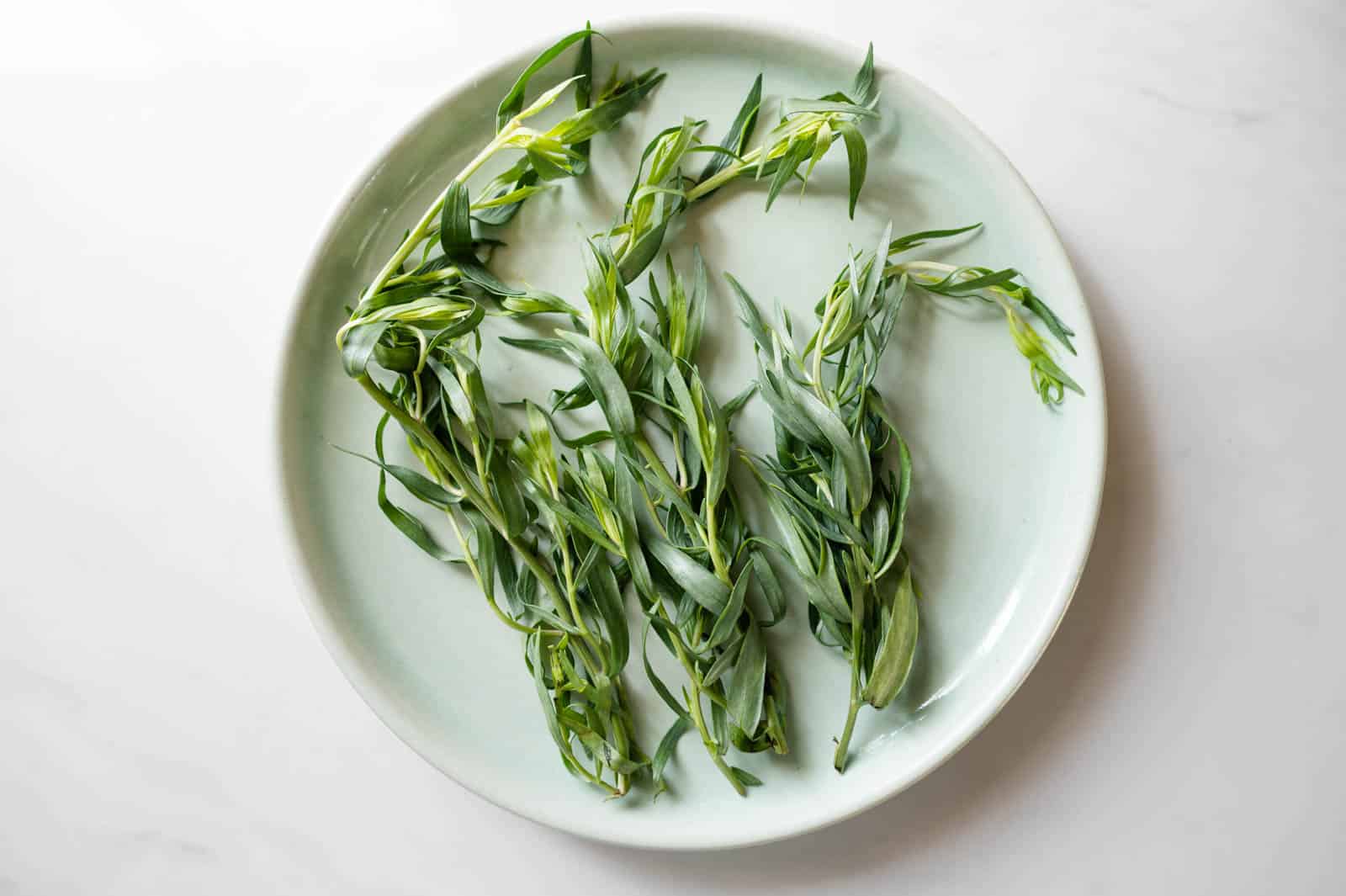 TARRAGON
Tarragon is generally used in moderation, and is great with egg and fish dishes.
Looking virtually identical, there are two types of tarragon: Russian and French. Try rubbing the leaves gently. Russian tarragon will smell slightly grassy, while French tarragon is noted for its distinctly anise smell.
HOW TO CHOOSE AND STORE TARRAGON
Choose tarragon with perky green leaves. Skip over bunches with any signs of discoloration. Store tarragon in a plastic bag in the refrigerator for up to a few days. You can also try keeping tarragon in a jar of water, like flowers, but I haven't tried this.
RECIPES USING TARRAGON